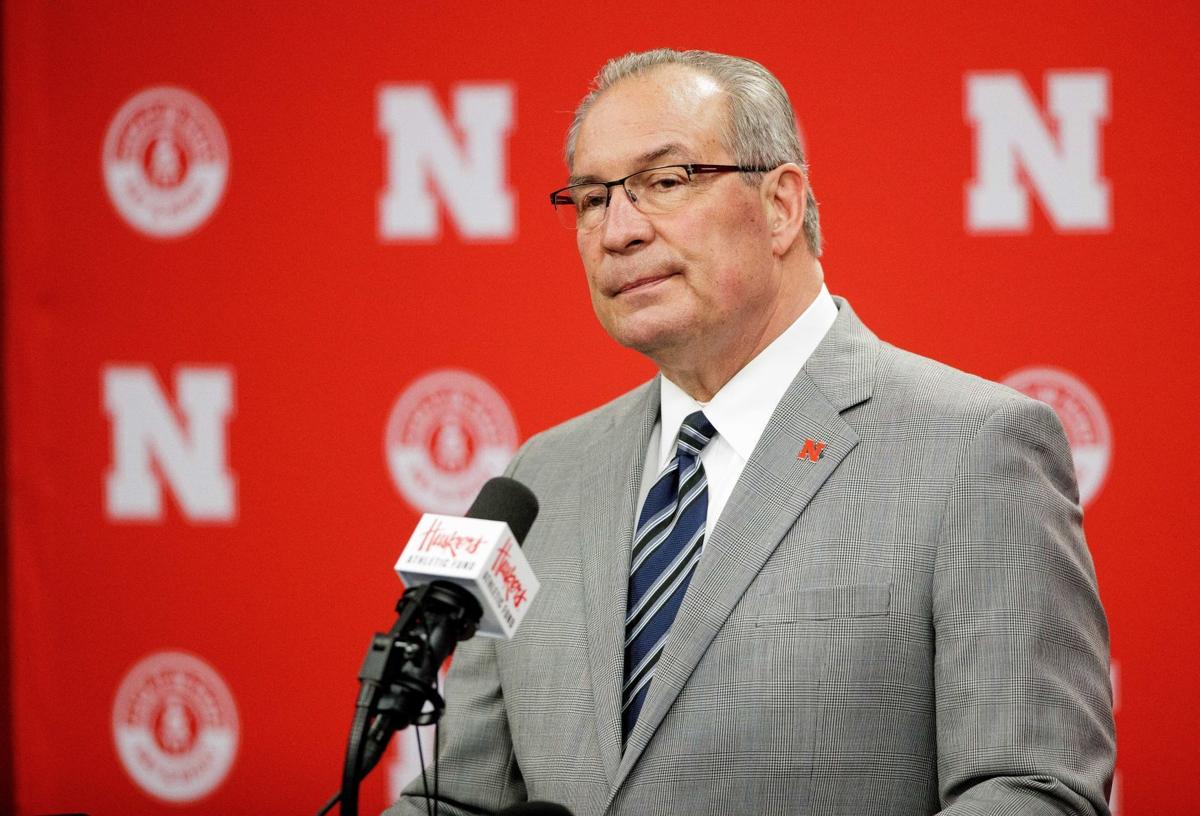 LINCOLN — Athletic Director Bill Moos received the Huskers' eight-game Big Ten schedule Friday night and saw that all things he'd fought for with the slate hadn't come to pass.
"I wasn't toasting champagne," Moos said.
Moos said Saturday the Big Ten staff — and not the scheduling committee put together by the league — made the scheduling decisions, and used the original nine-game conference model created by the league for the first iteration of the 2020 league schedule. That schedule included road games at Ohio State and Rutgers, and a home game against Penn State.
The Rutgers game was dropped. Ohio State and Penn State, arguably the Big Ten's best teams, remained.
What's more, the Huskers play the Buckeyes and Nittany Lions — plus Big Ten West favorite Wisconsin — in the opening month. Moos had hoped to craft a schedule from scratch with reasonable crossover games for all. Instead, NU was stuck with the toughest crossover slate by far.
"For obvious reasons, I was hoping we could dissemble the schedule because of unique circumstances and rebuild it to be fair for each school in the conference," Moos said. "I was outspoken on that, to the point where they heard it from me every day. The rationale was there, I didn't think we needed to follow it. Nebraska is playing five AP preseason Top 25 teams. Ohio State's playing two.
"I'm sure my friend (Ohio State Athletic Director) Gene Smith is smiling today. His friend Bill Moos is not. I've got a good football team with a great football coach that deserves a break here or there to start getting back on track to being a contender in the Big Ten West."
Moos also wanted only Big Ten divisional games to count toward who won each division. He said he couldn't get traction among other Big Ten athletic directors for a one-year exception to the league's typical rules.
"Lost out on that," Moos said. "And then you look at when we're playing who and where is a definite disadvantage to Nebraska. With a young team, opening up at Columbus, against the No. 2 team in the nation — fans or no fans — is a giant task, especially when it's the first post-COVID game.
"First time we're on a charter aircraft, first time we're in a hotel, first time everybody on the sidelines has masks on, first time with electronic whistles, everything's going to be new. I didn't feel that had to happen. And then we return to play No. 11."
When Moos read the opening four games of NU's schedule — at Ohio State, Wisconsin, at Northwestern, hosting Penn State — he chuckled at its difficulty.
"I think a little more thought could have been put into pieces of this, and it wasn't," Moos said. "I don't believe there'd be Big Ten football without Nebraska's persistence in the whole process, all the way back to voluntary workouts. I harped on that until we got it."
Moos said he got the schedule at 8 p.m. Friday. He let coach Scott Frost — who lost his father, Larry, to cancer this week — know through some of Frost's assistants and staff. He didn't want to speak for Frost but couldn't imagine he was pleased.
He cited the "talented" people in the Big Ten's office who put the schedule together — with television partners and rules in mind.
"But, at the end of the day, it has to be blessed by the commissioner," said Moos, referring to Kevin Warren.
The schedule, now that it's out, becomes "water under the bridge," Moos said.
"I don't want to come across as the champion complainer," Moos said. "I'm going to protect my school and what is fair. I was outspoken on those items. At the end of the day, I was 0 for 3. I wasn't just going to sit around and listen and get kicked around. I'll never do that. They knew I wasn't pleased.
"But the schedule's in place, it is what it is, they won't hear any more out of me. We're going to strap the chin strap on and go out and win games."
---
The 2020 Nebraska football schedule