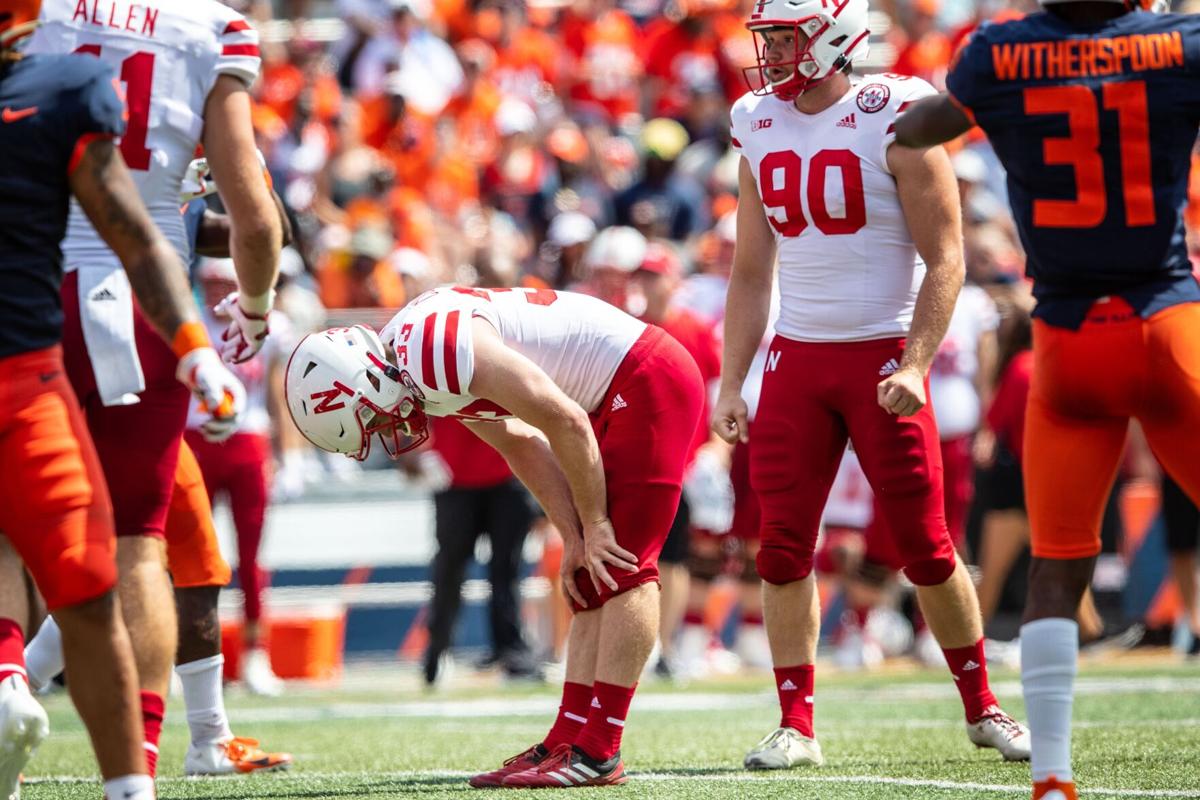 CHAMPAIGN, Ill. — Cam Taylor-Britt glided back and grabbed the punt inside the 2-yard line. He skidded into the end zone and touched his knee to the turf.
Safety. Just like that — less than 11 minutes into a new season — Nebraska special teams issued the first of many rude reminders that reports of its offseason ascension were premature at best.
Nebraska's reigning Big Ten kicker of the year missed two extra points. Its scholarship punter had kicks travel 26 and 19 yards. Kickoff returners twice brought the ball out and started critical drives at the 19- and 20-yard lines when a simple fair catch would set up the Huskers at the 25.
"Really disappointing," inside linebacker Nick Henrich said. "We just gotta do a better job as a whole of dialing in the details. Stuff like that just can't happen. It loses games."
It wasn't all bad. The Huskers appear to have found their kickoff specialist in Gretna graduate and Morningside transfer Brendan Franke, who boomed four touchbacks on six attempts (NU had 12 in 40 tries last year). Illinois never got loose bringing back a kickoff or a punt.
Everything else left much to be desired.
Taylor-Britt — a captain and perhaps the Husker likely to be taken highest in next year's NFL draft — initially hurled the ball out of the end zone on his doomed punt return before replay showed he was down. Either play would have been a safety.
The cornerback sat dejectedly in the shade of a makeshift sideline tent afterward, with teammates walking by to offer encouraging words or hand taps.
"Cam is a frickin' great punt returner, so nothing against him," said receiver/returner Oliver Martin, who replaced Taylor-Britt as punt returner. "He's a dude — a special athlete, a special player. And we know he's way better than that play. So we just didn't want to get him down at all."
Punter Daniel Cerni made his first start in a football career that began when former NU special teams analyst Jonathan Rutledge recruited him out of Australia two years ago. The second-year freshman missed last year after a preseason injury and spent the time learning the basics of a game he knew little about.
His first action was rough, with a 26-yarder in the first quarter putting Nebraska behind in the field-position battle early. He added a 19-yarder in the fourth with NU on the Illinois 43 and debating going for it on fourth-and-16 trailing by two touchdowns.
In all, he averaged 34.4 yards per punt on five tries, an average that would have ranked last nationally in any season-long tabulation going back at least a decade. None of his attempts settled inside the Illinois 20.
"We've just got to eliminate some of the mistakes," Martin said. "That's what we harped on in camp. Just gotta play smart. That was probably the biggest difference today."
Connor Culp's struggles were perhaps most surprising after the placekicker connected on all 20 of his extra points last season. The first misfire came after NU's first touchdown and kept the lead at 6-2. The second late in the fourth quarter made a comeback more difficult with the Husker deficit holding at 30-22.
The sixth-year senior made a 27-yard field goal in his only attempt.
"Connor, I've got all the faith in the world in," coach Scott Frost said. "He's been the only all-conference player we've had since I've been here. I haven't seen that from him."
Quarterback Adrian Martinez said all the positive developments of the offseason won't be washed away with one August loss.
That includes special teams, which has a fresh energy under new coordinator Mike Dawson and sprinkles more starters into all of its units than ever under Frost. The Huskers know they can be better — and must be.
Still, an unsightly debut didn't make their burden of proof any lighter.
"It's very frustrating, but luckily this isn't a one-game season," Martinez said. "This team still has a lot to prove."
---