LINCOLN — For Nebraska, the past four NFL drafts have been more a question of "if" than "when." A Husker getting selected in the seven-round event was no sure thing and a 56-year streak of at least one player getting picked in the event ended in 2019.
Twins Carlos and Khalil Davis were selected in 2020, so a new streak is expected to start this weekend, largely thanks to one guy.
Left tackle Brenden Jaimes. The four-year starter shows up in nearly every seven-round mock draft on the internet.
Pro Football Network has Jaimes hearing his name called late Friday night, in the third round by Tampa Bay. But most have Jaimes going in the fourth, fifth or sixth rounds, part of Saturday's selection event in Cleveland. The Buccaneers and New York Jets are popular destinations.
Jaimes' longevity — he never missed a start until he opted out of the Dec. 18 Rutgers game — works in his favor, as he never sustained a serious injury in college and played through all the small ones. Jaimes also played in two offenses, the first of which was a pro-style system preferred by many NFL teams. Jaimes was invited to the Senior Bowl, where he played multiple positions.
"I wanted to show how versatile I was to a lot of different teams, to show that I could play at that level at any position the coaches asked me to be at," Jaimes said before his Pro Day in March. "I think I proved a lot in that sense."
Jaimes could be a left tackle, a swing tackle, a guard or, if needed, even a center. Another former Husker, Nick Gates, made the transition from tackle to center in the NFL. Gates, who played left tackle in 2017 while Jaimes started at right tackle, now starts for the Giants.
"I've even working on playing on center, pretty much the whole time I've been training, just to show that I can do it and, if they need me, I could do it," said Jaimes, who has been training in Los Angeles.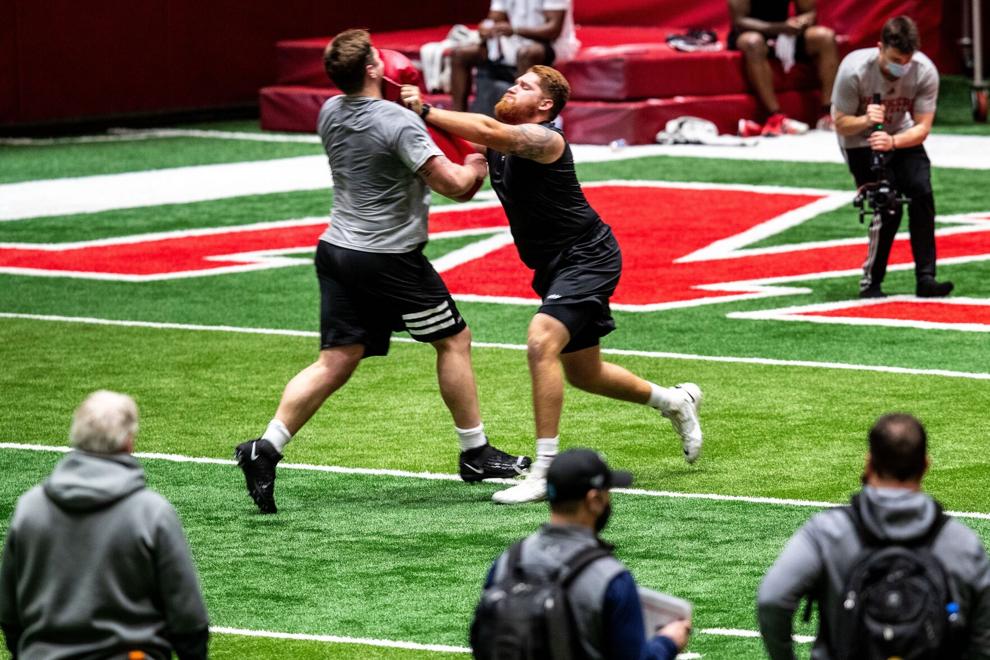 The 6-foot-6, 300-pounder is one of five former Huskers hoping to hear their name called — or sign a free-agent contract — this weekend.
Matt Farniok, who played tackle, guard and even a little center, is projected in one mock draft (NFL.com) to be selected in the seventh round by the Eagles. Farniok trained in New Jersey, cut his trademark long hair and reshaped his body into a leaner mass. His varied experience, two-time captaincy and strong Pro Day effort are plusses on his résumé.
"I'm ready to play whatever position they want me at," Farniok said at Pro Day.
The other Huskers hoping to be drafted:
» Cornerback Dicaprio Bootle is fast — he ran a 4.44 40 at NU's Pro Day — and had 26 pass breakups in his career. One career interception won't turn heads, and his 5-9, 180-pound frame probably makes him a special teams candidate to begin his NFL career.
» Running back Dedrick Mills had success at three schools — Georgia Tech, Garden City Community College and Nebraska — over five seasons, amassing 1,141 yards and 13 touchdowns in two seasons at NU. His 4.69 40-yard time, run at the Pro Day, may not help his chances of getting drafted. Mills said his speed was a lingering question for scouts.
» Tight end Jack Stoll had an impressive 40 time — 4.65 — and he caught 61 passes in his Husker career. Senior year wasn't Stoll's best — he played three games because of injuries — and spent a decent chunk of his career battling through one thing or another. Still, Stoll didn't play in a pro-style system for long, and because of NU's current offense, he learned how to block well in space. He may have a future as an in-line tight end.
The draft, which began Thursday night with the first round, continues at 6 p.m. Friday with Rounds 2 and 3 and at 11 a.m. Saturday with Rounds 4 through 7. The event, from Cleveland, will be broadcast on ABC, ESPN and NFL Network.
---