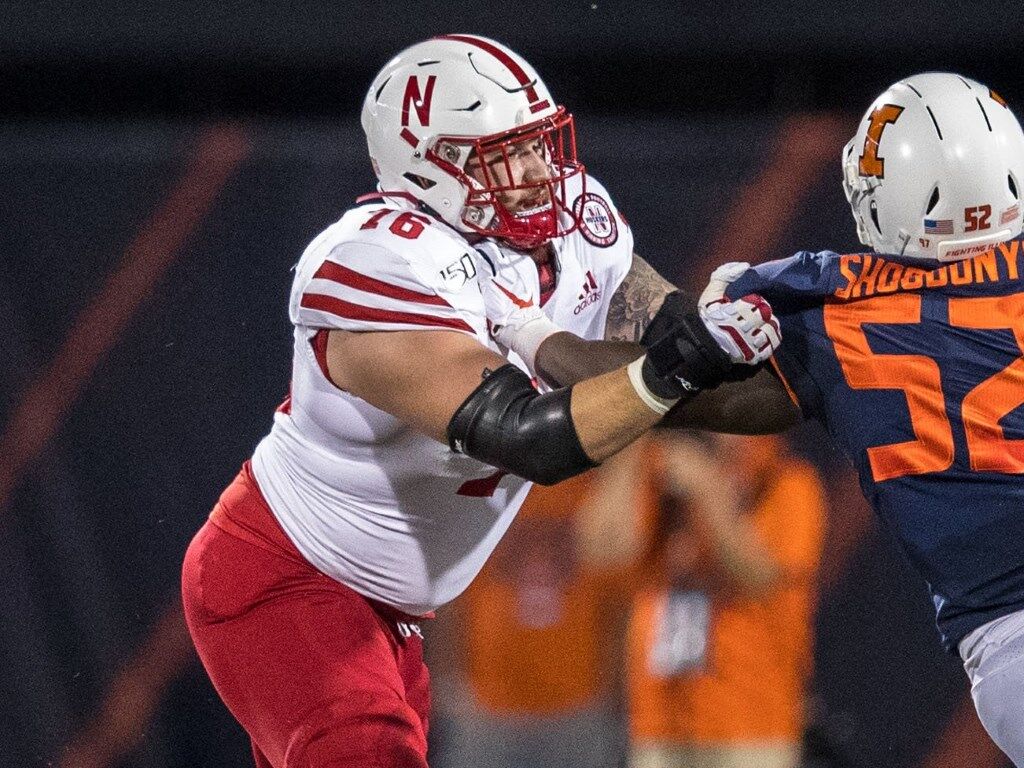 LINCOLN — Brenden Jaimes has never felt leaner, faster or stronger. He has good advice from Senior Bowl scouts in his back pocket and a big interview ahead of him.
He spent three years as Nebraska's starting left tackle, but shied away from media attention. Now he's NU's best, and perhaps only, chance to have a player selected in the 2021 NFL draft. He'll step into the professional spotlight during Tuesday's Pro Day at the Hawks Championship Center.
"I think I've earned the right to be here, and I'm happy with the progress I've made so far," said the 6-foot-6 Jaimes, who is just above 300 pounds and willing to play any position along the offensive line, even center.
Jaimes had a mid-round grade from scouts headed into the 2020 NFL draft before he decided to return for his fourth and final season. He said teams like his ability to "play fast" and move defenders off the ball, but he's had to improve his flexibility.
"That'll dissolve a lot of problems (scouts) see in my game," Jaimes said. "If I can get that taken care of, I'll be in pretty good shape."
How's he working on that?
"Doing things I don't normally do, that we didn't do as much here at Nebraska," said Jaimes, who trained at The Sports Academy in Los Angeles. "Training like a pro, having that mindset of training like a pro. Doing the little things that normal athletes wouldn't do. Taking care of my body in that sense. Learning how to be a professional athlete."
Jaimes was the only Husker to get an NFL Combine invitation — the event was canceled due to COVID — and be selected for the Senior Bowl. There, Jaimes worked at a variety of positions — including guard — and met with every team on-site in Mobile, Alabama. It didn't take long for Jaimes to realize "you can't take plays off" at the Senior Bowl.
"You will get exposed," Jaimes said. "Playing hard no matter what and giving your all every play, 100%, that's something I've learned."
Jaimes left the Husker program with one game left — the 28-21 win at Rutgers. Jaimes conceded the decision was "bad timing," but he wasn't sure NU was even going to play at RU.
"When my decision came out, it was 50/50 on if we were going to play or not," said Jaimes, who had already told coaches he was only playing the regular-season games for the Huskers.
"I felt like my best tape had already been played," Jaimes said. "I did everything I could for this university — I gave it my all for four years — and that was done and it was time to move on."
Monday's 13-minute chat may have been the longest interview Jaimes gave at Nebraska. He said he never wanted to be a "rah-rah" guy, preferring to lead by example, in part because other players were good vocal leaders.
Offensive line coach Greg Austin pushed Jaimes to talk more, to hold young players more accountable and pass on his knowledge.
"I feel like I achieved that pretty well, especially with the young guys, including the young guy who may very well be the starter in the future," Jaimes said.
That would be freshman left tackle Turner Corcoran, who started in Jaimes' place at Rutgers. Corcoran, a top-100 recruit nationally in the 2020 class, has been penciled in as a star since the day he arrived on campus.
Jaimes, once a three-star recruit out of Texas, didn't have that pedigree, but he started at right tackle as an underweight true freshman before moving to left tackle as a sophomore. If he's drafted, he'd be Nebraska's first offensive lineman picked since Alex Lewis in 2016.
He's confident about Tuesday's workout. He wants to hit the numbers he's established for himself and show NFL scouts in position drills that he can "bend better" and "explode off the ball better."
"I've earned my way to be in this position," Jaimes said. "Nothing was really handed to me, so I just want to show them I'm going to try to be the hardest-working guy on the field, no matter what."
---
Every Husker selected in the NFL draft since 2000