CHAMPAIGN, Ill. — Illinois coach Bret Bielema, known for his bluntness, minced no words after his team's 30-22 win over Nebraska. 
"The only guy that really could beat us, we thought, was 2," Bielema said, referring to NU quarterback Adrian Martinez. "We gave him that one play that kind of got them back in the game. So, a great teaching moment for me as a head coach to get that across to our players and our coaches that we have to take away the thing that can beat us."
That one play was a 75-yard TD run down the west sideline that got Nebraska within 14 points late in the third quarter. But Bielema found a positive spin to put on Nebraska's biggest play.
"That gave us a four-quarter game," Bielema said. "When you win these types of games, even though my wife doesn't like these stressful-type moments — I'll probably get chastised for that later tonight — it really does build character with your team.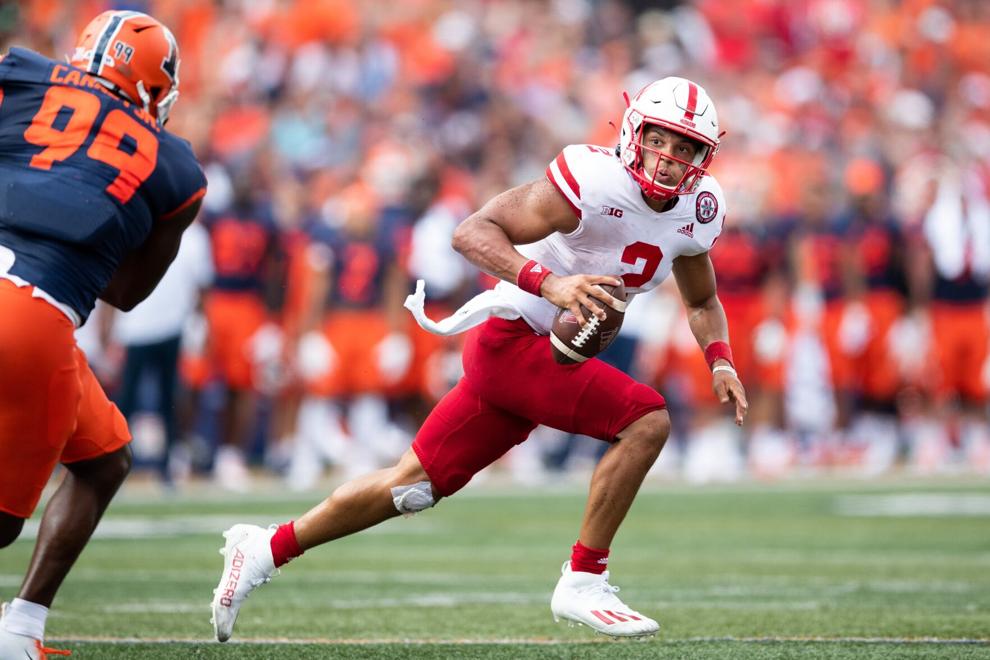 "It builds a lot of things that you can't simulate in practice to have that happen."
Take away that one run and Martinez had 16 carries for 36 yards. That TD sprint allowed Martinez to finish with 111 yards on 17 carries.
The Illinois defense also disrupted NU's passing game throughout the day as Martinez completed 50% of his passes — 16 of 32 — for 232 yards with one touchdown and no interceptions.
In many ways, Illinois backup quarterback Art Sitkowski outplayed Martinez after he inherited a 2-0 lead. He guided the Illini to three touchdowns in the second and third quarters. The sophomore from Old Bridge, New Jersey, completed 12 of 15 passes for 124 yards and two touchdowns.
Bielema had a 30-second chat with Sitkowski while trainers were attending to Peters, who Bielema said injured his left (nonthrowing) shoulder.
"I said, 'Good luck,'" Bielema said. "I just wanted to have him know that it didn't happen by chance that he was going to be in this position. He really has a pretty strong presence and awareness.
"He talks, acts, walks and reacts like a quarterback. I didn't really have any thoughts about how he was going to handle the moment."
What Bielema didn't know was how Sitkowski's teammates would react when he was under fire from an attacking Nebraska defense.
Bielema got his answer on the drive following the Nebraska field goal that gave the Huskers a 9-2 lead midway through the second quarter. Sitkowski threw a pass that was intercepted by cornerback Cam Taylor-Britt.
The pick was nullified because there were two penalties on outside linebacker Caleb Tannor. 
"What I didn't know was the way the guys were going to react to him," Bielema said. "After that play, I thought our kids really reacted very, very well. Our kids rallied on the field. I saw it visibly happen.
"A very wise man visited us during fall camp, and he said, 'Bret, I think your team likes each other.' You don't have to love each other; you don't have to go to dinner every night ... but you have to like and respect one another."
Sitkowski was reserved in his postgame evaluation of his performance. He did say that he wasn't going to let the late hit and taunting calls throw him off his game.
"I just tried to do my job, and that's all Coach B preaches, is do your job," Sitkowski said. "I just went out there and did my job and tried to give my team the best chance to win. I was ready to go, man. I was fired up.
"When you get hit like that, you know you're alive. So you just have to keep going."
Seven plays later, Sitkowski led the Illini to their first touchdown of the season to tie the game 9-9.
Still feasting off that energy, the Illinois defense forced a fumble by Martinez that linebacker Calvin Hart scooped up and returned for a 41-yard touchdown to give Illinois a lead it would never lose.