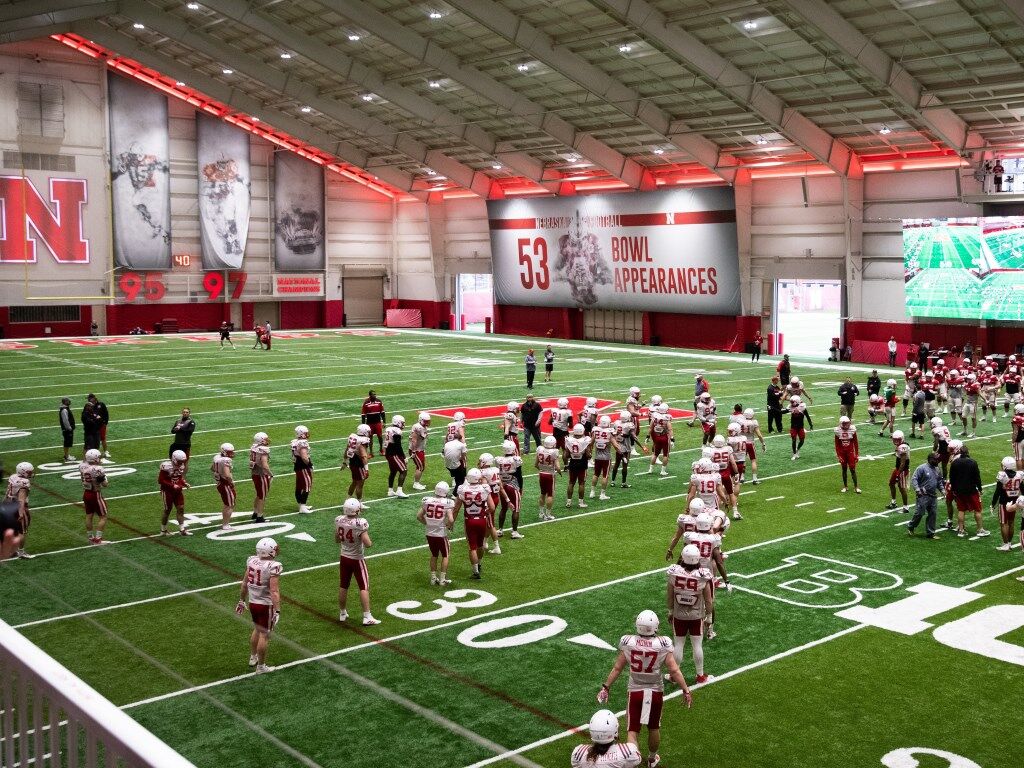 Nebraska opened practice to the media Wednesday for the first time in nearly two years. The Camp Chatter has takeaways from the 30 minutes of availability:
SEEN: A number of Huskers — JoJo Domann, Ben Stille and Will Honas among them — were not seen practicing, and three notable offensive players — Markese Stepp, Rahmir Johnson and Omar Manning — were in jerseys and sweats, not practicing. It's common for spring camp to be a time when players sit out with minor issues, but Stepp and Manning are both players who can use as much time as possible in NU's system.
SEEN: Nebraska making good on its practice commitment to "fundamentals," as NU spent a half hour mostly in heavy drill work, including some special teams work that was done while outside linebackers coach/special teams coordinator Mike Dawson worked with outside linebackers. There were some combination drills too, where multiple players from the same position worked together.
SEEN: NU's quarterbacks working on their deep passing while reading one side of the field against NU's secondary. The results were a mixed bag — they tend to be in spring camp — but Adrian Martinez did get a big throw over the top to Zavier Betts, who beat Nadab Joseph by two steps on a deep post. The play would have been a long touchdown. Logan Smothers struggled a bit — his deep ball needs work — but he had fewer receivers open. Walk-on Matt Masker, third in the drill rotation, is an accurate passer despite throwing from a sidearm slot. Heinrich Haarberg was fourth in the drill rotation and hit a few passes, including a crosser to Alante Brown.
SEEN: Nebraska's offensive line, split into two groups, doing yeoman's work in drills. Walk-on Nouredin Nouili was working at center and guard, and Broc Bando looked solid as well. The best-looking lineman appeared to be Turner Corcoran, a barrel-chested offensive tackle who's on the short side of NU's tackles, but dominant with his upper body leverage and control. Corcoran reminds of former Iowa offensive lineman Tristan Wirfs, who was built the same way. Corcoran finished blocks well and, when he was receiving the block, threw Teddy Prochaska — who also looked good — to the ground. Corcoran looks like one of the best players on the team.
HEARD: Husker players almost comically grooving to Mark Morrison's "Return of the Mack" as a warmup song.
SEEN: Nebraska going through its standard stretch warmup portion of workouts. The team needed just one "perfect jumping jack" before moving on to the next drill.
SEEN: Scott Frost, with a Nebraska social media person behind him with a video camera, watching the offensive and defensive lines go through drills.
SEEN: Outside linebacker Pheldarius Payne wearing his new No. 0 white jersey.
SEEN: Martinez skipping a pass to receiver Wyatt Liewer on a post route, then smacking his hands once in frustration. He followed with a crisp 30-yard pass to tight end Travis Vokolek a few moments later.
HEARD: The "Clank! Clank!" of a tackling sled as the outside linebackers pushed and crashed into the dummies time and again. Dawson stood on the back of the sled.
HEARD: "It's not a slap, it's a shot put!" Dawson barked to his linebackers as they were tasked with hitting a rolling padded donut to simulate stripping a football.
SEEN: Receivers Austin Jablonski and Brown pushing single dummies in a blocking drill.
SEEN: Jason Peter and Jay Foreman, former Husker defenders now working as volunteer assistants, working with defensive players.
SEEN: It's clear Dawson wants to coach up Blaise Gunnerson and Jimari Butler this spring. Dawson had extra teaching points for both during drills. Both were part of the 2020 recruiting class and are going through their first spring camp. Nebraska does not have a lot of depth at the position. After Garrett Nelson, Caleb Tannor and Pheldarius Payne — and Domann, who is more of a hybrid player — playing time is wide open. Butler's athleticism stands out, but he'd move aggressively through drills with mediocre technique, and Dawson corrected some of those movements. Gunnerson appears to still be getting his full range of movement back to 100%.
SEEN: Offensive and defensive linemen lined up against each other, and on the snap, crashed into the man in front of him at full speed. The goal of the drill was for a linebacker to bust through the line and get to the quarterback, or in this case a graduate assistant that was catching the snap.