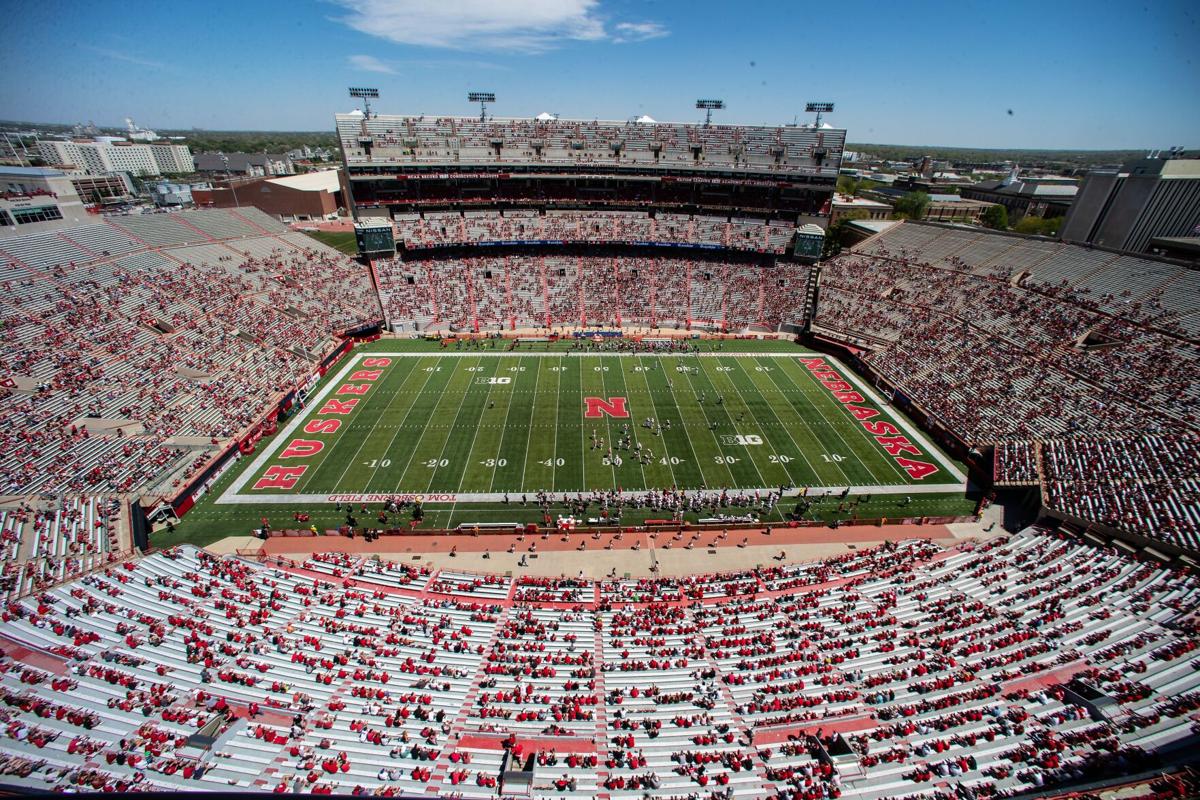 Their patience is wearing thin, like a 1994 national championship T-shirt.
You hear it in their voices. You read it in their words. They're tired of dysfunction, tired of incompetence, tired of feeling like fools every time they believe in progress.
Take Chris Poore, whose grip on Nebraska football season tickets goes back to the 1960s. From North Stadium, he watched five national champions, three Heisman Trophy winners and hundreds of Husker victories. He's no expert, but he's seen enough to distinguish good football and bad.
What Poore saw Saturday at Illinois was a "joke." He loves Scott Frost and wants nothing but the best for the program. But he senses a shift in the fan base.
The sellout streak doesn't seem like a priority anymore. Rising above mediocrity does.
For 40 years, Nebraska dominated college football like nobody else. That which goes up must come down.
"But this is getting ridiculous," said Poore, a Valley resident. "It's absolutely ruining my love of all things college football."
It's home opener week, and the big story isn't what Nebraska will look like on the field, it's what Nebraska will look like in the bleachers. Fans haven't occupied the Vine Street cathedral for a real game since Black Friday 2019, a last-second loss to Iowa. In ordinary times, they'd crave a return.
These are not ordinary times.
COVID-19 continues its assault on Nebraska's population, and Frost, after the mess at Illinois, has perhaps lost more supporters the past 100 hours on the job than he did his first 1,000 days.
Suddenly the last layer of Husker tradition, the program's firewall — fan loyalty — isn't so indestructible. If another season falls apart, will they keep coming to Memorial Stadium? Will they keep watching at all?
This week, I interviewed and exchanged emails with longtime Husker fanatics about their stamina level. Some remain steadfast. Some describe the program like a love already lost.
Poore is somewhere in between. He's attending Saturday with his 82-year-old dad, his wife and son. Why? Loyalty and curiosity.
"Will the stadium be half empty? Will the team get booed? Will anyone care? Could be a moment to remember, for all the wrong reasons," Poore said. "I think that might be the end of Husker fandom as we know it."
If the Big Red ship goes down, it'll go down with Janet Darst inside. The Omahan has owned tickets since 1970, when she was in college. She missed only one year, because her husband neglected to send in the check — "Almost a divorce that year!"
Many of Darst's friends have given up their tickets, but Darst insists on attending no matter the result. Abandoning the team in dark times means you were never a fan at all, she said.
"It was a good reason to tailgate, drink and party," Darst said. "They will find other ways to make themselves feel that way. I will continue to support Nebraska football."
John Wickstrom still has his three season tickets in South Stadium. He'll be there Saturday, too, despite the Delta variant. But he makes the three-hour drive from suburban Kansas City reluctantly.
Was last week just a fluke? Maybe the Huskers were too hyped up. You can't judge a team by one terrible result, he said.
But during last Saturday's loss, Wickstrom started wondering about another game down the road. Sept. 18 at Oklahoma. He's going to that, too, and he fears it'll be a repeat of 2007 Kansas, when he watched Mark Mangino's offense put up 76 points.
"Here we are 14 years later still hoping for miracles just not to get stomped," Wickstrom said.
Truth is, this month isn't the first measuring stick for Nebraska enthusiasm. Many fans have already found diversions on Saturdays.
Take Taylor Venema, who loves college football more than ever. He can indulge in Penn State-Wisconsin or Miami-Alabama or Clemson-Georgia — or all of them.
"When Nebraska stops shooting itself in the foot and then crying about why it can't walk, I'll be here," Venema said.
Shane Johnston watched the Illinois game until Adrian Martinez's fumble before halftime. Then he realized he'd already seen this show. He won't be watching more games this season, Johnston said, but amid recent Husker turmoil he has recognized a silver lining.
He used to believe that if Frost — a native son and quarterback of Nebraska's last national championship team — couldn't make it work in Lincoln, then nobody could.
"I don't believe that anymore," Johnston said. "There are plenty of coaches who can game plan and produce winning seasons. Time for Nebraska to look for another one."
It's one thing maintaining hope from the home front. Bob Welstad spends summers on the upper peninsula of Michigan, surrounded by Spartan, Wolverine and Buckeye fans. He displays his red boat, named "Huron Husker," but lately bragging rights have been sinking.
Last Saturday, Welstad awoke with a new hope for the Frost era. Then the game started and the Huskers looked ill-prepared ... again.
"We keep trying to be optimistic," Welstad said. "But that gets more and more difficult. Are we going to keep our season tickets? That's under discussion right now."
That's the case for a whole lot of Nebraskans, it seems.
This Saturday and next, the crowd might merit more attention than the team itself. Ask around and you'll find a range of opinions about the sellout streak.
Kelly Slump's love for the Huskers dates to 1962, when Bob Devaney called her dad and asked the business owner to be a booster.
To Slump, the idea of NU donors buying 2,000 tickets this week is an artificial way of extending the streak. Maybe it's better that it ends and leads to seat reduction and stadium modernization.
"I'll wear red on Saturdays as a show of support," Slump said, "it just gets harder to be enthusiastic."
Craig Connolly and his wife have held season tickets for 30 years. But Craig didn't watch Nebraska-Illinois. Not a single play. He listened to a few minutes on the radio while running errands.
"I was not buying the hype I had been hearing," the Lincoln resident said. "Heard it all before."
Connolly sold their tickets to the Fordham game. He feels no obligation to keep the sellout streak alive. In fact, the streak has long been an "illusion," he said.
Whether he'll attend games this season, he hasn't decided. But he's tired of hearing the same comments after losses. Three years ago, Connolly considered Frost a "slam dunk." Now the coach needs to show steady improvement to regain his attention.
"Mediocrity sounds pretty good."
---