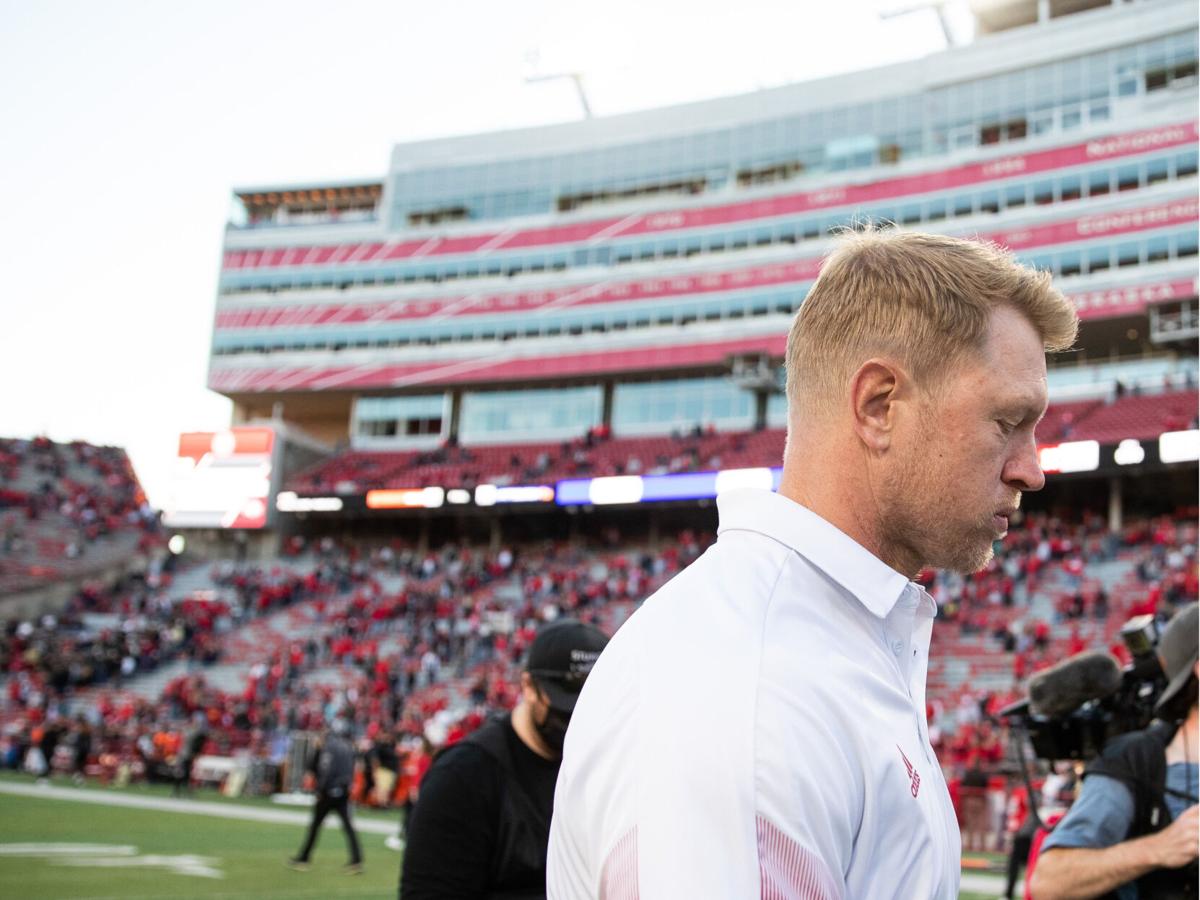 Any coach not named Scott Frost would've been fired.
Trev Alberts' decision to keep his football coach for 2022 merits a thorough examination of facts and figures. We'll get to that. But let's start with the indisputable.
Nebraska owns five national championships and more than 900 victories. In the 46 seasons prior to Frost's return to Lincoln, no college football program won more games than Nebraska. During those 46 years, Big Red recorded only four losing seasons.
For a program of that quality to forgive four consecutive losing seasons from a new coach? That only happens if fans love him like a son. And fans still love Scott Frost. It's emotional. It's visceral. It endures.
Frost, like an old VHS tape of a childhood vacation, represents a time in history that fills Nebraskans with pride and joy. And his success still represents the dream Husker football scenario. Fans, boosters and public officials aren't letting this guy go unless they have to. With a stadium still mostly full — with dignity preserved, even in defeat — they didn't have to.
Frost's competitiveness against four top-10 opponents gave everyone permission to skip the $20 million buyout, avoid the awkward goodbye and choose continuity.
But — here comes the reality check — the odds are not in Nebraska's favor. Not even close.
In fact, the Huskers are trying a rare experiment. This is the equivalent of a World Series manager, trailing by one with two outs in the ninth, standing by his home-run hitter … when he's 1 for 37 in the playoffs.
First, some basic numbers:
» Frost is 15-27 in Lincoln. Of 65 Power Five teams, only six have a worse overall record since 2018: Kansas, Rutgers, Vanderbilt, Arizona, Arkansas and Oregon State. Only the Beavers haven't changed coaches during that span.
» To catch Mike Riley's .500 record, Frost would need to win 12 straight games. To match Bill Callahan's 55.1%, he'd need 19 straight wins.
» Every other Big Ten West team has beaten at least two ranked teams since 2018. Frost is 0-11. But it's worse than that.
» Frost is 2-20 against teams with a winning record. The past three seasons, Frost hasn't beaten a single FBS team that finished with (or currently has) a winning record — he's 0-14. Riley, by contrast, beat eight winning teams.
» If we include 2018, Frost has beaten 13 FBS teams total. None of those 13 finished the season better than 7-6 (the record of 2018 Michigan State and 2018 Minnesota).
Add up the records for the 13 teams Frost beat — (Maryland 3-9, South Alabama 2-10, etc.) — and it's 53-88.
» What about losing teams? Frost lost to seven opponents that finished a season (or currently sit) under .500. Riley only did it three times.
None of those numbers should surprise you. So let's open the lens much wider.
Since 1968 — a half-century prior to Frost's arrival — 55 new coaches from programs currently in Power Five conferences started with four straight losing seasons. Basically it happens once per year. (Poor Woody Widenhofer and Bob Weber somehow did it at two different schools.)
Of those 55 coaches, only 32 returned for their fifth season. It's an interesting list featuring some prominent names: Dan Hawkins, Jim Caldwell, Cam Cameron, Denny Green, Lovie Smith.
But here's the important question: How many of those 32 coaches produced a winning record in the fifth year?
Jim Sweeney, Washington State (1972). John Jardine, Wisconsin (1974). Lee Corso, Indiana (1977). Jim Dickey, Kansas State (1982). Greg Schiano, Rutgers (2005).
That's right, it's happened one time since '82! And the Big East wasn't really a major conference when Schiano did it. Sweeney, Jardine and Dickey didn't record another winning season. Corso had two. Only Schiano left a lasting mark on his program.
By any standard, Frost is fighting against history here. But there's hope in the data too. Let's look at some of the guys who started with five straight losing seasons.
Like David Cutcliffe. Duke kept him around for year six, and Cutcliffe went 10-4. Iowa State stood by Dan McCarney and he went 9-3 in year six.
You'll find more inspirational stories just outside the criteria.
Bill McCartney, Barry Alvarez and Gary Barnett broke through in year four — not year five — but their bosses also needed patience.
Do you notice the huge difference between those situations and Nebraska's? You can't overemphasize it. All those coaches fixed programs where football was an afterthought. They needed three years just to build infrastructure and an audience.
Look at the cases where a coach started with four straight losing seasons: It happened at Vanderbilt five times. Duke five times. Oregon State four. Northwestern three. Those places didn't prioritize college football. Not like Nebraska.
In 50 years you can barely find a case of a top-20 program standing by a coach after three straight losing seasons, certainly not four. Curley Hallman (LSU). Ty Willingham (Washington). That's about it.
What Nebraska is doing — what Alberts chose Monday — is uncharted territory for a football school.
This isn't Michigan giving Jim Harbaugh one more year — Harbaugh was 27 games over .500. It isn't the debate over Frank Solich and Bo Pelini, who each had more substantive arguments for retention than Frost.
This is a Hail Mary. The kind of decision you only make when you're dealing with family. Frost didn't deserve a pardon Monday … but deserve has nothing to do with it.
For a huge swath of the fan base, the joy in seeing Tom Osborne's last quarterback lead the state's favorite team every Saturday, even in defeat, exceeds the potential joy of an outsider winning a few more games.
Is it because those fans no longer believe true glory is possible? Is it because this is what we do in today's world, planting our flags in the ground, identifying our guy and defending him no matter the results? Or is it because we still see a flicker in the campfire?
When you commit your heart to an idea, to a man, to a story, you don't abandon it until you must. It transcends logic. It's human nature.
Let's be real: This experiment likely won't work. But if it does … nobody will remember the punt return at Michigan State, or the blocked extra point at Oklahoma, or the second-half meltdown at Colorado. If it does, fans will see Frost the way they saw him in 1997. All over again.
The quarterback miraculously led Nebraska 67 yards in 62 seconds at Missouri 25 years ago next fall. And no matter how many times we see Coach Frost's offenses fail in the clutch, the majority of Nebraska still believes that if anyone can find a way, he can.
You might call that hope. I'd call it faith. And faith isn't just what you believe. For better or worse, it's who you are.
---