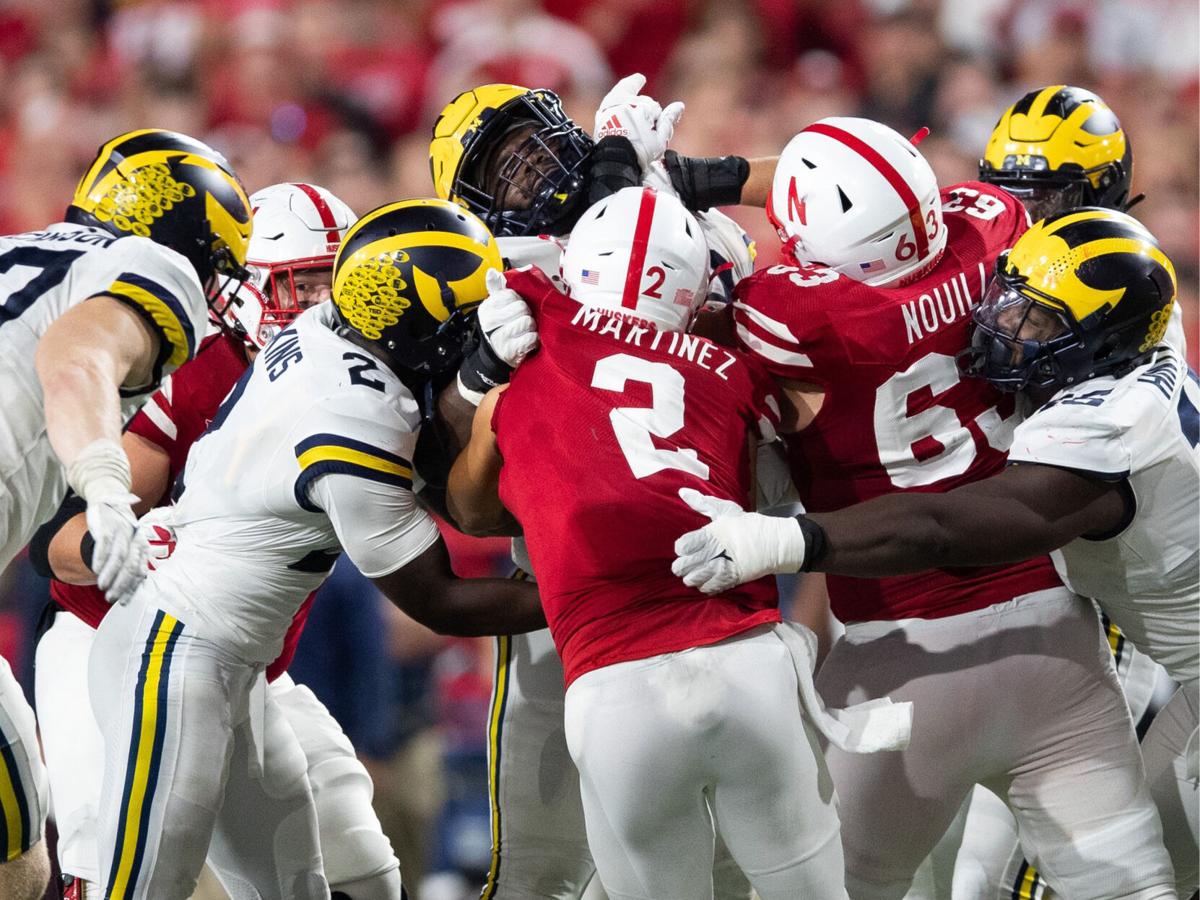 LINCOLN — Forward progress. Talk about an ironic phrase.
When Adrian Martinez carried the ball into a standing pile of 300-pounders Saturday night, he gained the first down and merely wanted a few more yards. Not a touchdown. Not a big play. Officials could've determined that Michigan stopped Martinez's forward progress, blew the whistle and stopped the scrum. It looked like a good thing they didn't ... until No. 2 fumbled.
"I thought the play was over," Martinez said.
That's Big Red football, isn't it? Bad news follows good news like a late-afternoon shadow. For 20 years now.
You saw what happened next. Michigan's fourth field goal and Nebraska's failed fourth down completed one of the wildest nights this grand stadium has ever produced, leaving the top-10 Wolverines unscathed and the Huskers tormented again.
"I thought tonight was the night," coach Scott Frost said.
So did his fans. So did I.
I thought this was the night to redeem all the heartbreak. The reason you endure seasons littered with excessive hype and unmerited praise, false hopes and false starts, backbreaking turnovers and special-teams gaffes, astonishing last-minute losses and humiliating blowouts.
This was going to validate all those Saturdays on the road to Lincoln, all those birthday parties and wedding receptions skipped. All those checks you write for season tickets and parking spaces and your 33rd Husker pullover.
Why do you care about this maddening football program that ripped your heart out repeatedly for two decades?
Because of nights like this. Because Nebraska football — when it's right — still shoots a lightning bolt into your soul. Because just when you think they're dead, Martinez makes another miraculous play. Rahmir Johnson jukes another defender. Frost calls another beauty.
This is why you come back, folks. This is why you care. For classic nights like Nebraska-Michigan. But the Huskers keep coming up short. Devastatingly short.
We can repeat the old emotions and clichés, but you've read it all before. I swear I'm watching a good college football team, yet I look at its record and see 3-4.
Forward progress. What does that mean 3½ years into the Frost era? How do you measure it? At what point do the Huskers finally break through?
Most of the night, it looked like the old Huskers blaming officials and bad bounces. Then suddenly, Nebraska roared out of the halftime locker room. After it took the lead on Levi Falck's touchdown reception — the latest lovely call from Frost — the third quarter ended and another stunning light show commenced. Thunderstruck!
Only this time, Michigan joined the dance party. That fourth quarter was classic. Two old powerhouses engaged in a second half that would've delighted Jim Delany, Bo Schembechler and Bob Devaney.
This was the prize fight in Jason Peter's backyard — "16 Deep Hollow Drive, Locust, New Jersey" — we all wanted in January 1998. Remember? The Wolverines are very good and the Huskers matched them drive for drive.
But Martinez made the critical mistake. So often he makes the critical mistake.
You have a football team that fights like hell, Nebraska, even when things aren't going well. Considering how badly this season started, it's amazing how far Frost's program has come. But you gotta finish. You don't get many nights like this one. You gotta win.
As the game ended and teams met at midfield to shake hands, an errant firework exploded over the North Stadium scoreboard. Someone back there missed the message: The Huskers are making forward progress.
But it's still too soon to celebrate.
---