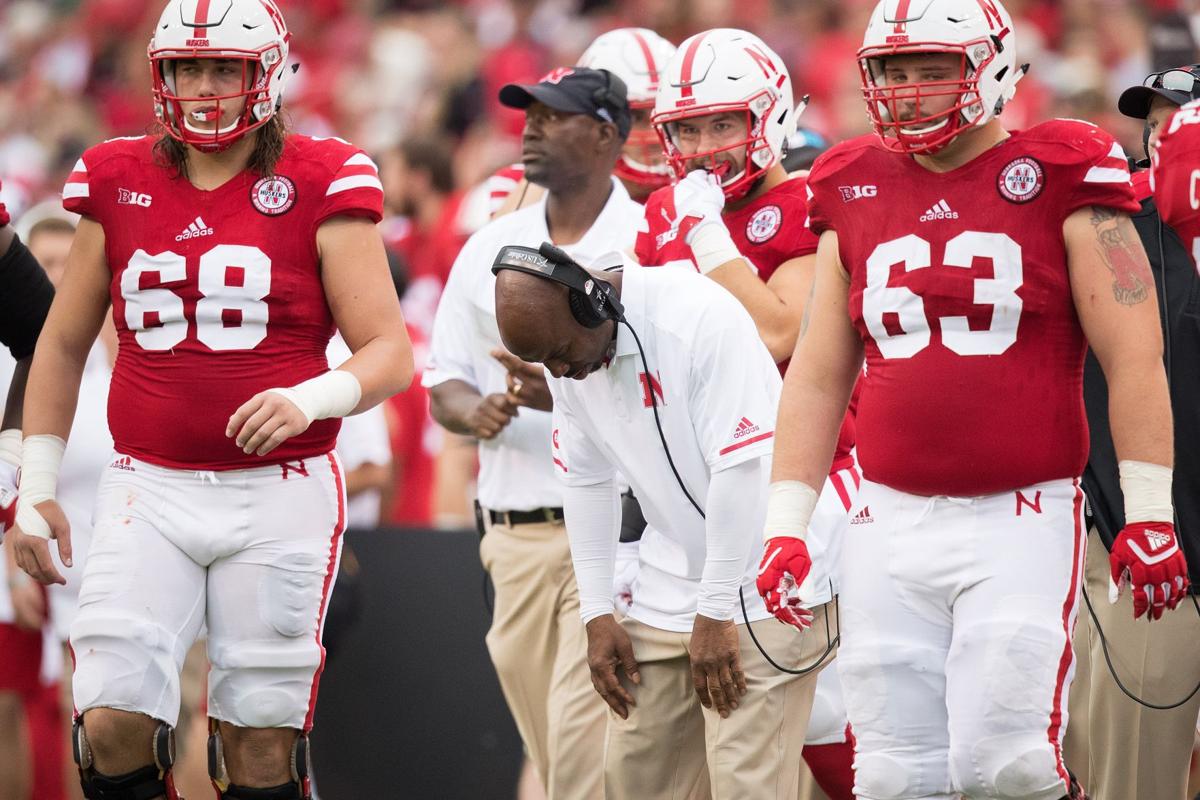 LINCOLN — You have to hand it to Nebraska football. Nobody celebrates tradition quite like the Big Red.
Walk into Memorial Stadium and glory radiates off the turf. Behold the trophies and statues. The video tributes and highlight clips. There's a sign for 356 consecutive sellouts! Another for 329 academic All-Americans! And the reunions, well, you can't beat the reunions.
The Huskers love their reunions so much that occasionally they slip one into the schedule without telling anyone. Like Saturday, when Mike Riley's team did an epic impression of the 2007 team.
What, you say, Nebraska shouldn't honor its worst team of the modern era, an edition so infamous that it prompted sacking the A.D. midseason and the football coach one month later? Sadly, it may be too late to make those distinctions.
One quarter into the 2017 season, the Huskers are flirting with a Pederson/Callahan/Keller disaster. A series of Black Saturdays so ugly it'll make Nebraskans hungry for basketball season.
The worst part of losing to Northern Illinois isn't dropping to 1-2 for the second time in three years. No, the worst part is knowing that Nebraska must play nine more games. And if 2007 is any guide, it's likely to get worse.
Hank Bounds, you might want to hold off on Riley's contract extension.
Look, any sensible fan knew that 2017 was going to be a little rocky. Nebraska's depth chart is ordinary in its talent and experience. The hope was that the Huskers, fully absorbed in Riley's culture, would be good at the intangibles. They'd play smart, clean and hard. They'd win close games.
On Saturday — and through most of the first three weeks — they underachieved. Riley's offense and special teams looked like they hadn't practiced all week, producing one of the most inexplicable halves of football you can imagine.
The errors were too many to count. Offensive linemen were flanked for bone-crushing sacks. Receivers dropped perfect balls on third down. De'Mornay Pierson-El, former punt returner extraordinaire, couldn't decide which balls to field. Trusty Drew Brown got a field goal blocked. And Tanner Lee, well, fans probably shouldn't worry about him leaving early for the NFL draft.
Lee's arm strength may be pro-caliber, but his lack of mobility makes him a sitting duck in the pocket. Not ideal when your offensive line is being abused. The sacks are bad enough, but Lee's decision-making creates all kinds of trouble. Every third throw is a near-interception.
All offseason, Husker fans dreamed of a quarterback who delivered pinpoint passes at precise times. Instead, they're getting a lesson in why coaches recruit dual threats. Rutgers' defense must be licking its chops.
Nebraska isn't good enough to be sloppy. Riley doesn't have the game-changers to overcome individual breakdowns. So either you execute at a high level or you leave yourself vulnerable on days like Saturday.
At halftime, the Huskers had zero points for the first time since Oklahoma State 2007. As they jogged to the locker room, a smattering of boos came down from above.
Hundreds of fans decided they'd held onto their red balloons long enough. Rather than follow tradition and wait for the first score, they said the heck with it. They let 'em go. In the gusty north winds, balloons drifted off in every direction, confused about which way to fly.
There will be a lot of confusion this week. A lot of anger and fear about the future. A few flashbacks, too.
On Sept. 22, 2007, one week after getting routed by USC, a Mid-American underdog turned Memorial Stadium into a sea of nervous sweat. The Huskers held off Ball State, 41-40, and beat Iowa State the following week, but it only delayed the demise.
Maybe Riley's team will get this figured out. Maybe it's not too late. But the gap between where Nebraska resides and where Nebraska needs to be is as vast as the Sand Hills.
Riley's Oregon State teams frequently got off to bad starts and rallied. But what makes Nebraska a football fantasyland in good times — the massive, devout fan base — will work against him now. External panic will complicate internal progress. He thought 2015 was bad? This will be even harder because a much bigger chunk of the fan base is ready to send him back to Corvallis.
It feels like Riley just got here, doesn't it? Yet he's quickly running out of time, sliding toward a conclusion that feels more inevitable every week.
At Nebraska, starting over is becoming a tradition.
How would you grade Nebraska's performance against Northern Illinois?
Nebraska's defense allowed just one touchdown, but the Huskers nonetheless fell 21-17 to Northern Illinois. How would you grade NU's overall performance?
You voted: