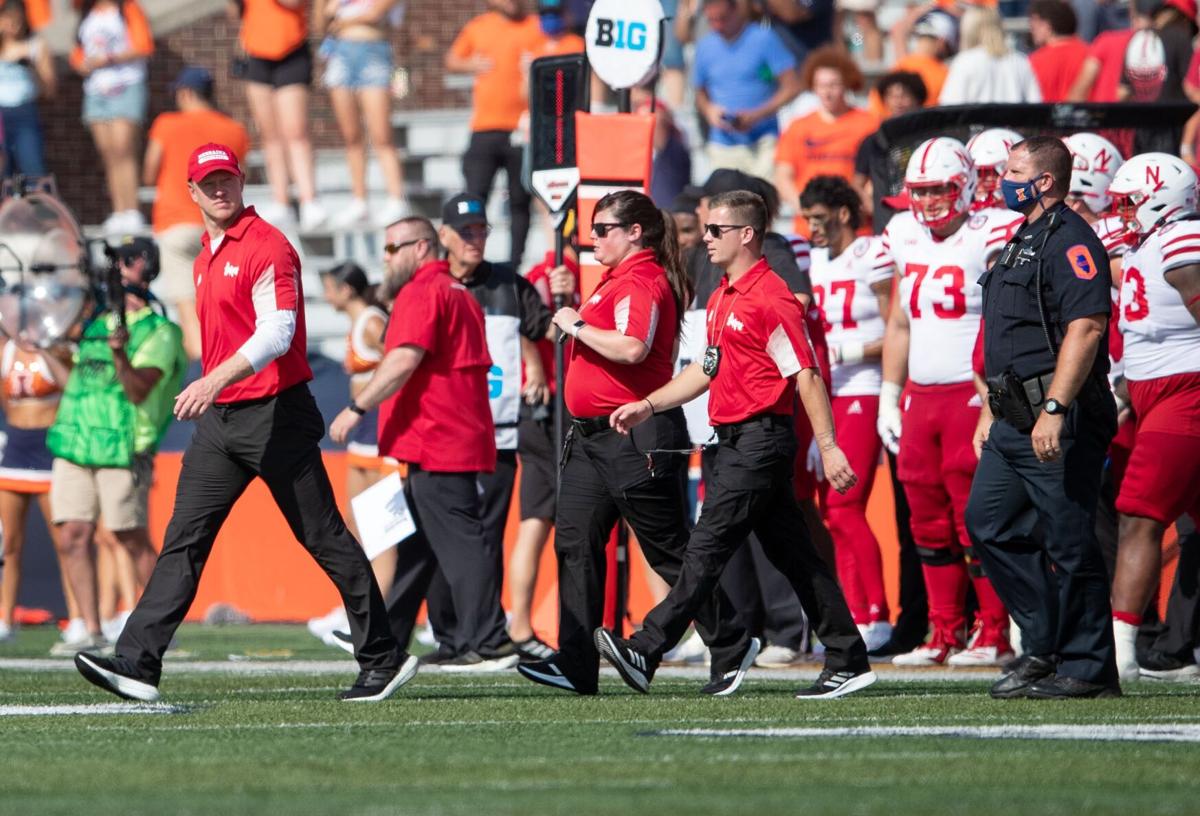 "It looked like the same movie."
Scott Frost won't argue with your eyes. In a 30-22 loss Saturday at Illinois, his team committed the same silly, stupid errors it did the past three seasons.
The other 350-plus days a year are impossible to judge. But during these games, the Huskers look like a contender for America's worst-coached team.
It's hard to go 12-21 with Nebraska's resources and recruiting classes. Frost has managed with shanked punts, missed extra points, momentum-swinging penalties, backbreaking turnovers. There's little point in rehashing the details because the details never change.
But the same old movie does NOT mean it's the same old conclusion. There's a consequential difference between this defeat and Northwestern 2018 or Colorado 2019 or even Minnesota 2020.
Before Saturday, your brain could reasonably persuade your eyes that Nebraska could still be Nebraska. For 20 years, in fact, you could reasonably make a case that Big Red, like a strong Fortune 500 company, would eventually rebound.
If Frank Solich recruited better ... if Bill Callahan developed better ... if Bo Pelini didn't go deer-in-the-headlights in big games ... if Mike Riley were tougher ... if Frost had enough time.
Always, you found hope. Always, there was an argument, if you altered your view or tweaked the lens.
Now what? Seriously, if not Frost, then whom?
If not his formula — built upon decades of first-hand exposure to Nebraska's history; perfected with NFL experience and apprenticeships under elite coaches; tested at UCF; endorsed by Tom Osborne himself — then what?
The scary part of Nebraska's loss to Illinois Saturday is NOT what it means to Frost's long-term status as coach. No, the scary part is that if Frost fails, what's left to try?
Is this the end of the movie? There's no hero riding up over the hill? No redemption?
At least it's the kind of redemption that connects us to our memories. The kind of redemption that fulfills the old legend. One day, Nebraska will win nine or 10 games again. But this is the last chance to go back and restore what was great. Maybe that's life. But it's not easy.
Two decades of futility have tainted or erased so many things once sacred here.
Blackshirt toughness. Pipeline dominance. Walk-on grit.
But more than almost anyone, Frost represented the old way. And the joy he helped deliver lasted a long, long time. The stunning rally at Missouri. The blowout of Peyton Manning. Osborne walking away on top. Those 1997 scenes endured like framed photos on the mantle.
Texas and Iowa might have kicked Nebraska in the teeth, but they couldn't take away the memories. Nor could they steal the possibility that Frost might one day return and make the program right again.
To know that's not going to happen — he, too, isn't good enough — is devastating.
You've seen the William Jennings Bryan quote engraved on the Memorial Stadium façade, right? The one that Husker players and coaches walk under every day: "Destiny is not a matter of chance; it is a matter of choice."
It's a Big Red lie. You don't think Nebraska wants to win, Mr. Bryan? You think Nebraska hasn't tried hard enough?
The harder the Huskers chase their destiny, the harder they fall. It's like a sick joke inflicted on 2 million people who tune in every August expecting something better, only to find it somehow worse. The Huskers lost Saturday to a first-year Illinois coach with a backup quarterback, a Rutgers transfer named Art Sitkowski, for God's sake.
The humiliations keep piling up. Guess how many consecutive games Frost would need to win to match Mike Riley's win percentage in Lincoln. Nine. How many straight wins would Frost need to match Callahan? Fourteen!
Outsiders will read this and chuckle. Of course, they'll say. It's been true for 10 to 15 years. Nebraska was never going to be Nebraska again. Welcome to the 21st century.
But it's hard for them to understand what those old traditions — like family heirlooms — mean when they aren't yours. It's hard to describe what Frost represented that day in 2017 when the new coach showed up at Memorial Stadium and found 200 former Huskers waiting to greet him.
"Thanks for coming, boys!" Frost said to their cheers. "Let's get this thing right, huh?"
One of those ex-Huskers was Bryan Pruitt, who first came to Lincoln in 1990 as a Prop 48 walk-on. He was there the Miami night that Cory Schlesinger busted into the end zone and the Huskers doused Osborne with Gatorade.
Before Pruitt's senior season, Osborne awarded him a scholarship. A couple of days later, the coach apologized. Something came up; Osborne had to take it back. That's when teammate Brady Caskey stepped up and gave Pruitt his scholarship.
For 25 years, that's what Nebraska meant to Pruitt. That's why he drove six hours to Lincoln in 2017 to shake Frost's hand. To wish him good luck.
The stories matter. The legend matters. And Frost was supposed to restore it all. Make it right.
He did not have to win national championships. Really, he didn't. He just needed to get back to good. Top 25 seasons. An occasional Big Ten title. Be like Iowa or Wisconsin. Represent the program with class and toughness.
It would've been fun again. It would've felt right again. It would've fortified Husker history.
Instead, Frost's failure, assuming that's ultimately where we're headed, eclipses any hope of a glorious final scene.
I'll admit, there were times these past 20 years when all of this felt like big-screen entertainment. When you watched a Husker loss, grabbed your favorite bat, fueled up with snark and sarcasm and whacked the piñata to maintain your (and your readers') sanity.
Nebraska is Nebraska. Someday they'll figure it out, right?
But, man, I'm 40 now. Swinging hurts my back. I wonder what Memorial Stadium will look like in mid-October. Not in the fourth quarter after a 30-point deficit, but at kickoff.
I wonder how Nebraska is going to sell tickets for Fordham and Buffalo. How it's going to open a new football facility in 2023. How it's going to pay for and court the next coach, if that's necessary. I wonder whether our kids will ever care enough to watch.
Look, this isn't COVID-19 or Afghanistan. Just football. For a whole lot of people, the Huskers are their favorite reality show. They watch to cheer, but also to revel in the absurdity. To escape real life.
But what does this program look like in 10 years? Main Street after the factory left town? Dry-land corn during a summer drought? Wyoming?
I don't know. You don't know. For years, I've told myself that it's coming back when the circumstances get right again. When the right people fill the big chairs. Frost was supposed to make it right.
"I believe in my heart this team can still have a special season," Frost said Saturday.
There was a time when those words would've read like Gospel truth. Now they just sound like desperation.
---