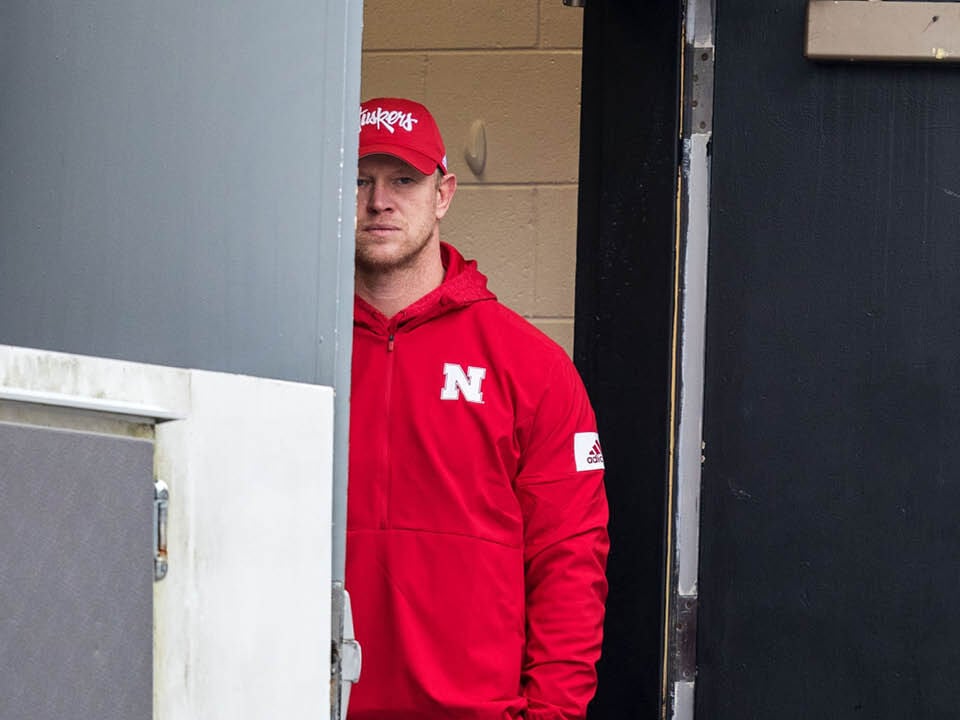 What if Scott Frost came out tomorrow and said, "You know what? I was just messing with everyone these past three years. If it's cool with you, I'll take a do-over. I'm the new Nebraska football coach starting ... NOW."
For Frost's sake, we'd all go back to August 2018, when the Husker football restoration seemed inevitable. When Frost's homecoming felt like a 2 million-person group hug.
Instead, setbacks have outnumbered triumphs by blowout margins. From the Akron monsoon to the Northwestern collapse (2018) to the Colorado collapse (2019) to the "College GameDay" blowout to Adrian Martinez's regression to the Illinois home loss to the Minnesota home loss to quarterback juggling to Wan'Dale Robinson's transfer to the Oklahoma scheduling fiasco.
Three years of facepalms reached another head-shaking low Wednesday when Nebraska acknowledged that its football program is under investigation, in part for having an analyst coach during practice.
The jokes are low-hanging fruit, so let's keep our eyes on the ball (unlike the 2020 Husker offense that finished fifth-to-last nationally in turnover margin).
Frost's program continues to demonstrate an uncanny ability to self-destruct. I'm trying hard to convince myself that four consecutive losing seasons (three from Frost) don't accurately represent a once-proud program. That Frost, like a kid who jumps into the pool, will pop back to the surface and start splashing again. But apparently there's an anchor tethered to his foot.
Seeing Frost Wednesday, you couldn't help but wonder if this really was the guy Nebraska hired? Could the high achiever who led the last-minute drive at Missouri in 1997, won a national championship for Tom Osborne, impressed Bill Belichick and Chip Kelly and went undefeated at UCF really oversee an organization this sloppy?
Now it's worth noting the NCAA's investigation of Nebraska is laughable in the context of its recent impotence. College sports cops don't have the manpower or backbone to pursue Art Briles or Bill Self, but they'll crack down on analysts?
In the big picture, Frost's alleged mistakes here are small. They might even be irrelevant if Frost were winning. But he hasn't.
So Wednesday's news smudges Frost's already scuffed-up record. It confirms the narrative that he can't get out of his own way. It amplifies the pressure to win in 2021, especially the opener at Illinois. And perhaps most important, it comes just a month after his new boss arrived.
Trev Alberts won't take the NCAA allegations lightly. I'll never forget in December 2013 — two days before Christmas — when Alberts contacted The World-Herald, seeking an audience to detail an NCAA violation in the UNO hockey program.
Coach Dean Blais impermissibly reimbursed a player $400 after a watch was stolen from the Mav locker room. Blais later confessed his mistake, self-reported to the NCAA and received a one-game suspension. Pretty small potatoes, but Alberts treated it seriously.
To him, the incident reflected poorly on UNO's reputation and integrity.
The investigation into Frost will likely bother Alberts the same way.
Frost's compliance has never been an issue. And I'd guess his program is cleaner than most. But these are the headlines that chip away at a coach's credibility and embarrass the program. It certainly didn't help when Frost said Wednesday, in regard to the Oklahoma game, that he doesn't get involved in Nebraska's nonconference scheduling.
Come on. Who's going to believe that?
It's past time for Nebraska to get its house in order. From special teams to turnovers to red-zone offense to, yes, NCAA compliance. Discipline breeds success and the Huskers have sorely lacked both since 2018.
Frost can't go back and start over. But when it comes to competent leadership, he's running out of practice time.
---