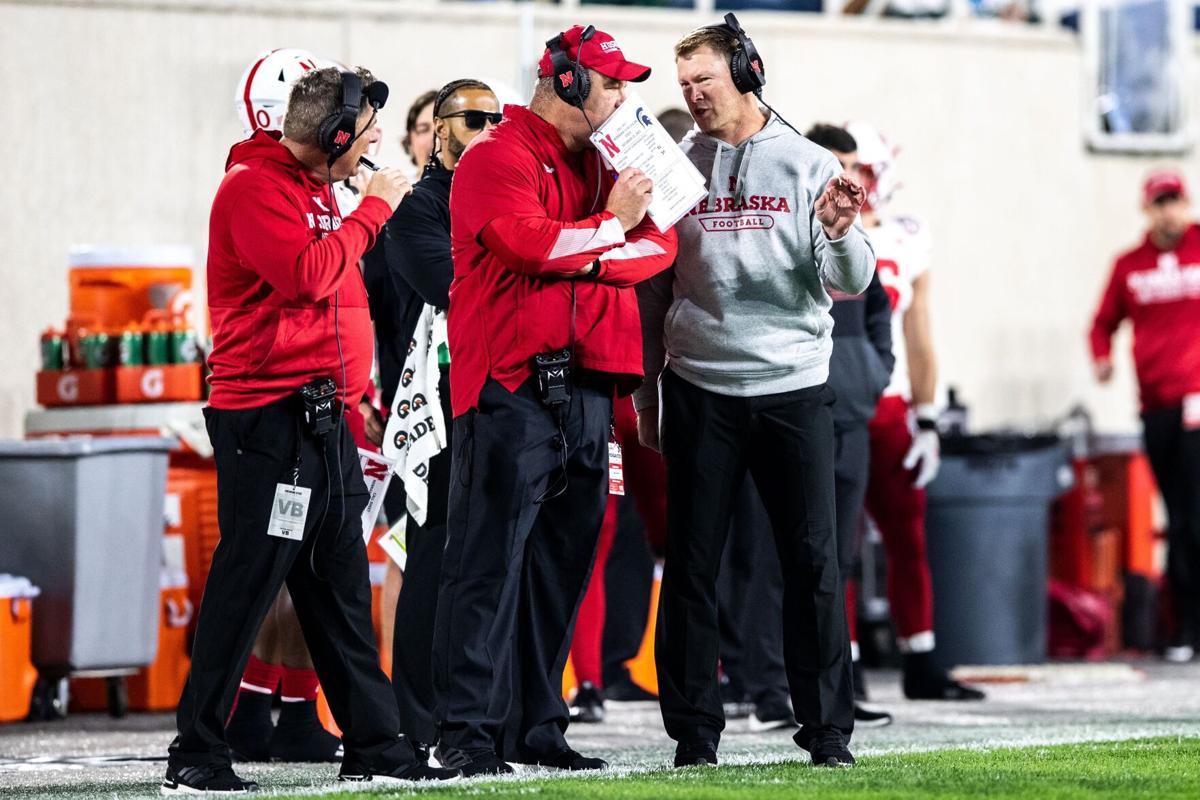 With God as my witness, I wrote these 100 words on deadline Saturday night as Nebraska held a 20-13 lead late in the fourth quarter ...
Are you ready to experience that old, addictive sensation again? That gut feeling that jolts you out of bed on Saturday mornings? That adrenaline rush that prompts you to leave your work and strike up conversations with strangers?
What's the word we're looking for?
After watching Nebraska dominate — yes, dominate! — a Top 25 team on the road Saturday, you're free to imagine possibilities again.
A winning season? Go for it!
A successful Scott Frost era? Why not!
A Big Ten West crown? Better wait a few weeks. But it's not crazy.
And that's when Nebraska punted the ball to Jayden Reed, who returned it 62 yards for a touchdown. No kidding. That's exactly how it happened on my screen.
And I felt like a fool for starting a column that I didn't finish. And you surely feel like a fool for thinking the Huskers had Frost's biggest win on lockdown. A little redemption for Oklahoma and Illinois and the 20 losses before that? Forget it.
Nebraska blew it. Again. Squandered another solid start from Adrian Martinez and another inspiring effort from the Blackshirts. The Huskers' strengths are indeed getting stronger in Year 4. It doesn't matter because their weaknesses are improbably getting weaker.
Michigan State didn't record a first down in the second half. And Nebraska lost anyway, because they committed their 873rd special teams gaffe since Frost's arrival.
It's no small accomplishment to sustain this level of incompetence.
What can you possibly say that makes your neighbor feel better today? How can you possibly explain a program that finds a newer, more painful way to lose almost every week?
In the old days, Husker fans congregated at 72nd and Dodge or 14th and O to celebrate championships. Now we should hold group therapy sessions there. Bring your stuffed animals and stress balls.
How can Frost sleep this week? Imagine the sheer anxiety he must feel knowing that his team might collapse at any moment, no matter how strong its position. I'm not excusing him. With success, he would've reaped the glory. He deserves the blame. He allowed these special-teams fires to burn too long.
Do the math and you'll find almost 200 yards of field position lost Saturday night. The Huskers aren't good enough to overcome half of that. And yet it persists, threatening to bring down the entire program.
The Huskers already show signs of a fragile mind. They're not just waiting for disaster to strike, they're almost willing it to happen.
Football is hard enough when everyone believes. When doubt infects a locker room of 200 people, finishing a fourth quarter on the road is like closing a marathon.
A severe psychological blow like Saturday might ruin Nebraska's confidence for good. I hope not. We witnessed enough potential those first 26 minutes of the second half to merit another look against Michigan or Iowa.
Had Nebraska won Saturday night, I was going to write that Martinez + Blackshirts composed an intriguing formula in a weak Big Ten West.
Minnesota lost to Bowling Green. Wisconsin got smacked by Notre Dame. Iowa scuffled with Colorado State. Nebraska probably can't hang with Ohio State, but everyone else on the schedule? With this defense? They can hang.
I feel awful for Erik Chinander's Blackshirts. They deserve better than this.
Coaches must pick up the pieces and persuade the defense to keep fighting. Keep working. Keep visualizing what a big victory might look like.
Following Reed's punt return and Nebraska's overtime failure, I almost deleted those first 100 words and started over, but maybe there's value in reading them. The Huskers were close Saturday night and can be again.
But next time, come the fourth quarter, you might want to shut off the TV. Wait for morning and drive to 72nd & Dodge just in case.
Don't forget your stuffed animal.
---