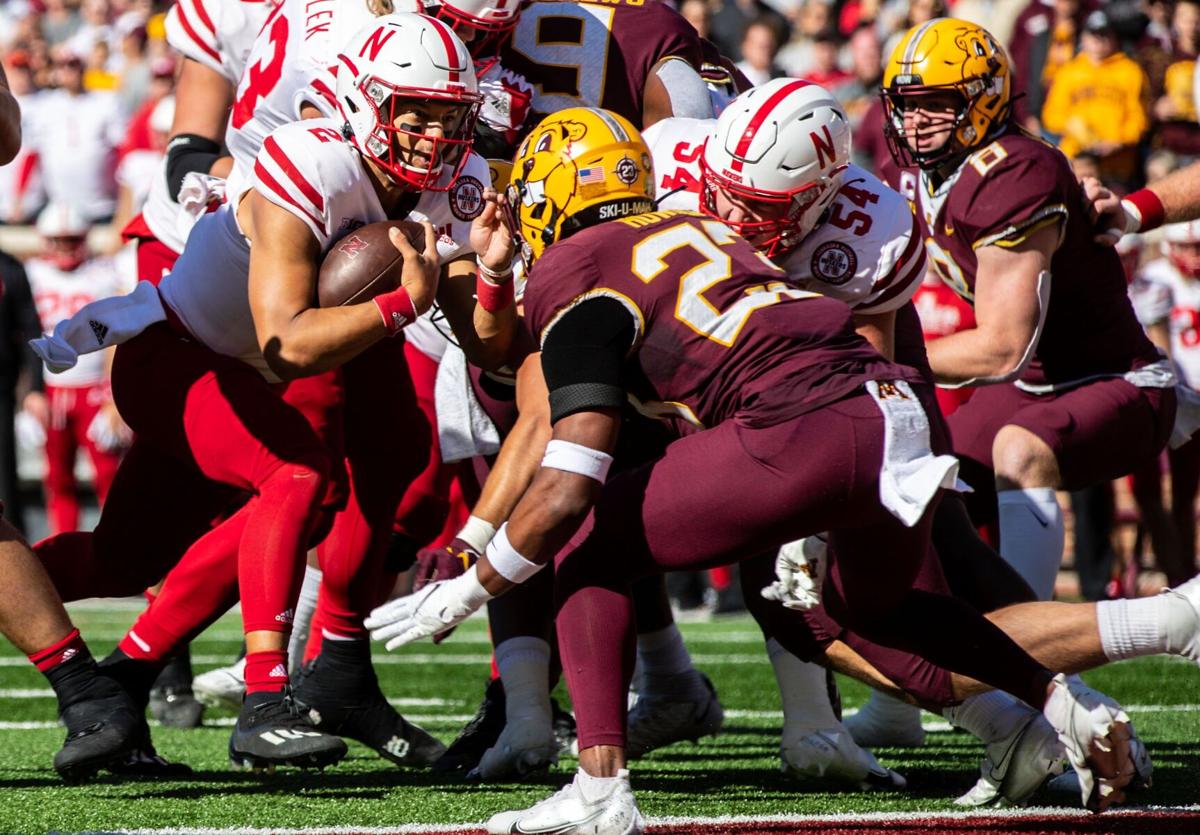 If you don't have anything nice to say, our mothers told us, don't say anything at all. But the latest ridiculous, dumbfounding, inexplicable Nebraska football game demands an autopsy.
Feel free to add four-letter words where necessary.
The Huskers lost for the 25th time in 40 games under Scott Frost, whose millions earned in salary through 3½ seasons exceeds his win total.
They lost for the 17th time in 22 one-score games, a rate that leads the nation and mystifies the brain.
They lost for the third straight time to Minnesota, not exactly a Big Ten West giant.
They lost for the 59th time (or so it seems) when they outplayed their opponent in the second half.
By any standard, we should NOT be surprised that Jaquez Yant tripped on fourth-and-goal from the 1-foot line; or that Connor Culp missed a 27-yard field goal and an extra point; or that Adrian Martinez retreated into his end zone and intentionally grounded a pass; or that the Blackshirts couldn't get a stop on the critical drive.
But I watched Nebraska go toe-to-toe with undefeated Michigan. Didn't you? I watched the Huskers dominate undefeated Michigan State. I saw unmistakable, prove-it-in-a-court-of-law progress.
So yes, I felt duped Saturday when Frost's team played like Big Ten bottom-feeders again. Like the team we saw at Illinois.
The agony of following this program isn't just seeing NU lose games in innovative ways. It's feeling like a damned fool for expecting change.
No, I did not think the Huskers were a Top 25 team, as the ESPN metrics said. Nor did I think they were going to get hot and finish 7-5 or 8-4. But I did think they'd finally grown up a little bit.
Watching Saturday's debacle was like watching your potty-trained pup lift his leg and pee all over your pillow. Dude! We talked about this!
The result might be overlooked at Purdue, Rutgers or even Northwestern. Carry on with your weekend. But this is Nebraska, where a fervent fan base still treats fall Saturdays as sacred.
The Huskers appear on your TV 40 hours a year. Less than 0.05% of your calendar. The least they could do is show up and perform like it.
The team's sense of urgency and concentration Saturday didn't match the emotional investment of its fans.
Like Illinois, there was plenty of blame to go around. But it mostly falls on Frost's offense, which spent enough time in Minnesota territory to earn in-state tuition. Somehow the Huskers penetrated the Gophers' 30-yard line three straight drives and didn't score. That's hard to do!
It's always something, isn't it. Placekicking woes at Oklahoma, a punt-coverage gaffe at Michigan State, a crunch-time fumble against Michigan.
The Huskers lost Saturday despite finishing plus-2 in turnover margin, the gold standard of decisive statistics. How rarely does Nebraska lose with a plus-2 in turnover margin or better? Before Saturday, it had happened once in 18 years: at Ohio State 2018.
Since October 2003, the Huskers had been 31-1.
The Huskers had more chances than Minnesota. More talent, too. But coaching and execution — lack of discipline and attention to detail — cost them again.
Are they tired? Cursed? Psychologically scarred? Or just themselves.
Winning programs find ways to win, losing programs find ways to lose and switching categories can feel like picking a cornfield — by hand.
Will Nebraska ever get there? Or are we forever trapped in this cycle of outrage and misery?
No single game should be a referendum on the Frost era, and arguments over his job status get tired. But you know what else is exhausting? Watching a program spit and sputter, committing high school mistakes, making fools of its supporters.
A week ago, 90,000 Husker fans walked out of Memorial Stadium and said, "Win or lose, that was a helluva lot of fun. That was good football." Now those same fans are staring at 3-5 and a brutal remaining schedule.
Frost's team wasted three hours of your Saturday. But worse, he wasted another shot to build momentum, another opportunity to earn respect and trust, another chance to prove he's the guy to move the program in the right direction.
---