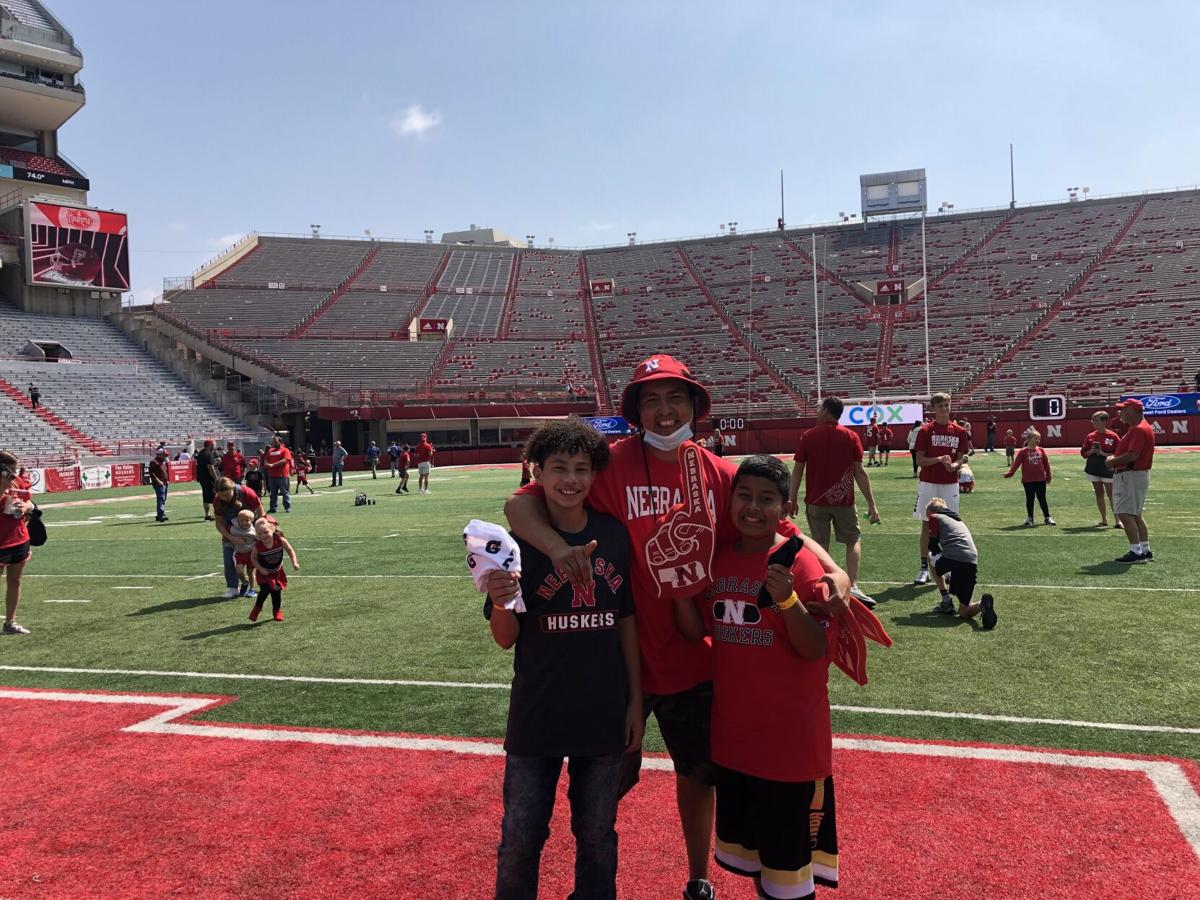 LINCOLN — Raiden Decora woke up Saturday morning at 5:15 and couldn't go back to sleep. Too excited.
The sixth-grader from Winnebago put on his red Nebraska long sleeve and red Husker hat and waited for daylight.
Decora plays running back on his youth team, but he'd never been to a college football game of any kind. Certainly never in a place with 85,000 people.
He and about 50 Winnebago students (plus 10 to 15 chaperones) met at the Boys and Girls Club, separated into vans and cars and made the two-hour trek from the reservation to the red carpet. They ended up getting a closer look at Husker football than they ever imagined.
"The trip of a lifetime," said Decora's coach, Marcel Blackbird.
Just after 9 a.m., they walked into Cook Pavilion and received tickets, a hot dog and water. Then they entered the stadium and found their seats. In Section 19 — the southwest corner — they celebrated the Tunnel Walk, three Husker interceptions, even the Wave. When receiver Alante Brown juked a defender, they let out a collective "Oooooo."
"It's dope," Decora said.
"It's sick," Angelo Blackbird said. "This is my first time."
Saturday at Memorial Stadium was a showcase for old traditions and new faces. On the field, Markese Stepp and Samori Touré entertained a nervous but grateful crowd. In the bleachers, kids like Decora soaked up every scene.
Nebraska's "Red Carpet Experience" might have looked like charity — a public-relations gimmick to keep the sellout streak alive. But closer inspection reveals a measure of wisdom.
If you want to expand the fanbase, you better make sure more Nebraskans have access to Memorial Stadium. And if you want the next generation to love Big Red as much as the last, you need to invest in them. Financially and emotionally.
For the Winnebago group, a wild weekend getaway actually started Tuesday when their coach, Marcel Blackbird, checked the news. Nebraska donors purchased 2,600 tickets for underserved kids. Blackbird perked up.
He works IT at the Winnebago hospital and this is his first season coaching grades 3 through 6 — 44 kids on two teams.
He'd always wanted to take Winnebago kids to a Husker game. In November 1995, a mentor got him a ticket to Nebraska-Kansas State. He was only 12, but vividly recalled the 49-25 blowout — remember Mike Rucker's punt-return block? For years, Blackbird shared the story with his wife and kids and now players. The only game he ever attended.
Blackbird emailed Lawrence Chatters, the associate athletic director who conceived the Red Carpet event. Blackbird asked if they could participate.
At Wednesday night's practice in Winnebago, he told the team he had a big surprise for them.
Decora expected maybe a practice at the high school field. Red Eagle Grinnell, another sixth-grader, expected they were going to a restaurant.
We're going to the Nebraska football game!
As word spread, more Winnebago parents got excited. More kids wanted to come. Fifty is a lot for Winnebago.
"There's plenty more people in this section than live in our town," Blackbird said. He emailed Chatters back. Could we have a few more tickets?
Blackbird's motive wasn't just entertainment. He wanted kids to see college athletes and students up close. "They're regular people, just like them. If they work hard, they could get there, too."
Early in fourth quarter, Blackbird hatched another plan to see the real red carpet. The Winnebago kids walked from Section 19 toward the northwest corner, stopping to wave at cheerleaders and trying to get on the HuskerVision screens.
They reached the Husker tunnel, pulled out a football and played "500" next to the lettermen wall as strangers randomly chanted "Go Big Red."
As Blackbird strategized the best spot to see Husker players once the game ended, he thought about the K-State victory in '95. This whole area looked different, he said.
Blackbird can cite chapter and verse of the great Husker teams.
Growing up on the Omaha Reservation, he stayed up late to watch Nebraska games. He felt the pain of "wide left" against Florida State, the night Trev Alberts came up just short of a national title.
These kids, Blackbird said, don't have all that historical knowledge. They don't know about Osborne going for 2 and the walk-on program and in-state recruiting, all the things that made NU great. "That's what we gotta get back to," Blackbird said.
The more he described his past, the more it became clear that Blackbird's mission isn't much different than Scott Frost's or Alberts' goal. Take something special from a long time ago and inspire the next generation.
That one game in 1995 opened his eyes to a new world outside the reservation, Blackbird said.
"I want them to carry it on, too. Maybe not all of them will be successful, but enough of them, ya know? Maybe it'll change their life. It changed my life. Work hard enough and anything is attainable. Gotta plant that seed."
When the game ended at 2 p.m., the Winnebago kids squeezed behind the rope line next to the Husker locker room and waited. Roars bounced off the decades-old concrete as coaches and players jogged to the locker room, handing out game-worn gloves and towels.
Sean Beckton stopped to shake hands. "Thanks for coming out."
Stepp, who ripped off 101 rushing yards, ran by and told the kids, "Y'all boys next up!"
Sooner than even they expected. Winnebago wasn't ready to go home yet. So the 65 waited for the 85,000 to clear out. They got permission to follow the red carpet out to the green turf.
That's right, the real football field.
They played catch. They ran into the end zone. They mingled with Husker players who didn't want to go home, either.
Darius Moore. Quinton Newsome. Adrian Martinez! They autographed the shoes and shirts of Winnebago kids.
Husker football has a long way to go to get back to those nights in 1995. But Sharpie scribbles don't fade away quickly.
Driving back to the reservation Saturday afternoon, as the kids fell asleep in the backseats, the irony of the day struck Marcel Blackbird.
He'd dreamed up this idea to show his youth football players something they'd never seen before. A place etched deep in his memory. And who would've thought it, the kids ended up taking him to a place he'd always dreamed of.
Midfield at Memorial Stadium.
---