LINCOLN — Quinton Conley is the best football player at small, private Pembroke Hill School in Kansas City, which tends to mean, at some point, he played quarterback.
Which Conley did, in elementary and middle schools, and then on junior varsity at Pembroke Hill. For many of those years, it was possible, even likely, the 6-foot-5, 190-pound Conley was headed toward a college scholarship in another sport — basketball — before he started to grow into his frame and become a top-shelf receiver prospect. Ten or 15 years ago, he may have flown under the radar, since Pembroke Hill is a school roughly the size of a Class B or Class C-1 program in Nebraska.
But Conley, a four-star prospect, had a way to develop his skills against the best players in the city and region: Traveling 7-on-7 teams.
"I started to actually train at the position of wide receiver and learn some releases, and I've grown a lot in catching 50/50 balls," said Conley, one of NU's top receiver targets in the 2022 class.
Kansas City high school coaches, similar to prep coaches in Nebraska, embraced the 7-on-7 trend later than coaches in Texas, California or Florida. But the old school men who made prep football in Kansas City key, fertile recruiting ground for Husker football have loosened up just enough in the last half-decade that, now, Kansas City — always a town full of good linemen, especially on defense — is starting to produce the kind of elite skill talent of other major Midwest cities like St. Louis, Chicago and Dallas. The growth curve is on the front end, coaches and a scout say.
St. Louis — home to two five-star receivers in the 2022 class — still towers over KC in the football recruiting market; only Conley, of 247Sports' top 10 composite prospects in Missouri, hails from Kansas City, while eight play in the St. Louis area. But a handful of powerful private schools tend to gather most of the talent in St. Louis — a trend that will only deepen with the recently-announced closure of Trinity Catholic High School — which makes recruiting the city a matter of convincing a small number of coaches who increasingly send their players to Oklahoma and Ohio State.
In Kansas City, the talent is more dispersed on both sides of the Missouri River. And it is improving.
"The talent level here is as good as anywhere else," Conley said. "I don't think we get the same recognition of some of the big Texas or Florida guys but, when we go down there to those states, we compete."
There is Conley, whose frame and athleticism wowed a scout when he entered a room two years ago. Out of Winnetonka High School in North Kansas City, there is a 6-2, 206-pound 16-year-old receiver, Jason Essex, drawing comparisons to AJ Brown and Larry Fitzgerald. Four-star defensive tackle Domonique Orange, also in North Kansas City, has become a national recruit. Down in Blue Springs — alma mater of ex-Huskers Carlos and Khalil Davis — Ikenna Ezeogu is an emerging, raw pass rusher.
Defensive players, especially those who play tough against the run, have long been a strength in Kansas City. Nebraska greatly benefited from recruits like the Davis twins; Maliek Collins at Center High School; Freedom Akinmoladun, who played at Grandview; Michael Rose-Ivey, a middle linebacker from Kansas City Rockhurst; and Lance Brandenburg, who played in Overland Park. There remain plenty of defensive players in the city. NU is recruiting some of them.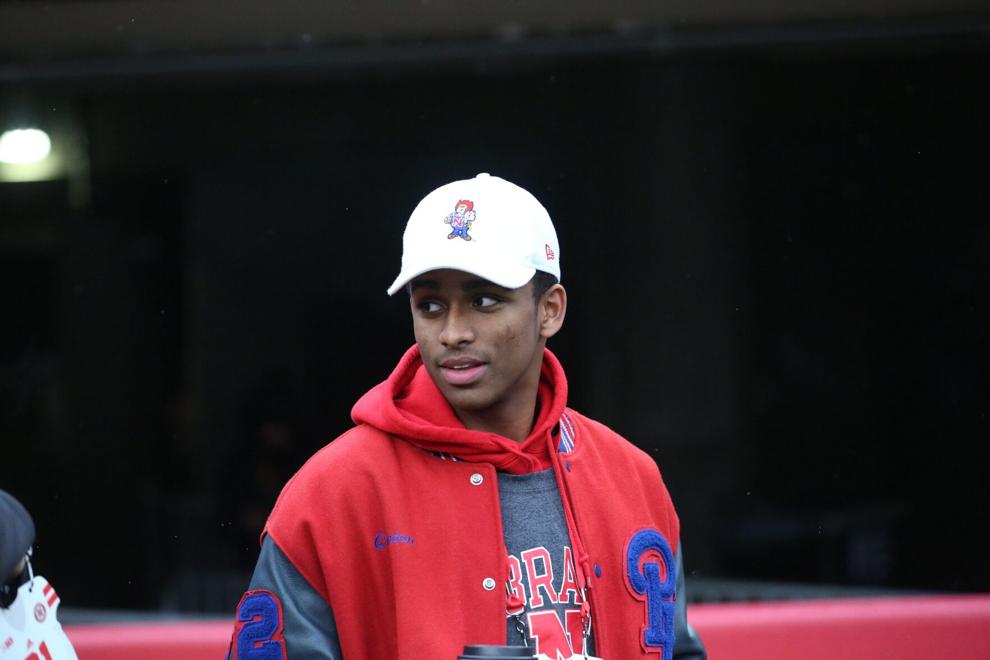 But the Huskers are also pursuing, hotly, the two receivers. There are more in the pipeline. The city poised to produce more skill prospects than ever sits three hours from Lincoln.
"Kansas City never went through that lull — the talent has always been consistent — but the talent overall is getting better in the area," said Clint Cosgrove, a Midwestern football scout whose territory includes Kansas City. "Whereas St. Louis has gotten to the point where it might be over-recruited, Kansas City is probably a little under-recruited."
Nebraska, which hasn't signed a Kansas City-area prospect since Lee's Summit West lineman Boe Wilson in 2016, stands to gain from it. But other programs, especially Iowa State, are working the city hard, too. And SEC power Georgia is about to come to town.
There are perks to living within walking distance of the high school. Jason Essex can work out when he wants, which is often. At 6-2, 206 as a 16-year-old at Winnetonka, Essex already has the physical frame for college football. He has the film, too, that shows crisp routes and a nice burst of speed that coaches have clocked at 4.5 seconds in the 40-yard dash. Cosgrove compared Essex to a young AJ Brown, who plays for the NFL's Titans.
Essex just finished his third year playing the sport, his coach said.
"The fun thing about Jason is that he's a sponge," Winnetonka coach Benny Palmer said. "He's always trying to learn, he's texting you back, he's watching games, he sees scores, he's trying to get better. He's always up here. He really loves it, and he's going to make it, which is exciting."
Essex, a three-star prospect, has scholarship offers from four of the five major conferences and 11 total. Nebraska is one of them and is "coming after Jason hard," Palmer said. NU recruiting coordinator and running backs coach Ryan Held, who grew up in the city, handles the region.
"Coach Held's up there and he does a good job," Palmer said. "There are three conferences reaching in here pretty good now."
Including the SEC. Missouri, of course, recruits the city, but Georgia will soon become a factor. The Bulldogs' new 32-year-old defensive coordinator, Dan Lanning, was one of Palmer's roommates at William Jewell College. A decade ago, Lanning was an assistant coach at Park Hill South High School. Now, he has a $1.25 million salary at Georgia and an offer into Domonique Orange, the 6-4, 300-pounder who has gone from a regional prospect to a national one.
For years, North Kansas City was the only school in the district with a football stadium. Now, all the high schools, Palmer said, will have one. Facilities help balance out the talent in the area. Kansas City lacks, at this point, a school with a power pipeline like Lutheran North in St. Louis. On the other hand, broad investment in the sport makes the city overall more robust to recruit.
"We have nice new stadiums and nice new weight rooms that the kids want to work in," Palmer said. "I think it's a combination, right now, of the talent level being really good, the kids being exposed to a lot of different ventures — 7-on-7 teams, personal trainers — and then these high school coaches working hard to get out there in the college ranks to come back and recruit here.
"You get a disbursement of kids who go to different programs, they get involved differently. It raises their level of competition on Friday nights because they're playing against other talented kids — they're not all on the same team. In Kansas City, you've got good coaches who are in different schools that have good facilities and a lot of kids out for football."
Because of that strong prep structure, perhaps it took longer for 7-on-7 to take hold. But it has, with clubs like Epic and Empire. The latter is organized in part by Rose-Ivey, who is also an assistant at Lincoln College Prep High School. Rose-Ivey also keeps a detailed recruiting database, Conley said, that helps prospects get visibility.
Conley's coach at Pembroke, Sam Knopik, said Kansas City high school coaches were "pretty guarded" and "hesitant" to fully embrace 7-on-7 in the city. They saw it as a shift toward "AAU football."
"But once I had a few kids participate on those 7-on-7 teams — they're getting great coaching, they're coming back to our teams with a little bit different perspective," said Knopik, an Omaha native. "Especially kids from a small school, like ours. They're going out and competing against the best kids in the city and then regionally, when they travel to tournaments."
Rose-Ivey said Saturday morning the Empire players "have so many more resources" than he did a less than a decade ago — the Empire founder, former Chiefs receiver Samie Parker, now works as a recruiting assistant at Washington State — and college coaches pay attention to 7-on-7 competition as much as they do programs that win championships.
"It's not like, back in the '90s, when the college coaches just went to the powerhouse programs because they wanted winners," said Rose-Ivey, who played at a high school powerhouse. "Coaches wants athletes, and it's now more about getting prospects who can project into their system. That's why you see guys from 7-on-7 tournaments – who haven't yet played a snap of varsity football – get offers. They fit a skillset."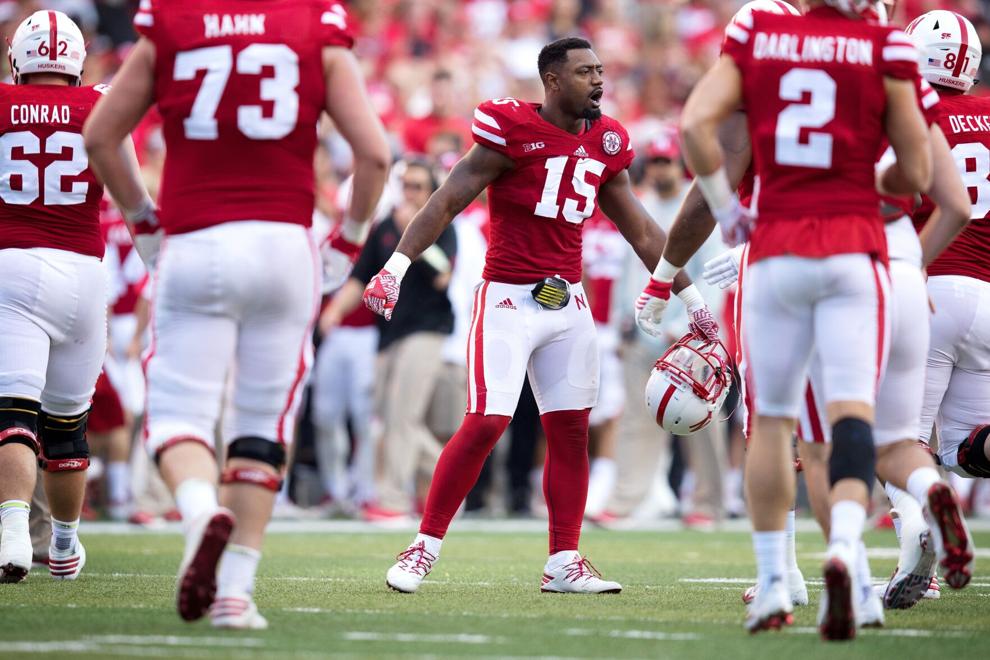 A prospect like Conley — getting the most attention from Nebraska, Kentucky and Iowa State — benefited from it. Knopik still isn't sure what Conley's full potential is yet because he's played receiver for only a handful of years. Cosgrove, who works for National Preps, said Conley impressed him two winters ago as a sophomore-to-be. Though 6-5, Conley bends well, Cosgrove said, and could play defensive back or outside linebacker, too.
As a high school senior, though, Conley may be headed back to quarterback. Pembroke Hill needs one for the 2021 season, and Conley has one of the city's top tight ends, Miles Marshall to whom he can throw. Conley's two younger brothers will play for Pembroke, too.
"We're trying to figure that out right now," Conley said.
In other years, perhaps that would have hurt his visibility as a prospect. But Conley made waves early enough in his high school career to potentially accommodate the switch. He's been to a game at Nebraska — "I liked the atmosphere a lot, and all the balloons" — and wants to visit again once the COVID-related recruiting dead period is lifted. Iowa State, where former Illinois quarterback and Kansas City prep legend Nathan Scheelhaase coaches, will be a factor, too. The Cyclones landed receiver Jaylin Noel from the city in 2021.
Conley said he likes the recruiting process and doesn't see distance as a factor. He doesn't quite have the national recruiting profile yet — it could come — that a St. Louis receiver might.
"Scrolling through Twitter, it's hard to miss it," Conley said. "We just try to focus on our game, focus on winning."
Kansas City is on the upswing, and Conley is part of the new wave.
"The talent is elevated," Palmer said. "And the community is into it."
Signee Spotlights: Get to know the players in Nebraska football's 2021 recruiting class
The "Signee Spotlight" provides all the information you need on the newest batch of Huskers, including rankings, evaluations and a look at how they landed at Nebraska.