The follow-up question was always the same for Seth Malcom.
Like sniffing out a run play, the inside linebacker prospect knew when to expect the familiar query. It usually came in 2019 as he visited college campuses and bumped into other recruits from around the country. They would exchange introductions — names, hometowns, positions, etc.
Malcom could always tell who was paying attention when he slipped in another factoid: He plays eight-man football.
"Some families had never heard of it," said Malcom, a 2021 Nebraska signee, before he arrived on campus last month. "They're like, 'Eight-man? What even is that?'"
For the Fremont-Mills standout in the southwest Iowa town of Tabor (population: 1,257), it was a chance to put out as much game film as anyone in the country. On offense as a running back with 198 carries for 1,606 yards and 15 catches for 209 more with 23 total touchdowns. On defense with 92.5 tackles (17 for loss) across 10 games. He returned kicks and did some punting, too.
Iowa State was impressed enough to offer Malcom a scholarship as a sophomore. Minnesota coach P.J. Fleck told him he had never recruited an eight-man player before. Kansas State and Nebraska — Malcom's finalists — pursued him as hard as anyone.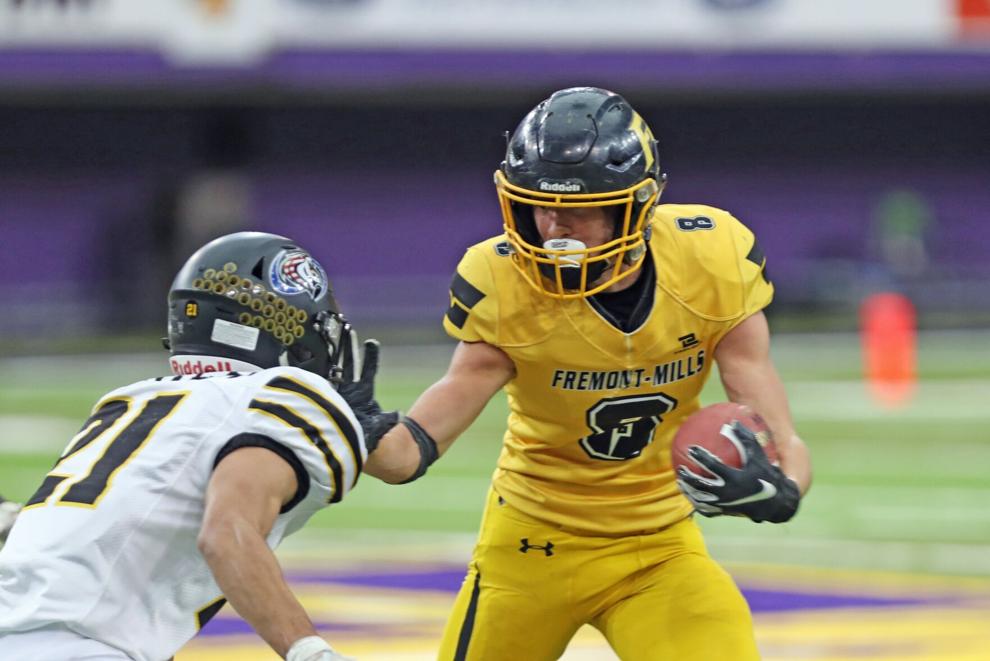 The defender recognizes the irony of his situation as one of 15 newcomers to join the Huskers for winter conditioning and spring practices. He might not be in Lincoln if not for all the snaps that allowed him to showcase his talents on quirky fields measuring 80 yards long (instead of 100) and 40 wide (instead of 53⅓). But his eight-man experience also leaves him with more to acclimate to than just college life and defensive schemes.
"I had to do what's best for me and my future," Malcom said. "I just feel like if I get there early, I'll be that much more ahead of the curve."
A player shortage was the reason Malcom became the first third grader to play in Fremont-Mills' youth development program typically reserved for fourth through sixth graders. By the time he was in fifth grade, he was the fastest guy on the field. The next year, the varsity football coach sat discreetly in his pickup from across the street during a road game to see what the rusher/defender might do next.
"The coach never said a word, but I knew looking up there why he was there," said Tracy Malcom, Seth's mother.
F-M introduces its youth to eight-man football in seventh grade. As Malcom moved into high school, his role and physical stature both took off. At 6-foot-3, 205 pounds, he's long since outgrown his parents, Alex and Tracy, who played football and volleyball, respectively, at Peru State.
Alex Malcom, who coached his son in the youth program, said it will take time for Seth to adjust back to 11-man football at Nebraska. Along with the expanded field dimensions, there will be one more gap on each side of the line of scrimmage. At Fremont-Mills, he had free rein — and the athletic advantage — to read and react to the defense. Just go stop the ball.
"That can't be the way it is in college," Alex Malcom said. "So he's going to have to learn his assignments and do his specific job."
Getting to this point has been a new adventure for the Malcom parents and their four boys, among whom Seth is second oldest. The incoming Husker may be quiet on social media, but he and his family documented every trip they took even as the COVID-19 pandemic stole the opportunity for official visits. Many of the coaches they saw on television one day in 2019 invited them into their offices the next.
Some schools "turn their noses up" on eight-man players, Tracy Malcom said, but many others were fascinated. Most wanted to see not only highlights, but also the few plays that followed a mistake for how Seth responded. They found ample evidence of a two-way player who fought through things instead of pouting. A GPA above 4.0 was attractive too, and the offers rolled in from regional Power Five schools.
"This doesn't happen to kids around here," Tracy Malcom said. "Then the phone calls started coming and the messages started coming and it was one thing after another. We were blown away at everything that came Seth's way."
Malcom is the first eight-man player to sign as a scholarship player with Nebraska out of high school since fullback Steve Kriewald of North Loup-Scotia in 2000. Andrew Shanle of St. Edward eventually earned a scholarship after signing in 2002. Receiver Ty Hahn of Johnson-Brock joined the 2020 group as a walk-on, with coaches promising he would go on scholarship for his last three years of school.
The head coach is impressed with the Fremont-Mills graduate — Scott Frost on signing day in December said he liked him from the start and would have if he played "six-man, eight-man, 12-man, 11-man, I don't really care." NU 2021 quarterback signee Heinrich Haarberg of Kearney Catholic calls Malcom "the most low key out of all of us" and "an animal on the field."
As for Malcom? He wants to make a difference by doing his one-eighth on the field. Er, make that his one-11th.
"I'm hoping to help change the program around," Malcom said. "I think the class that I'm in has a lot of guys that can help do that, a lot of key players. I'm hoping to be a part of that."
Signee Spotlights: Get to know the players in Nebraska football's 2021 recruiting class
The "Signee Spotlight" provides all the information you need on the newest batch of Huskers, including rankings, evaluations and a look at how they landed at Nebraska.