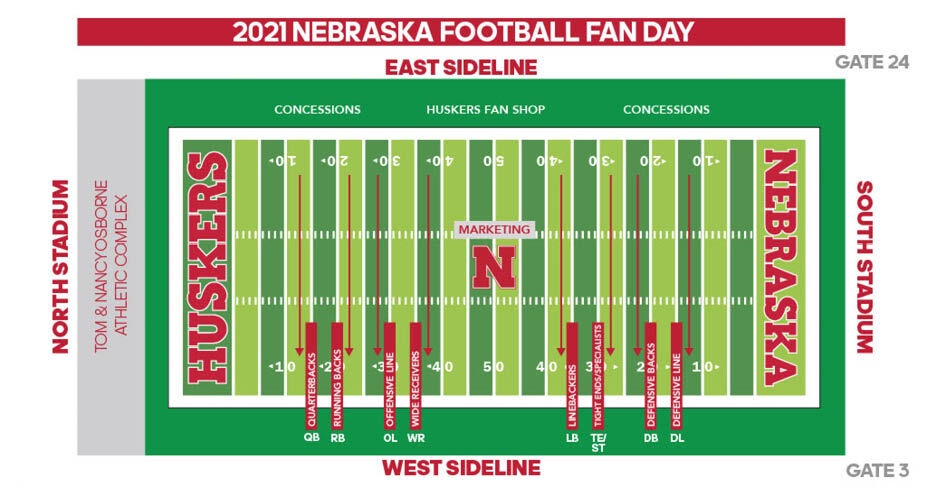 Nebraska Football Fan Day returns later this month, and here's everything you need to know if you're planning to attend.
Fan Day is an opportunity for fans to meet their favorite Husker football players and coaches and get their autographs. It wasn't held last year due to the pandemic.
This year's Fan Day will be held July 29 from 5:30-7:30 p.m. in Memorial Stadium.
Health and safety guidelines
» Fans are encouraged to maintain social distancing whenever possible, and fans should not gather near the gates before they open. Fans should also not group around players and coaches before and after the event.
» Unvaccinated individuals and those with underlying health conditions should wear a mask. All fans are encouraged to wear a mask when in large crowds.
» Hand sanitizer will be available at several locations.
» Fans will not be allowed to take pictures with players and coaches.
» Gates will open at 5:30 p.m. Fans may enter through Gates 3 and 24. Nebraska's Clear Bag policy will not be in effect, but all items carried in will be subject to inspection.
» When Fan Day concludes at 7:30 p.m., fans are asked to allow players and staff to leave the field.
» Fans may exit through Gates 3, 11 and 24.
» Parking will be available in university lots around Memorial Stadium for $5.
Player and coach seating/lines
» All players will be seated on the field near the West sideline, with lines running across the field. An event staff member will be stationed near each line to indicate where fans need to line up.
» Assistant coaches will be seated with their respective position groups.
» Frost's autograph line will be limited to children entering eighth grade or younger. 
» Parents must sign up their children for Frost's line by July 26 at Huskers.com/fanday. Approximately 250 children will be randomly selected.
Autograph items/Husker Fan Shop
» Fans are asked to limit autograph requests to one item per player/coach.
» Autograph cards with a full 2021 roster and other items will be available to fans.
» A Husker Fan Shop location will be located on the East sideline near the 50-yard line. The Husker Fan Shop at Pinnacle Bank Arena will be open from noon-6 p.m., and an Adidas shop at the corner of Stadium Drive and T Street will open from 2-8 p.m.
» Restrooms will be open on the ground level near Gates 2, 15 and 24.
» Water will be available for purchase on the field with two locations along the East sideline.
» The Osborne Athletic Complex will not be open to the public.
---