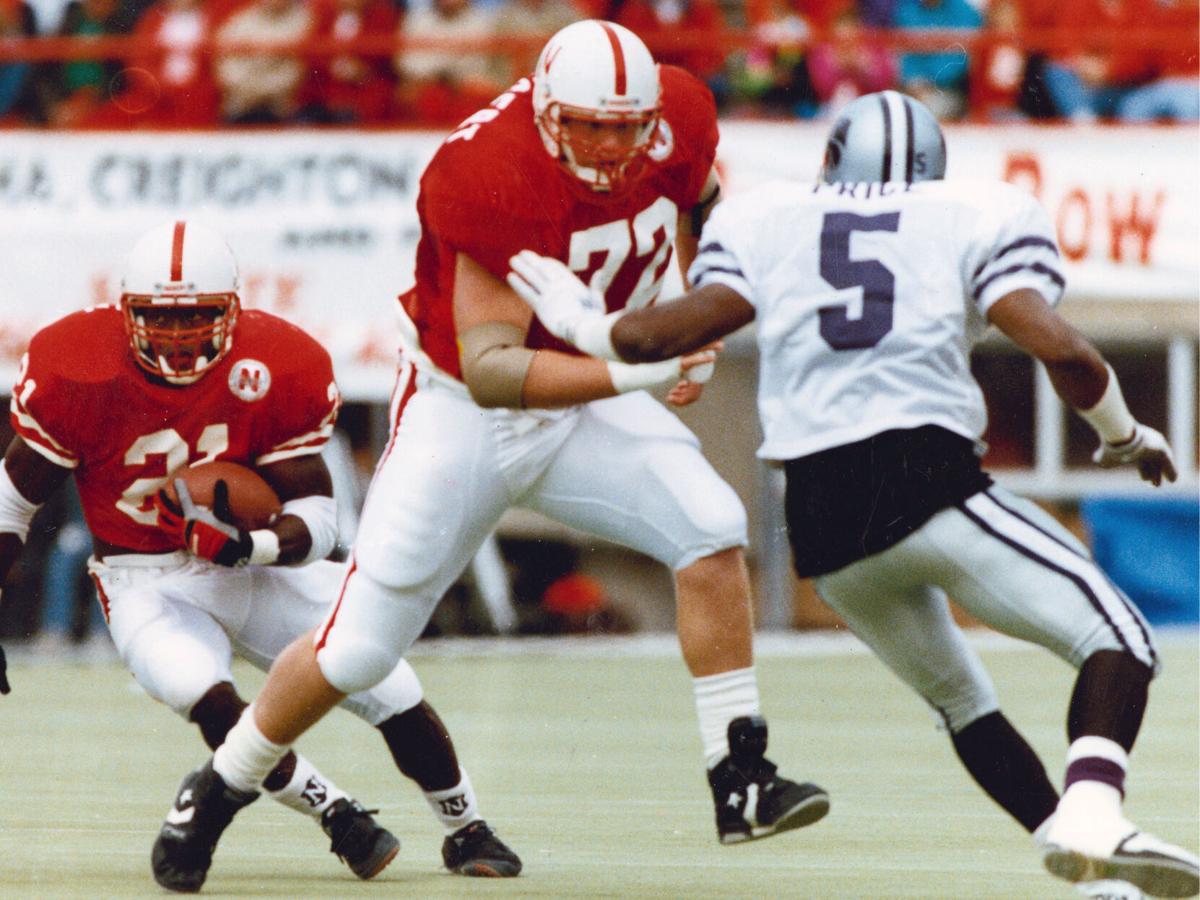 The man who embodied The Pipeline tradition as much as anyone in Nebraska history is on his way to the College Football Hall of Fame.
Former Husker offensive lineman Zach Wiegert — in his seventh time on the ballot since his first nomination in 2015 — is part of the 21-person class of inductees who will be officially enshrined in December. It's the latest honor in a pile of them since the longtime NU right tackle ended his career with a national championship and the Outland Trophy as the nation's best interior lineman in 1994.
Wiegert knew a few days before the announcement that he'd broken through to the hall. He told the Huskers Radio Network that he received a letter of congrats from the organization. He missed phone calls from both Nebraska Athletic Director Trev Alberts and his former coach, Tom Osborne.
"I didn't actually know they called me until the next day," Wiegert said. "I go, 'I'm either in trouble, did something wrong, or something good.' ... It's a great honor and something I'm very proud of."
Wiegert — a Fremont Bergan graduate — also received a Heisman Trophy vote as a 6-foot-5, 300-pound senior after leading the team with 113 pancake blocks. He had his No. 72 jersey retired in the months that followed. The unanimous first-team All-American was also a three-time All-Big Eight member.
"Zach Wiegert was a great player at Nebraska during the 1990s," Osborne said in a statement. "Zach was very intelligent and was also very aggressive and athletic. He stood out as an exceptional offensive lineman among many who played on our offensive lines during that period. I am pleased that he has received hall of fame recognition as he is certainly most deserving of this honor."
Wiegert's toughness was legendary in practices and games. On a cold, gray day in October 1994, Nebraska took its No. 2 national ranking to Kansas State without quarterback Tommie Frazier and injuries to backup Brook Berringer and running back Lawrence Phillips. The Huskers pounded the ball on the ground 50 times en route to a 17-6 win.
Nebraska's O-linemen — angered by K-State players boasting all week about their chances to win — decided to give themselves another handicap in the statement game that day.
"Zach (Wiegert) started it by telling them, 'We're running the ball right here, go ahead and try and stop it,'" center Aaron Graham recalled in 2019. "I believe we ran the isolation, which is the fullback lead, something like 44 times in that game."
Wiegert has often said he grew up hearing that defensive linemen were aggressors while O-linemen were protectors. He questioned why he couldn't be the aggressor. So did the veteran line he did battle with daily that he's always sure to mention by name in interviews — Brenden Stai, Joel Wilks, Rob Zatechka and Graham.
"It was a constant competition," Wiegert said. "But that's what made us good."
Wiegert went on to be a second-round NFL draft pick and crafted a 12-year career spanning 145 games (137 starts) from 1995 to 2006. He played four seasons each with the St. Louis Rams, Jacksonville Jaguars and Houston Texans. Now living in Waterloo, Nebraska, Wiegert works in finance and real estate development.
Alberts — a former Husker linebacker who was teammates with Wiegert — said in a statement that the offensive lineman earned the accolades as one of the "driving forces" to the national title.
"I know that going against him in practice at Nebraska made me a better player, and that type of daily competition is what made our teams successful," Alberts said. "It is great to see Zach receive his well-deserved recognition."
Said hall of fame NU QB Tommie Frazier: "Zach was one of the most competitive and toughest linemen I have seen. He would never back down from any challenge. I am pleased to see him join the fraternity of Nebraska players in the College Football Hall of Fame."
The hall of fame induction ceremony will be during the National Football Foundation annual awards dinner on Dec. 6 in Atlanta. Honorees will also be recognized at their respective schools during the 2022 season.
2022 COLLEGE FOOTBALL HALL OF FAME CLASS
LaVar Arrington – LB, Penn State (1997-99)
Champ Bailey – DB, Georgia (1996-98)
Michael Crabtree – WR, Texas Tech (2007-08)
Sylvester Croom – C, Alabama (1972-74)
Mike Doss – S, Ohio State (1999-2002)
Chuck Ealey – QB, Toledo (1969-71)
Kevin Faulk – AP/RB, LSU (1995-98)
Moe Gardner – DT, Illinois (1987-90)
Boomer Grigsby – LB, Illinois State (2001-04)
Mike Hass – WR, Oregon State (2002-05)
Marvin Jones – LB, Florida State (1990-92)
Andrew Luck – QB, Stanford (2009-11)
Mark Messner – DT, Michigan (1985-88)
Terry Miller – RB, Oklahoma State (1974-77)
Rashaan Salaam – RB, Colorado (1992-94)
Dennis Thomas – C, Alcorn State (1971-73)
Zach Wiegert – OT, Nebraska (1991-94)
Roy Williams – DB, Oklahoma (1999-2001)
John Luckhardt – 225-70-2 (76.1%); Washington & Jefferson [PA] (1982-98), California [PA] (2002-11)
Billy Jack Murphy – 91-44-1 (67.3%); Memphis (1958-71)
Gary Pinkel – 191-110-3 (63.3%); Toledo (1991-2000), Missouri (2001-15)
---