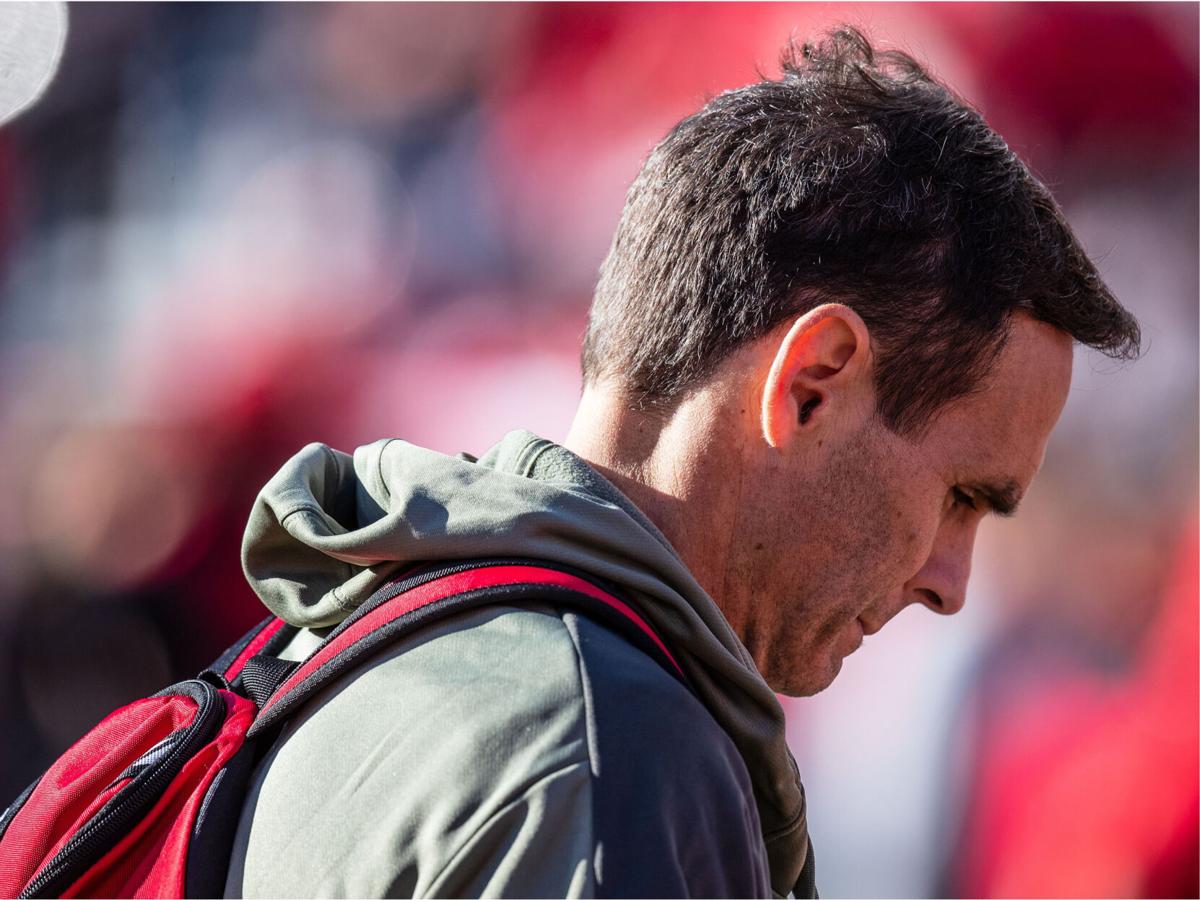 LINCOLN — About two hours after Nebraska announced that Scott Frost would return for a fifth season as the Huskers' football coach, the program announced significant changes to his offensive staff.
Frost announced that four assistants are no longer with the team — offensive coordinator/wide receivers coach Matt Lubick, offensive line coach/run game coordinator Greg Austin, running backs coach and recruiting coordinator Ryan Held and quarterbacks coach Mario Verduzco.
Their dismissals are effective immediately. It is not yet clear who will fill in for the final two games of the season. Players were told of the moves during a team meeting earlier in the afternoon.
"I appreciate the work and sacrifices these men have made for the University of Nebraska and this football program and wish all of them well," Frost said in a statement. "They are all men of outstanding character and good coaches, but as we strive for better consistency and execution, we needed fresh ideas and voices on our offensive staff."
The only assistant coach on offense retained by Frost is tight ends coach Sean Beckton. No changes were made to the defensive staff.
Nebraska Athletic Director Trev Alberts said he didn't mandate that Frost make staff changes of any kind. Frost presented his plan to Alberts on Sunday during their weekly meeting.
"This is Scott Frost's vision," Alberts told The World-Herald and another news outlet. "I believe that's the role of the head coach and CEO of the football program is to have the overall vision strategy of what we look like going forward. He presented that, and I thought it was a good plan."
The four assistants were set to earn a combined $1.775 million in 2022. Their firings, combined with the $1 million pay cut Frost is taking, free up $2.775 million for new hires in the weeks ahead. One of those will be a stand-alone offensive coordinator — at least more of one than Lubick, who shared philosophies and play-calling duties with Frost — who Alberts hinted Monday would allow Frost to take a more global approach to the football program.
Alberts said that the $5 million salary pool for 10 assistants plus strength coach Zach Duval hasn't been changed but that the school will "work through some of those deals" in light of Frost absorbing a salary reduction.
Will at least some of the new coaches be in place before the early signing period, which starts Dec. 15?
"I'm anticipating (Frost) would say yes," Alberts said.
The staff changes by no means lower the heat on what will be a very results-oriented 2022. New coaches will be expected to come together quickly.
"We intend to hit the ground running," Alberts said. "This is not an effort to say, 'Let's buy three or four more years.' "
Firing assistants — especially before the season ends — is a "dark side" of college athletics, Alberts said. With the advent of the early signing period and transfer portal in recent years, quicker decisions are necessary than in the past. Quicker, certainly, than might be good for the players.
"Damn" tweeted freshman left tackle Teddy Prochazka, whom Austin recruited out of Elkhorn South.
Nebraska ranks fourth in the Big Ten but 65th nationally in scoring offense, with 28.6 points per game. That number is lower in Big Ten play, with 27.1 points per game.
Austin, Held and Verduzco coached under Frost at Central Florida and followed him to Lincoln. Lubick, who coached with Frost at Oregon, joined the Husker staff before the 2020 season. Austin and Held played at Nebraska, as well.
The departures add to what will be a "monumental task" for the Huskers with remaining games at Wisconsin and home for Iowa. Both opponents hold long winning streaks against NU.
"This is not a team I've seen be willing to capitulate to failure to anyone," Alberts said. "I fully expect them to play well. I think the important thing is thinking about the long-term future of the program."
The moves are especially significant given the loyalty — at times, stubbornly so — that Frost has shown his assistants. In a rare move in modern college football, he brought his entire staff from Central Florida when Nebraska hired him in December 2017. He didn't terminate anyone after a third losing season in 2020, instead extending each assistant through the 2022 campaign.
"It was a pretty easy decision for me," Frost said then. "I believe in these guys as individuals."
Now Frost will be in the market for new offensive coaches ahead of a high-pressure season. Alberts said the pitch to candidates isn't that difficult considering that job security is hard to come by at any major program under any circumstance.
"If there were a few people that would be concerned about that, I'm not sure they'd be the right fit," Alberts said. "We want competitive people here that aren't anticipating failure."​
---