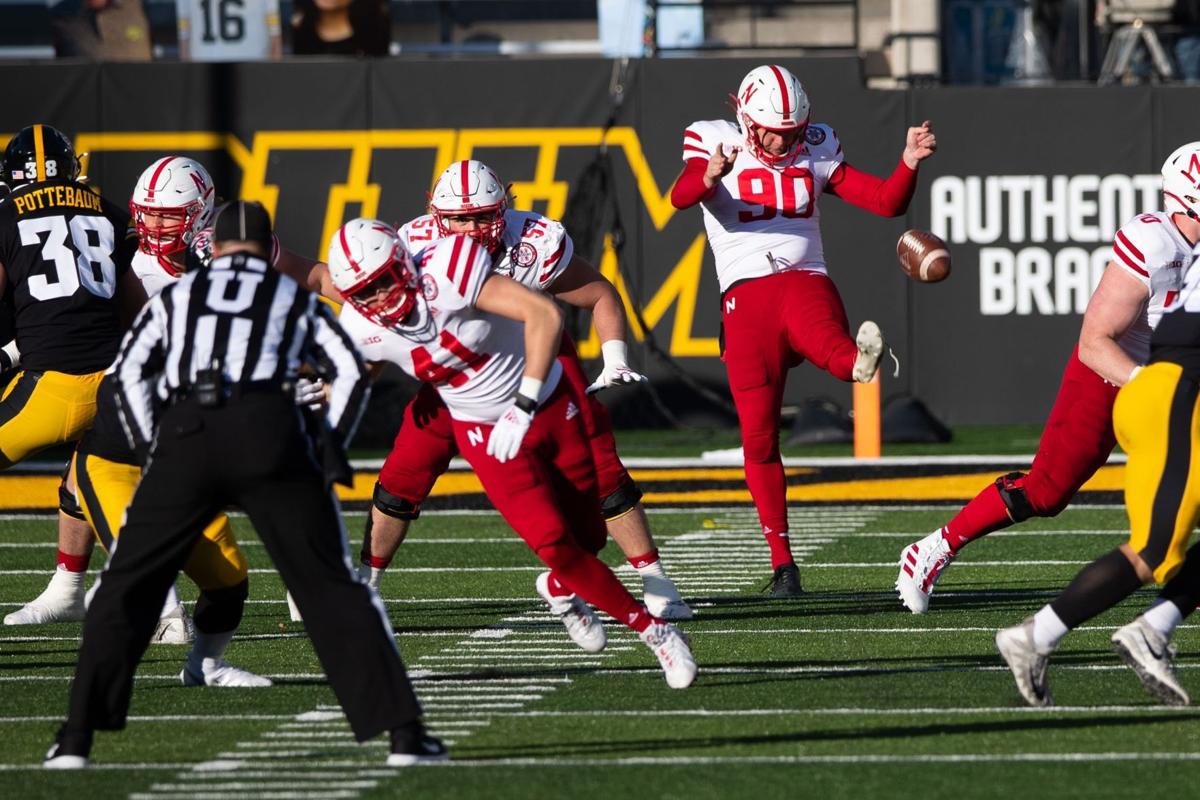 A untimely penalties, poor starting field position and a host of special teams miscues supplied a large portion of the reason why the Huskers fell 26-20 in Iowa City on Friday.
"You can't do those things against good teams," Scott Frost said after the game. "The good teams in this league are buttoned up like that."
Turnovers: Iowa wins
While the Hawkeyes felt the pain of a second quarter interception and a subsequent Husker field goal, it was the Huskers that were finished off by two fourth quarter turnovers late in the ball game.
The Huskers had forced a three-and-out, forcing the second Hawkeye punt of the day early in the fourth quarter. Husker return man Cam Tylor-Britt muffed the punt. The Hawkeyes recovered the Husker mishap on the NU 38-yard line, which led to a Hawkeye 37-yard field goal, putting Iowa up 26-20.
But Adrian Martinez's fumble, with under two minutes to go in the game, ended Nebraska's chances in Iowa City. Iowa defensive lineman Chauncey Golston hit a locked-and-loaded Martinez who then fumbled the football into the diving hands of Zach VanValkenburg. Iowa took over at the Hawkeye 48-yard line with 1:19 to go.
NU did capitalize, however, on senior DiCaprio Bootle's first interception in a Husker uniform. With just under 12 minutes to play in the second quarter, Hawkeye quarterback Spencer Petras scrambled to his left and tried to find a crossing Hawkeye receiver. Instead, he found Bootle's chest.
Penalties: Iowa wins
While the Huskers committed the smallest number of penalties in 2020, the Hawkeyes felt less damage from the officials.
"We're just doing the little stuff that gets ourselves to beat," Frost said. "Part of that is a function of having young players that we need time with them to get them buttoned up."
Coming into the game, Nebraska averaged 7.25 penalties and 62.5 yards per game. NU committed four penalties for 40 yards in the contest, while the Hawkeyes tallied just two penalties for 20 yards.
Most notably, an early fourth quarter holding penalty on redshirt freshman offensive lineman Bryce Benhart negated a 30-yard plus Adrian Martinez run, which put the Huskers deep in Hawkeye territory. After the flag, the result was no gain. The Huskers punted four plays later.
"And those are the games you have to win in the Big Ten Conference, and you can't do those things," Frost said.
An early personal foul on Luke Reimer made a 14-yard catch by Iowa's Ihmir Smith-Marsette a 28-yard gain. In the second quarter, Deontai Williams was flagged for pass interference on 3rd and 10, which gave Iowa a fresh set of downs just outside the redzone. The Hawkeyes went on to make a 33-yard field goal four plays later.
Offensive lineman Ethan Piper was flagged for a false start midway through the fourth quarter, and Benhart had a holding penalty flag declined after an errant Cam Jurgens snap led to a 19-yard loss for NU.
Starting Field Position: Iowa wins
The difference in starting field position mostly lies in Iowa's ability to kick touchbacks, and Nebraska's inability to.
Frost said the special teams performance — which, in large part, reflects where teams start their drives — was "really frustrating."
Iowa's worst starting field position on the day: the 30-yard line, which happened twice on back-to-back kickoffs from NU kicker Connor Culp in the second quarter. NU's worst field position came after a short punt that wasn't caught by Taylor-Britt in the first quarter.
"We need to catch every punt in practice," Frost said. "Every punt because it matters. We played too good defensively to give them the fields we gave them."
After the Husker stopped the Hawkeyes on the NU 37-yard line, Iowa elected to punt. Taylor-Britt let the punt bounce near the 10-yard line, which was downed by Iowa on the 2-yard line. Nebraska later punted on the following drive.
On two occasions, the Hawkeyes started in Husker territory and both resulted in points. One of these drives came after the Hawkeyes' possession after the Huskers started on their own 2-yard line, where Iowa returned Pryztup's punt 31 yards.
"That's detail and stuff that I'm talking about," Frost said. "As an entire coaching staff and the leaders on our football team, we can't let anything happen — not one inch of anything that's not disciplined, not buttoned up. Those things can't happen."
Nebraska, on the other hand, started in Iowa territory once and also made the short field count.
---
Nebraska travels to Iowa for Black Friday showdown