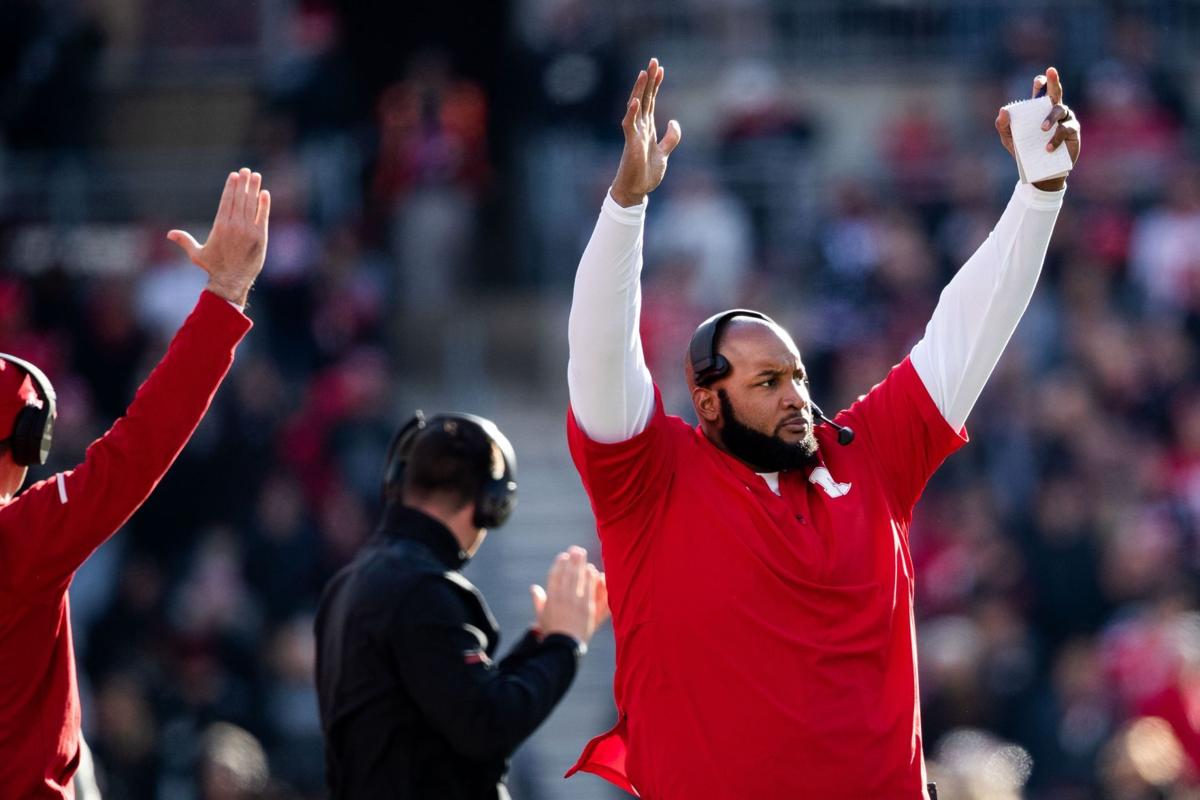 The smile was evident in Greg Austin's voice. On a scale of one to 10, the offensive line coach estimates his excitement is hovering around an 11.
In his hour Thursday on the "Sports Nightly" radio show, the Nebraska assistant expressed enthusiasm for seemingly every facet of his position group ahead of Saturday's opener at Ohio State. That includes how players "professionally" handled an offseason altered by a pandemic and used it to improve and the depth, which is "without a doubt" better than at any point since the staff arrived in December 2017.
Austin even enjoyed a long chuckle when he fielded a question from his neighbor — "Brad" — about leaders in the room.
The assistant also has been preparing for his new role as run game coordinator. What that means, he said, is coach and play-caller Scott Frost will consult with him from time to time about what Nebraska should run. What does he like against this defensive look or in that down and distance?
Austin draws up every run in the Husker playbook for a given week and studies when they might come into play. If a defense shows something for the first time — a common occurrence in Frost's first two seasons back in Lincoln — he needs a plan for that, too.
"I have to make sure I'm always ready, if called upon, with the answer," he said.
Starters on the line haven't changed since Austin laid out a left-to-right group earlier this month of senior Brenden Jaimes, senior Boe Wilson, sophomore center Cameron Jurgens, senior Matt Farniok and redshirt freshman Bryce Benhart. Of those, he said, the seniors have been obvious leaders along with Jurgens and senior reserve Christian Gaylord.
Jaimes, a left tackle who has made 33 straight starts, has the potential to be one of the league's top players at the position, his coach said.
"Make no bones about it: I expect for him to be one of the best — if not the best — tackles in the Big Ten," Austin said. "He knows that and that's the expectation."
Other notes from Austin's radio comments:
» Offensive linemen continued to improve on technique and scheme despite an extended offseason without pads, Austin said. Adapting to full contact since Sept. 30 has mainly been about preparing physically for the body blows of major college football.
» Coaches would have preferred to move Farniok from right tackle to right guard sooner, Austin said, but didn't have the depth until now. His shift clears the way for Benhart, whom the assistant called a "blue head" for never being overwhelmed in his four games in 2019.
"He's kind of been on track exactly where we want him to be," Austin said. "Excited for him to make his first start on Saturday."
» Wilson wore down last year with his workload and played through "plenty" of injuries, Austin said, but the senior is in a "good place" now. The Huskers will limit his reps this season.
» Asked about young linemen who impress him, Austin named freshmen Turner Corcoran and Alex Conn along with Colorado State transfer Nouredin Nouili. Corcoran, one of the headliners of the 2020 recruiting class, has especially impressed at left tackle.
"You're going to see Turner Corcoran play sometime this year, maybe on Saturday, maybe thereafter," Austin said. "But he's a young guy with a lot of promise."
» Austin said Nebraska will take three offensive linemen in the 2021 recruiting class and that those spots have been filled: Teddy Prochazka (Elkhorn South), Henry Lutovsky (Mount Pleasant, Iowa) and Branson Yager (Grantsville, Utah).
» Will erratic snaps be an issue in 2020 like they were early last season? Said Austin: "Nothing is ever 100%, but I'm fairly confident that that's not going to be something that trips us up this year."
» Backup tackles include Corcoran, Gaylord, Brant Banks and Matt Sichterman. Backup centers are Will Farniok and Trent Hixson, who can play any interior position.
» Austin will remain on the sideline this season despite his new title.
---
The 2020 Nebraska football schedule