LINCOLN — Marques Buford had faith there was going to be a high school football season after he moved 1,700 miles across the country for his final season during the ongoing coronavirus pandemic.
The Husker commit moved from Texas to Connecticut, a state where, despite vocal public protests, high school football largely is not being played this fall. The Connecticut Interscholastic Athletic Conference made its final decision Sept. 16. Some schools in the state, according to the Hartford Courant, are attempting to form their own private leagues — complete with GoFundMe campaigns — to play anyway.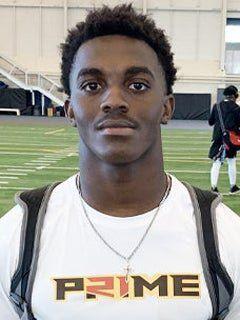 Buford doesn't have to worry about any of that. The top prep school recruit in the country and consensus three-star prospect knew he would be playing this fall because his new school — St. Thomas More, a prep school in southwest Connecticut — had a plan for the pandemic.
"Knowing that I'm gonna have a chance to get back on the field and compete is huge for me," Buford said during a phone interview, while he was wearing a mask in the school cafeteria. "That was the No. 1 thing I know for a lot of guys."
St. Thomas More has six games scheduled this year and possibly two more in the works, coach Jason Manson said. As of now, the prep school will be playing the same three teams twice, with games in Massachusetts, New York and Maine.
Manson suspects his team may be the only high school in Connecticut playing football this year.
"We're rocking and rolling as long as we continue to follow our protocols and don't have any flare-ups (of COVID-19 cases), which I don't think will happen," Manson said. "I think we have a true bubble-like situation."
He compared what St. Thomas More and its opponents will be doing to how the NBA is handling its players during the pandemic. The NBA invited 22 of the league's 30 teams to Orlando, Florida, in June after suspending the season in March. In Orlando, the players are tested regularly and isolated from others.
The same will be done on St. Thomas More's campus. The players are not allowed to leave campus, and they were tested prior to arriving on campus and after they arrived. No player has tested positive for COVID-19, Manson said. No virus in, no virus out.
"I think we set ourselves up to be in a good place to push on with the season," Manson said.
Buford, a 6-foot, 190-pound athlete, is thankful to get this season after reclassifying to the 2021 recruiting class. He initially committed to Florida State, but after a coaching turnaround, as Seminole coach Willie Taggart was fired midseason in 2019, Buford didn't want to rush into a decision and took another year to make up his mind.
He eventually landed on Nebraska in July because it felt right. And now, with the extra year, he said he's focusing on improving his leadership skills.
"He definitely leads by example — he's vocal," Manson said of Buford. "And I don't think it's going to be hard to continue to build on the foundation that he has and set himself up for success here and once he gets to Nebraska."
Buford and Manson's season begins this weekend when St. Thomas More takes on Milford Academy, a school in New Berlin, New York.
With St. Thomas More attempting a season, all of NU's 2021 commits are scheduled to be playing football this fall. Houston (Texas) Hightower receiver Latrell Neville starts his season this weekend, while Irvington (New Jersey) linebacker Mikai Gbayor begins his season in October.
The last Husker commit onto the prep gridiron is likely to be Miami Northwestern outside linebacker Patrick Payton. While Miami-Dade schools announced a return to in-person learning next week, Northwestern, the defending Class 5A champion, may not play until the weekend of Oct. 23, according to the Miami Herald. Also according to the Herald, Miami Northwestern has chosen to participate in the playoffs anyway, despite limited games before the playoffs.
All but 15 states are playing high school football this fall. In the Big Ten footprint, only Illinois and Maryland are postponing their seasons to spring. In Nebraska, only the Omaha Public Schools have chosen not to play football this fall.
---
Nebraska football's 2021 recruiting class