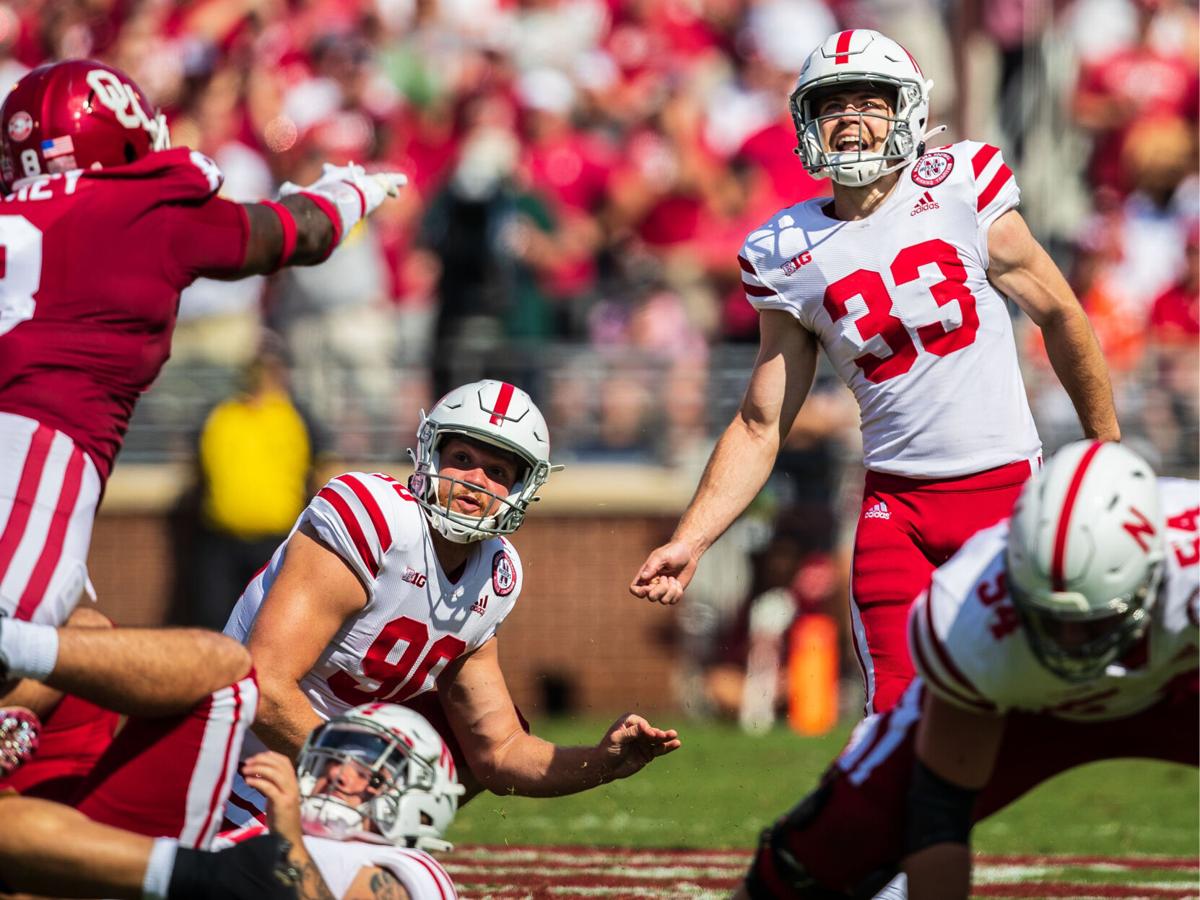 NORMAN, Okla. — Nebraska allowed three Sooner drives to cross midfield, but it only trails Oklahoma 7-3 at halftime.
With 4:40 remaining in the second quarter, the Huskers stopped Oklahoma on third down for the third time in the half. Nebraska started its next drive at its own 4-yard line and converted two first downs before punting, which left Oklahoma with just 57 seconds to execute its hurry-up offense. OU ran out of time, which kept the Huskers alive despite a sloppy start in Norman.
The Sooners started the scoring early with a 14-play, 75-yard drive that spanned 6:58. They faced third down twice but converted both times, including on a 19-yard middle screen to Mario Williams. Husker fans wanted offensive pass interference on Drake Stoops' block of Cam Taylor-Britt, which sprung Williams loose, but the block occurred behind the line of scrimmage.
The Huskers answered with a 51-yard field goal — good news for kicker Connor Culp, who missed three kicks last week, but bad for the Nebraska offense, which hurt itself with penalties on the first drive. The Huskers' offensive line committed three false starts, and after the Huskers advanced to Oklahoma's 20, Cam Jurgens drew a 15-yard unnecessary roughness penalty. Nebraska finished the half with five penalties for 45 yards.
Culp missed a 50-yarder two drives later after the Huskers drove 31 yards to Oklahoma's 32. Adrian Martinez catalyzed the drive with a 20-yard pass to Levi Falck, who took a violent hit after leaping to catch the pass.
​Thanks to Nebraska's defense, however, the offense's struggles did not sink them early. Punter William Przystup deserves an assist with a 52-yard punt early in the second quarter. He followed that kick with a 48-yarder at the end of the half. Przystup lost the preseason punting battle to Daniel Cerni in fall camp, but Cerni averaged just 36 yards per punt during the Huskers' first three games.
Nebraska averaged 4.4 yards per play early while the Sooners averaged 5.7.
Notes
» Nebraska senior kicker Connor Culp connected on a career-long 51-yard field goal in the first quarter, bettering his previous career long of 49 yards at Purdue last season.
» Culp's field is Nebraska's first from beyond 50 yards since Drew Brown made a 51-yarder against Purdue in 2016. The 51-yarder ties for the 12th longest field goal in school history and is the fifth-longest in a road game.
» Senior nickel back JoJo Domann recorded eight tackles, a tackle for loss and a pass breakup in the first half. His eight tackles are already a season high. (Domann's career high is 12 tackles vs. Penn State, 2020).
» Running back Rahmir Johnson made his first career start in today's game.
» Will Pryzstup had a 51-yard punt in the second quarter, the longest Nebraska punt this season.
---