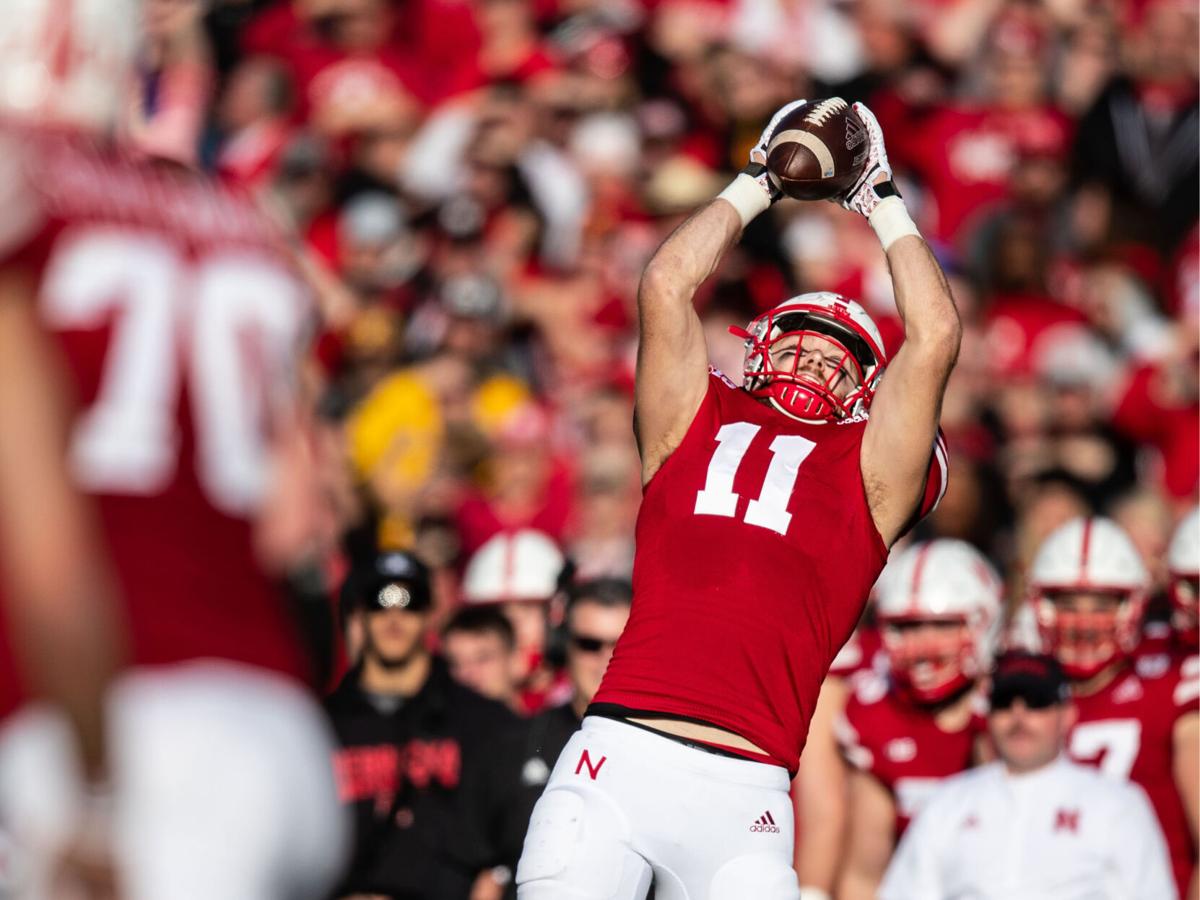 LINCOLN — Sean Beckton poked his head into the Nebraska weight room as postgame interviews rolled on. Had Austin Allen already come through? Did he get the record?
The answer to both questions was yes. Allen — in his final game wearing scarlet and cream — broke the school's season record for receiving yards by a tight end after making two grabs for 55 yards Friday against Iowa.
"That was my goal to get (the record for Allen)," Beckton said with a smile. "Send him off right."
Allen broke the record — previously set by Junior Miller (560 yards) in 1978 — with a 27-yard catch on a crossing route in the third quarter. His second grab put his final number at 602 to go with an NU season-record 38 catches across 12 games.
Allen said his overall production ultimately pushed him to choose pursuing the NFL. He made his decision earlier in the week after talking with family and coaches.
"I think with how the season played out for me personally, it's time to train," Allen said. "It's time to take my shot."
The Aurora High School grad and co-captain said Friday's pregame routine was when the reality of the end hit him. Fans' dedication amid the struggles stood out to him more than usual. The experience was better than no football at all.
"It was a frustrating season," Allen said. "But I know in my case there's a smile on my face because it happened. I got my faith to lean back on. The game of football is just a small part of life. One out of one of us is going to die — where we're going to spend eternity, that's up in question. I hope to show people with the way I play football that I glorify God in the way I play sports. I hope people saw that. I'm not sad that it's over, I'm happy because it happened."
No regrets for Stille
Ben Stille lingered in full uniform as long as he could. The sixth-year senior grabbed his postgame meal in pads. More than 40 minutes after Nebraska lost yet another one-score game, he was on the Memorial Stadium turf signing autographs for interested kids.
As bittersweet as the final day as a Husker was for the defensive lineman from Ashland-Greenwood, Stille had no hesitation when asked whether he was happy he chose to return for a 3-9 season.
"Yeah, without a doubt," Stille said. "…To be able to help out this program another year was an honor."
Stille, who finished with six tackles and a quarterback hurry Friday, said he accomplished his individual goals of improving against the run and the pass. There was a time during the 2020 campaign when he told friends back home there was a 1% chance he would be at NU for a sixth year, before a few weeks of offseason thinking made him reconsider.
Next up is an uncertain future beyond college football.
"I don't have a lot of things figured out," Stille said. "My focus was on the season regardless of what our record was and beating Iowa. I got a lot of things to figure out next level-wise in the coming weeks."​
Taylor-Britt 'grew up a lot' at NU
Cam Taylor-Britt came to his final Husker press conference wearing a candy lei and, for a second, sunglasses. The minute he was asked a question, though, Taylor-Britt pulled off the sunglasses because he knew he'd get serious — and a little emotional.
With more than dozen family and friends watching him in the postgame press conference, Taylor-Britt thanked Nebraska and said, though he had options, he never considered transferring anywhere else despite four losing seasons.
"I just grew up a lot while I was here," Taylor-Britt said after finishing with 51 tackles, 11 pass breakups and one interception in 2021. "I have so much knowledge I have saved from all the coaches. We started from the bottom with this whole program just built everything. I just felt like it was that time. I did commit this last year to fulfill my dreams and help this team become better. I feel so bad that I could not help do that but I tried my hardest."
Taylor-Britt will now get ready for the 2022 NFL draft, where he hopes to picked by a NFL team. He said he wasn't sure where he'd train for the draft; often, players sign with agents, who get them connected to workout centers all over the country.
"Let's go get it," Taylor-Britt said.
Johnson's 'surreal' homecoming
Iowa freshman Keagan Johnson wasn't as productive at Memorial Stadium on Friday as he was two years ago during the Class A state championship football game for Bellevue West.
Johnson, the son of former Husker wide receiver Clester Johnson, caught one pass for 11 yards but received a team-high seven targets.
Keagan's reception came during Iowa's opening drive that ended with an incomplete pass in the end zone.
After the Hawkeyes scored the winning touchdown, the former four-star recruit was spotted on the Iowa bench taunting Nebraska fans. Johnson was bringing his index finger to his lips mockingly trying to get the crowd to be quiet.
In the postgame press conference, Johnson said it was a "surreal" experience returning to his home state and playing in the stadium where he helped lead the Thunderbirds to a state title.
"I've been to a lot of Nebraska games just being a fan, spectator," Johnson said. "Spectator, not fan. Actually, playing on the field against Nebraska was a surreal feeling."
Johnson said his father took care of getting tickets for family and friends. He estimated about 30 tickets were needed and found to get those closest to him into the game.
Belt receives 'clutch' role
With their rivalry game in the balance and the clock winding down, Nebraska inserted walk-on sophomore Brody Belt, the 5-foot-9, 185-pound Omaha native, next to Logan Smothers.
Yes, the Huskers' options were limited. Gabe Ervin and Rahmir Johnson, the two players who secured starting roles this season, were injured. Sevion Morrison entered the transfer portal two weeks ago.
That left Jaquez Yant, Marvin Scott and Markese Stepp as the only healthy scholarship backs. Stepp started against Wisconsin, and Yant and Scott carried the ball on Friday.
But on its most important drive, Nebraska tabbed Belt as its best backfield option.
"I would just say just knowing the game plan and knowing what to do," Belt said, explaining his rise up the running back depth chart. "When we get into those clutch situations, things move quickly. Pass pro can change, in an instant. Knowing who to block and knowing your assignment is key."
Brewington earns reputation for pancakes
Chancellor Brewington has earned a reputation for decking edge defenders near the goal line. He pancaked another on Logan Smothers' second touchdown run against Iowa.
But with Austin Allen leaving Nebraska this offseason, Brewington sees an opening to showcase a wider skill set — the one Nebraska recruited him for in the first place.
Brewington, a Northern Arizona transfer, came to the Huskers as a wide receiver. He only joined the tight ends because the position group suffered multiple injuries in fall camp. But after a season spent blocking linebackers, Brewington is excited by the opportunity to run past them again.
"I'm gonna do my job in expanding my role in the offseason," Brewington said. "Show them a little bit more of what I can do."