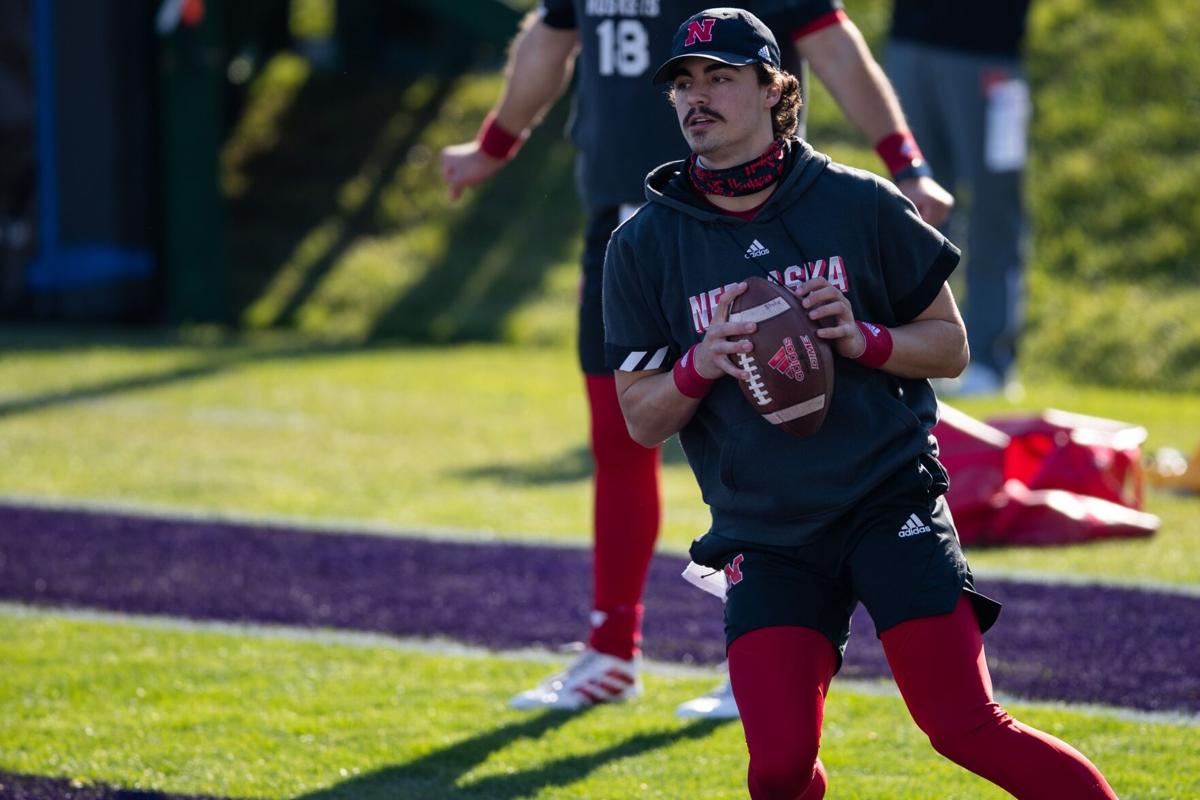 Nebraska's stable of inexperienced quarterbacks is well acquainted with the instruction manual for running the Husker offense. The next few weeks are all about getting some drive time.
Three-year starter Adrian Martinez is the clear No. 1, but action behind him is just as important this spring for a group that otherwise has yet to log a single college snap.
Logan Smothers, who has been in the program for a year, is getting his first taste of extended spring workouts. Freshman Heinrich Haarberg has been in college for only a few months. Fourth-year walk-on Matt Masker is a factor, as well.
"If something were to happen to Adrian, those guys would be able to step in," Nebraska QBs coach Mario Verduzco said Monday.
How comfortable is Verduzco in that belief? Very much so "from a knowledge standpoint," he said. All just need time running the offense this spring, especially after the compressed 2020 season left little time for development beyond the competition between Martinez and the since-departed Luke McCaffrey.
Evaluation will begin with how well the green quarterbacks can translate what's in their head onto the field.
"So just getting the opportunity to take the snaps, make the right keys and reads and put the ball where it needs to be put," Verduzco said.
The assistant said Smothers added about 10 pounds to his 6-foot-2 frame in the offseason. Smothers and Masker both bettered their 40-yard-dash times in NU's performance testing in March, Verduzco said.​
Corcoran getting pushed
The depth of Nebraska's offensive line is pushing second-year freshman Turner Corcoran to perfect his game.
Corcoran earned his first start at left tackle in the final game of the season last year. He said Teddy Prochazka, Nouredin Nouili and Jimmy Fritzsche are challenging him for that position.
He earned his first start against Rutgers in the Huskers' final game of the season after Brenden Jaimes decided to forgo the game to prepare for the NFL.
"It's pushing me quite a bit to perfect my game and make sure that I'm doing what I need to do," Corcoran said.
Veteran defensive players like Ty Robinson, Garrett Nelson and Damian Jackson are also helping Corcoran expand his repertoire by simulating a game-day experience in practice.
"It's an experience just because those guys are so physical and so much more mature," Corcoran said. "But at the same time, I'm right there with them."
Freshman impresses
Freshman receiver Will Nixon is turning heads with his knowledge of the game, according to senior receiver Levi Falck. Nixon, the son of an NFL assistant coach, is teaching Falck things he didn't know.
"He knows a lot about the game," said Falck, who added that he, Samori Touré, Oliver Martin and Nixon are the leaders in the receiver room.
Touré is "really fast and can play the ball in the air," said Falck, who faced him when Falck was at South Dakota and Touré was at Montana. Touré is learning the offense quickly, Falck said.
Quarterback AdrianMartinez said Touré is an "experienced cat" who "knows what he's doing on a football field."
"He wants to be good, he wants to be good on this team, and do big things," Martinez said.
Tight ends lead way
A spotlight is shining this spring on tight end, which is one of the Huskers' most experienced and deepest offensive positions.
Travis Vokolek, a junior who transferred from Rutgers in 2019, said he needs to provide leadership because of his experience and knowledge. He and fellow tight end Austin Allen have spent multiple years in the Husker offense.
"Austin and I are two veterans in our room and two veterans on the team," Vokolek said. "I think my leadership role (is) my need to step up and hold guys accountable, and get on guys' rear ends when things aren't going well and then get on the guys when things are going well, too."
Vokolek said he's taking a leadership class at UNL that is further developing his natural skills.
"I think you can always become a better leader every day, and that's something I strive to work on every day," he said.
The tight end room has multiple versatile players, which is important for Scott Frost's offense, Vokolek said.
"Especially (when you) got two 6-foot-8 guys with Austin and I," Vokolek said, "you really can do some special things with us."
Signee Spotlights: Get to know the players in Nebraska football's 2021 recruiting class
The "Signee Spotlight" provides all the information you need on the newest batch of Huskers, including rankings, evaluations and a look at how they landed at Nebraska.