LINCOLN — This week is personal for Levi Falck.
The Nebraska receiver grew up in the Twin Cities suburb of Circle Pines watching Minnesota football. But twice as a recruit he was snubbed by the hometown team.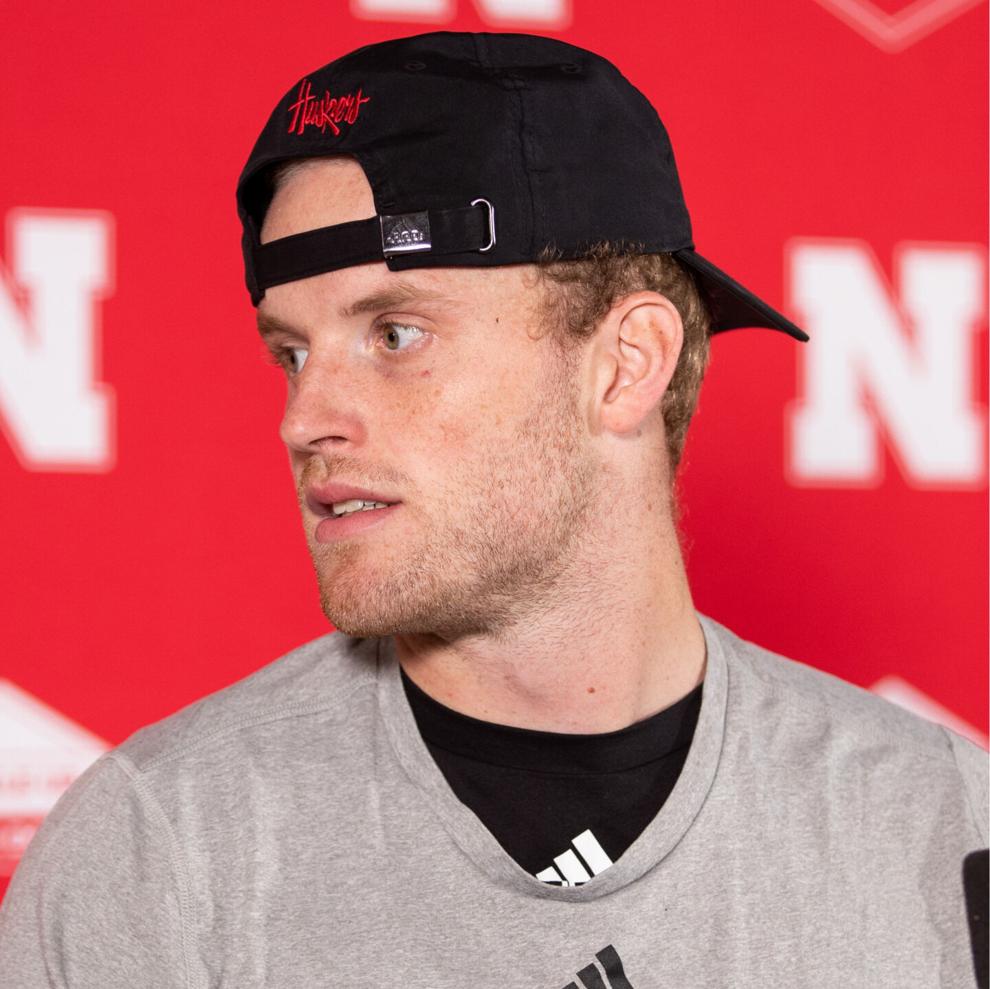 Minnesota didn't pursue him in football out of high school, only giving him a look in baseball. Then when he entered the transfer portal from South Dakota after the 2019 season, the Gophers were just "iffy" on him.
"I don't like Minnesota," Falck said. "I don't like Minnesota at all."
Things have worked out for him. He caught his first touchdown of the season last weekend and has nine catches for 119 yards overall while appearing in every game. This after a 2020 season in which he was a regular contributor with 13 grabs for 122 yards and a score.
Now 23 years old, Falck said almost anyone he would have known with the Gophers has departed. Defensive back Phillip Howard is the only familiar face left from their meetings in football and baseball growing up.
The only other Minnesotan on Nebraska's roster is right tackle Bryce Benhart — from the Minneapolis suburb of Lakeville — and he shares Falck's sentiment. They're locker neighbors who have vowed to go home victorious after last year's 24-17 loss in Lincoln.
"We always talk about how we don't like Minnesota and we've got to beat them," Falck said. "We've got to beat them this week."
Taylor-Britt settles down
Defensive backs coach Travis Fisher believes cornerback Cam Taylor-Britt played his best game of the season against Michigan.
Taylor-Britt recorded 11 tackles and broke up three passes, both career highs.
The irony: Taylor-Britt's hyperactive performance came from a more relaxed approach.
Fisher said Taylor-Britt began this season "trying to make every play." That mindset hurt the Huskers against Illinois when Taylor-Britt fielded a punt inside Nebraska's 5-yard line and cost the team a safety. And in recent weeks he's allowed multiple receptions after trying to jump short routes.
But against Michigan, Taylor-Britt "settled down," according to Fisher. He learned he couldn't make every play. And as a result, he made a bunch.
"You get guys (that have) so much athleticism and they want to go out and make a play for the team," Fisher said. "Sometimes we don't need that. Sometimes we just need you to do your job and do a great job of doing your job.
"(I'm) just reminding him, 'Hey, when it's your time to make a play, be in position by doing the job, and then go make that explosive play that you know you can make.'"
Secondary thrives on familiarity
Deontai Williams is technically the one tasked with making defensive calls to teammates before the snap. But sometimes the Nebraska safety is beaten to the punch by his own cornerback.
The call is almost always the same either way.
"(Taylor-Britt) will do it before I even do it," Williams said. "I just give him a nod, 'Yep.' That's just playing with each other, having that bond with each other, understanding and learning the playbook as well as we did when we came here in 2018."
The veteran Husker secondary has developed a shorthand that is blooming after years of reps together. Defensive coordinator Erik Chinander said it has enabled them to occasionally pull out a "tool" that NU doesn't practice when they identify certain splits or receiver formations during a game.
The Huskers rank 33rd nationally in pass efficiency defense and have allowed just six passing touchdowns in seven games while rarely getting beat deep.
"Their communication is high," Chinander said. "They're letting people know what's going on."
NU also continues to be confident the future is in good shape after starters Marquel Dismuke, Williams and likely Taylor-Britt move on after this season. Chinander named backup corners Braxton Clark and Marques Buford and safeties Myles Farmer and Noa Pola-Gates as those who could be starting now under different circumstances.
"I feel like when it's the super seniors' time to go, Nebraska could still be one of the top defenses around college football because of how much depth we have," Williams said.
Discipline key for Nebraska D
Another week, another test for the Blackshirts on playing clean defense.
Minnesota may be without its top two running backs because of injury, but Chinander said the Gopher attack can still be disorienting if the Huskers aren't prepared.
The offense will use extra tackles and tight ends. It uses Wildcat formations and run-pass options off hard runs and usually has a formation or run of the week mixed into the game plan.
It's all done with the philosophy of holding on to the football. Minnesota ranks sixth nationally in time of possession (33:55.6).
"Their offense poses a lot of difficulties and a lot of intricacies that you need to get ready for on a weekly basis," Chinander said.
---