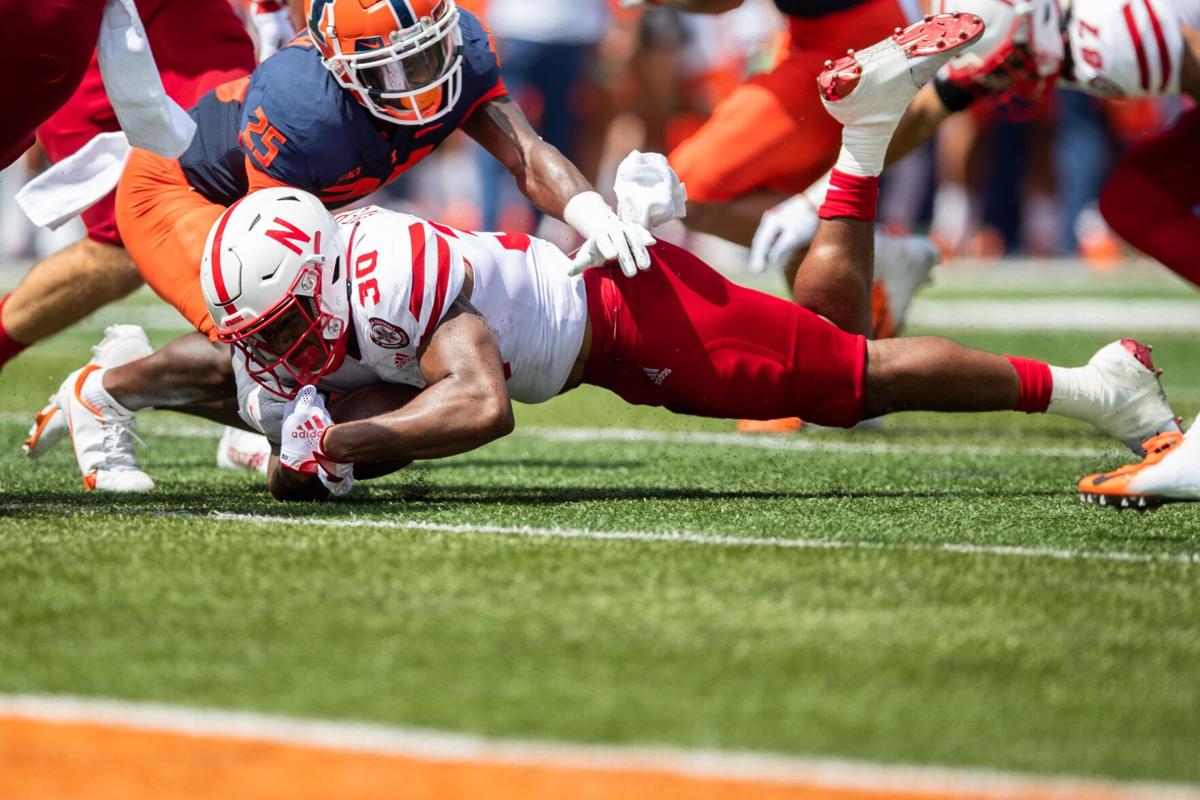 CHAMPAIGN, Ill. — A bad guess and a growing deficit prevented Nebraska running backs from showing what they could do in their much-anticipated debut Saturday.
The Huskers ran 39 times for 160 yards, though quarterback Adrian Martinez accounted for a sizable chunk (17 for 111). Freshman Gabe Ervin (12 for 33 yards) became the first NU true freshman back to start a season opener in the modern era while Southern California transfer Markese Stepp (three for 10) and Rahmir Johnson (four for 11) also saw backfield action.
"I think we did what we had to do," Stepp said. "We're only as successful as the guys up front, so we have to adjust accordingly. I think we ran hard, we played to the best of our ability."
Coach Scott Frost said the staff made an educated guess that Illinois would be in odd fronts defensively in keeping with what new coach Bret Bielema and his staff had done elsewhere. But NU saw only a few of those looks, with running backs mustering 2.8 yards per carry (19 for 54 yards).
"Bottom line, we've got to run the ball better early," Frost said. "Then once we got behind, we weren't able to commit to it as much."
Ervin said he got "rolling" after the first hit he took — after a 1-yard run in the game's first play from scrimmage. Meanwhile, Stepp was the only back to add a catch, but it was a career-best 30-yarder down the left sideline on a wheel route where he was wide open.
"In the air, I'm like, 'You better not drop this or, boy, it's going to be a long ride home,'" Stepp said. "Because I know me, I'd be thinking about it and be mad at myself for it. But it wasn't really hard. We practiced it every day so you just have to fall back on your training."
Stepp said Husker players should shoulder responsibility for Saturday's loss instead of the coaches.
"It's our problem as a team," Stepp said. "The players. There's nothing (Frost) hasn't told us."
Missed opportunities
Nebraska had a plum chance Saturday to go up by two scores against Illinois when receiver Wyatt Liewer broke open in the corner of the end zone.
Adrian Martinez, touted as a new quarterback and leader by his teammates and coaches, overthrew the 6-foot-4 Liewer, who tried to cradle the ball after leaping for it.
"The throw to Wyatt in the end zone would have put us up two touchdowns," coach Scott Frost said. "They had a similar play, and they made the throw and the catch, and we didn't. Two touchdowns up, in the first half, changes the game."
Had Martinez made a better throw, Nebraska leads 13-2. Instead, the Huskers settled for a field goal.
It was one of many missed moments for Martinez on Saturday. He completed 16 of 32 passes for 232 yards and one touchdown. He also rushed for 111 yards and a TD.
Lots of yards. Lots of mistakes, too.
"I feel like I had moments, and I need to be a hell of a lot better," Martinez said. "There were times I was in rhythm and times when I wasn't, and it was spread out throughout the game."
Martinez also coughed up another fumble — which led to another opponent touchdown — late in the first half.
"I was stepping up in the pocket, looking to possibly make a move, getting tackled to the ground and I believe — I need to go back and watch the film — I had one hand on the ball," Martinez said. "The guy smacked my arm and the ball fell out."
The turnover created a "same old story" feeling to the game, Martinez said.
"Luckily, this isn't a one-game season, so this team still has a lot to prove," Martinez said. "Back's against the wall and we know some of those mistakes and have to get them corrected. We spent a lot of time on them this offseason and that work will pay off."
Banks, Corcoran share duties at left tackle
Brant Banks earned his first career start Saturday. But Nebraska rotated its left tackles throughout the game, mixing in Turner Corcoran and generally sharing snaps by alternating drives.
Corcoran — a heralded recruit who made his first start in the Huskers' 2020 season finale — had been limited during portions of fall camp with an undisclosed injury. The second-year freshman traded off with the third-year Banks, who appeared in his sixth career contest.
Running back Markese Stepp said whoever is on the edge can handle what Nebraska needs them to do.
"I trust either of them no matter who's on the O-line, no matter who has to come in," Stepp said. "I've seen what they've done in the offseason, I've seen how they train, I've seen how they work on a day-to-day basis. So for me, I trust any of them to go out there and get the job done."
Defense beats the heat
The humidity was thick and the sun beat down on the field for the earliest game in Big Ten history. The "RealFeel" temperature pushed 100 degrees at kickoff.
How did Nebraska's defense hold up? The Blackshirts felt like the conditions didn't affect them.
A unit that touted depth on all three levels in fall camp saw 20 players register tackles and forced three straight punts to give the offense a chance at a tying drive in the final seconds.
"I think we handled it pretty good," inside linebacker Nick Henrich said. "You can never let stuff like heat (stop you) — that's a controllable. We knew it was going to be hot. That's a mental thing. We'll have to watch film to see if we looked tired. But I think we did a good job, it just sucks (to lose)."
Co-captain and 325-pound defensive tackle Damion Daniels said any struggles the defense had were more related to untimely penalties than wearing down.
"The weather wasn't a factor," Daniels said. "It comes down to executing and being smart — following the game plan, really."
One bright spot
One bright spot from a dark loss: the pass rush. Nebraska generated three sacks against an experienced Illinois offensive line Saturday. The Huskers haven't eclipsed that total since Nov. 29, 2019.
Outside linebacker Pheldarius Payne accounted for two sacks, double the amount he totaled last season in six games. Both of Payne's sacks came on third down, and one turned a 53-yard field goal into a 55-yarder.
Payne may have changed positions (from linemen to linebacker) when he transferred from Lackawanna College, but his objective remains the same: Pressure the quarterback. On Saturday, he and the Huskers showed more promise in that area than they have in a long time.
The clock matters
Among the many procedural errors Nebraska committed Saturday, here's one that could (but shouldn't) be overlooked: With 9:15 remaining, Nebraska got the ball back trailing 14. Eighteen plays and over six minutes later, it still trailed by 14 and it still had the ball.
Balanced offense matters, but the clock matters more. And in running the ball 10 times — seven of which were designed run plays — on their second-to-last drive, Nebraska left itself no time to finish its comeback.
On fourth-and-goal, which was the 19th play of the drive, Nebraska finally scored with 2:41 remaining. Five plays later, NU forced an Illini punt but Adrian Martinez had 54 seconds to tie the game.
He didn't come close, but even if he had, he might've run out of time.
By the way, Nebraska averaged 2.2 yards per carry on that second-to-last drive, excluding Martinez's scrambles. The run calls didn't even work.
Quick hit
» Nebraska 2024 target Mario Buford attended the game. The younger brother of defensive back Marques Buford out of DeSoto, Texas, is considered an "athlete" by recruiting services. He has five offers: Illinois, Mississippi State, Oregon, UCF and the Huskers.​
» Receiver Oliver Martin had the best of game of his collegiate career, grabbing six passes for 103 yards and a touchdown. Martin, who has played at Michigan and Iowa, said he earned the trust of Martinez in camp.
"I run my routes hard, I run them fast, I try to be where I'm supposed to be at the right time, and he trusts that," Martin said. "If he feels pressure, I feel like he looks for me sometimes."
» An odd play occurred on Nebraska's last touchdown drive, when on first-and-goal from Illinois' 5-yard line, Martinez snuck the ball for a 1-yard gain. NU may have believed that on the previous third-down play, Gabe Ervin did not gain the needed yards for a first down, but he did.
When asked about the play, Martinez said: "In all honesty, I can't recall that."
» Henrich led the Huskers with 11 tackles. NU had three listed sacks, and nine tackles for loss overall.
---