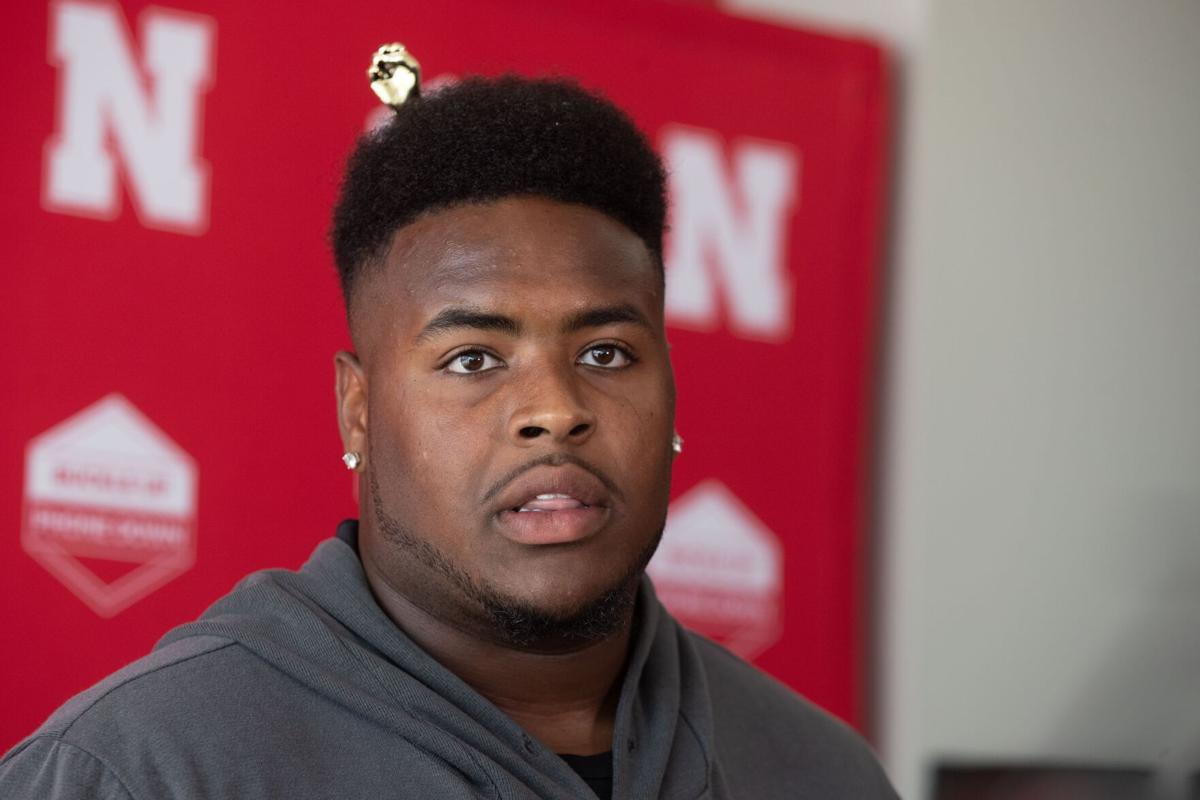 LINCOLN — Depth chart? There's no such thing for the defensive line yet.
With a season's worth of three-man fronts ahead against Big Ten offensive lines, the Huskers have no preconceived notions for who might be part of their efforts in the trenches. All they knew Thursday was it would be a collective effort.
"No positions, no starters, no nothing," Damion Daniels said. "We're starting from scratch. It's going to be fun looking at everybody — including myself — competing against everybody else."
NU rotated six linemen last year and brings back everybody. Ben Stille, Ty Robinson, Casey Rogers and Daniels all started games. Jordon Riley and Deontre Thomas are healthy coming off various ailments. Multiple young players like Nash Hutmacher, Ru'Quan Buckley and Marquis Black came up as other risers. Walk-on and Yutan native Colton Feist has also been a popular name in the offseason, with Robinson on Thursday calling him a "big-play guy" moving forward.
"Our rotation's going to be pretty nice, it's going to be pretty big, which I don't mind," Robinson said. "At the end of the day, we're trying to win games."
One point of emphasis under defensive line coach Tony Tuioti is stamina — how many plays in a row a player stay in the game and remain effective. Robinson said he could only go three straight snaps as a true freshman two years ago and is realistically aiming for 6-8 now if necessary.
The 325-pound Daniels, who coach Scott Frost joked was a "special forces eater" last week at Big Ten Media Days, said he has drastically improved his own ability to stay on the field through a commitment to running and eating right.
"I feel like I can take the next step," Daniels said. "Probably do hopefully 10 plays straight without being gassed."
Looking for No. 1 running back
Damion Daniels believes Nebraska running backs can be a team strength. Cam Taylor-Britt considers the position among the Huskers' deepest.
NU rushers drew consistent praise on the sixth floor of Memorial Stadium during media day Thursday. But no one was ready to name names for the most unsettled spot on the team with a month of fall camp ahead.
The window of opportunity to earn the No. 1 job might be smaller than in years past. Nebraska coach Scott Frost said he wants to make position decisions sooner — at least in house — in order to build some continuity with the offense and defense. Guys better show up ready to compete right away.
"We've got a ton of talent in that room, but I don't want it to be by committee ideally," Frost said. "I want to have a main guy and a backup or two who are going to share the carries."
Therein lies the rub for a group that never established much of a pecking order behind departed starter Dedrick Mills last season and then again in the spring amid a rash of injuries. Six scholarship backs bring a diverse set of skills, from contact-seeking Jaquez Yant — who went on scholarship in the summer — to USC transfer Markese Stepp to freshman Gabe Ervin to returners Sevion Morrison, Marvin Scott and Rahmir Johnson.
Scott (24 attempts for 62 yards), Johnson (eight for 30) and walk-on Cooper Jewett (one for 2) are the only running backs still on the roster to carry the ball for the Huskers last year.
Taylor-Britt, a starting cornerback, said the backs' best asset is there won't be a drop in production if somebody goes down with an injury.
"I'm not going to give you names because we have like 10 running backs who are good," Taylor-Britt said.
Daniels, a defensive lineman, said he believes it's more likely the backs will form "a good rotation" than someone runs away with the top job. Everyone has "their own little flavor," with some preferring to plow through the middle of a line and others tending to bounce outside.
"I feel like we've got the most versatile running back position group in the Big Ten and probably the country," Daniels said. "It's going to be fun watching them."​
Jurgens' "Beef Jurgy"
Adrian Martinez joked he got the Beef Jurgy gear for free. The Nebraska quarterback and his center, Cam Jurgens, may be buddies, but name, image and likeness money was at stake, too.
"I was one of the first!" Martinez said.
Jurgens is one of several Husker players taking advantage of the new ability to profit off of NIL. He has a "Beef Jurgy" line of gear, including a hat he wore to Thursday's press conference.
"These hats are available on BeefJurgy.com," Jurgens said. It's true. So are t-shirts, sweatshirts, even a women's tank top. Jurgens got the name, he said, because he like beef, and coaches and teammates started calling him that in the weight room. The name stuck, and Jurgens is trying to maximize his small corner of fame.
"The better you are as a football player, the more publicity and opportunities you're going to have," Jurgens said. "If you grind in the weight room, if you grind in practice, be the best player you have, you're going to be well-off in NIL."
For now, Martinez appears to Nebraska's clubhouse leader on NIL deals. He didn't disclose them Thursday, but he has several, including one with Degree deodorant. Martinez credited NU's social media partner, Opendorse, with setting up the deals for players.
"It's fun for now but, when the season comes around, you have to put your priorities in order," Martinez said. "And making sure myself and the rest of the guys have that situated is a critical piece."
Finding starters early
Nebraska plays the first major college football game of the season, so it makes sense that NU will know its starters on both sides of the ball before every other program.
Husker coach Scott Frost, seeking to post his first winning season at Nebraska, wants answers even quicker than that.
"One thing I told the team, and I'll tell the coaches, I want make (position) decisions a little earlier than normal, at least in house," Frost said. "Try to get a little continuity with the offense and defense. Guys better show up ready to go and compete for the spots."
Frost wouldn't call it a shift in his perspective, but "self-inflicted wounds" have hurt the Huskers, he said, and the "primary emphasis" of training camp will be reducing the penalties and turnovers that have generally plagued the program over Frost's first three years.
"Experience helps you with those details — and we're going to be more experienced than we have been — but also continuity helps in making sure the main guys are working with the main guys a little more often early on."
Quick hits
» None of Nebraska's players — aside from linebacker Will Honas — appear to be absolutely out of the 2021 football season, Frost said. Freshman tight end Thomas Fidone could return for the end of the season after tearing his ACL toward the end of spring camp.
» The attitude among offensive linemen, Frost said, has shifted from hoping to get things to done to leading the way in doing it. Center Cam Jurgens said offseason conversations with former Nebraska offensive linemen — Brendai Stai and Rob Zatechka among them — has helped.
"Having that gritty attitude and talking to guys, in the past, what made up the pipeline," Jurgens said. "It's guys going against the person across from you and just kicking ass and making sure they're having a tougher game than you are."
Jurgens said he'd like to see the offensive line be the leaders on the team "when another position group gets out of line."
» When asked which receiver he's most excited to see reach his potential, Martinez said Bellevue West graduate Zavier Betts. The 6-foot-2, 200-pound second-year freshman had 12 catches for 131 yards and a touchdown last season as his snaps and confidence grew throughout the season.
"He's getting ahold of that (talent)," Martinez said. "He has this summer. He's put in a ton of work."
» Projected starting right tackle Bryce Benhart wore a "Run The Damn Ball" cap backward during a short interview session with media. He said he and projected starting left tackle Turner Corcoran are still the only Huskers with the caps that they purchased and wore after the spring game.
"Dominate the ball," Benhart said. "We want to run the ball."
» Strength coach Zach Duval watched Frost's press conference from the back of the room. Duval hadn't previously attended any such media events.
» Asked how it hits him that media members voted Nebraska to finish fifth in the West Division, senior linebacker JoJo Domann said it doesn't. "It kind of goes right past me," Domann said. "I don't really have expectations in the win column or loss column this year. The only thing I expect is for each and every man in that locker room to show up and give everything they have each and every day."
» Cam Taylor-Britt said the other potential starter opposite him at cornerback, Quinton Newsome, has a "spotlight" on him but is ready for a larger role. Newsome just has to let "that dog out of him," Taylor-Britt said.
» Taylor-Britt said in the spring he might petition NU coaches about a role within the offense but shook his head with a knowing look Thursday when asked if that possibility is still realistic.
"They've just got me returning kicks," Taylor-Britt said. "I guess that's it. But you never know."
» Sixth-year safety Marquel Dismuke spoke with reporters while Taylor-Britt and defensive lineman Ty Robinson watched from behind the cameras. They cheered his final answer to a question about where the veteran defense will be starting from Friday.
"Day one of fall camp shouldn't be a regular day one," Dismuke said. "It should be, 'We already know what we're doing.' It should be like day 20. We should be going on to the next level from where we already left off."
Videos: Nebraska football press conference, July 29
Hear from Scott Frost and various Husker players as Nebraska prepares to open fall camp before the 2021 season.