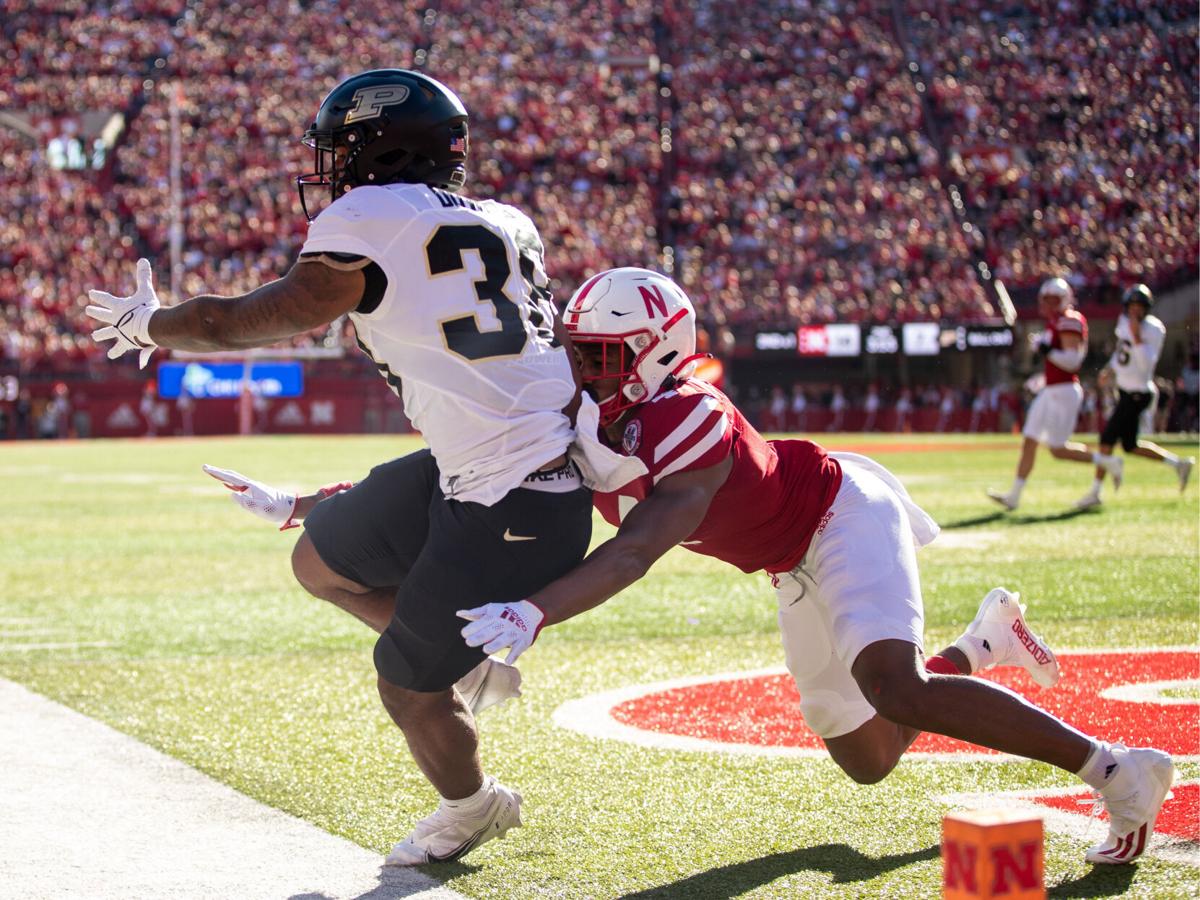 LINCOLN — Nebraska safety Myles Farmer's first start of the season went well, even if there were a few anxious moments beforehand.
The third-year redshirt freshman made his second career start and first in Lincoln. He played without incident against Purdue and collected six tackles while filling in for the injured Deontai Williams.
"I think it's normal to get nervous before every game," Farmer said Tuesday. "After that first play, (the nerves) kind of go away."
Defensive coordinator Erik Chinander said getting Farmer in a better "game flow" than usually happens as a reserve was helpful. The defender played a career-high 85 snaps Saturday while giving up three receptions for 31 yards on four targets. He didn't have many "splash" plays, Chinander said, but not noticing a starter can be a good thing, too.
"I don't think any of us had a doubt Myles was going to go in there and operate," Chinander said. "Guys go in (as a) first-time starter, everybody makes a mistake in every game. He probably made a few. But he operated pretty well."
Beckton on NU's offense
Nebraska tight ends coach Sean Beckton can often be counted upon to give answers to global football questions that go beyond merely his position group. So, when asked about the No. 1 thing Nebraska's offense could be doing better to help win games, he gave an illuminating, in-depth answer.
"We've got to play just a little bit harder across the board, and we've got to focus in a little bit harder across the board," Beckton said. "Our lapses have been killing us. Quarterback, running back, tight ends, receivers, O-line. Our lapses have caused us not to execute on plays that we can basically have scored on. I can count four to five, every single week, if somebody plays a little bit harder, or somebody has a little bit more focus, we're sitting here 8-1, 7-2, better season — particularly just on offense."
Beckton said he's hard on his tight ends in practice, especially when they miss a detail, and lets them know about it loudly when they mess up.
What does it mean to play harder?
"You've just got to grind — grind a little bit harder," Beckton said. "I'm old-school, come from a background where I had to fight for everything I've got. We try to instill that in the tight ends, obviously, but I'm trying to instill that in everybody on this team. You've got to fight and grind, just a little bit harder. If I'm kick-sliding on a pass pro, I've got to kick slide just a little bit harder, a little bit more strength. Same thing on a pass rush, same thing driving on an out as a corner — all those things we've got to do just a little bit harder, against a team like (Ohio State), and we're going to start seeing results, across the board."
Conversations on future can wait
Any dialogue between Nebraska coaches and players about their futures beyond 2021 won't happen until after the season ends.
That's the time for an honest exchange, Chinander said. The NU staff will "do right" by players and their families first as they weigh their options that could include returning, looking to professional football or moving on with a different career.
Barring an improbable three-game winning streak to end the season, Nebraska's last game will be Nov. 26 against Iowa. After that, more than a dozen Husker defenders and 20-plus overall who would have been seniors without the free COVID year will have to decide whether they want to run it back one more time.
"Those conversations don't help midseason," Chinander said. "It doesn't help the young man, it doesn't help me. I don't want that young man thinking about those types of things while he's preparing for Ohio State or whomever he needs to prepare for."
Tackling more powerfully
Nebraska ranks 48th nationally in yards allowed per carry (3.79), but outside linebackers coach Mike Dawson thinks the Huskers have looked "leaky" defending the run in recent weeks.
Opponents have faced too many manageable third downs, Dawson said, which has kept Nebraska's defense off balance and on the field. Purdue held the ball for 38:38 against the Huskers. Minnesota held it for 38:01.
In both cases, Dawson noticed the Huskers weren't tackling as powerfully as they were earlier in the season. Where defenders used to push ball carriers backward, they made "leaning" tackles that allowed opponents to gain extra yards.
Dawson wants that to change against Ohio State, which turns leaks into floods fast. The Buckeyes rank top 10 on rushes of 30-plus yards (eight) and top five in runs of 40-plus (six). Against that explosive attack, Nebraska will need all the power it can generate.
Pressure without blitzes
The blitzers aren't coming. Ohio State wide receivers Chris Olave and Garrett Wilson are too good to leave single covered.
So if Nebraska wants to disrupt Ohio State's downfield passing game, Nebraska's front seven needs to win its one-on-one matchups at the line of scrimmage.
That's easier said than done against the Buckeyes, whose smallest offensive lineman weighs 300 pounds. Ohio State quarterback C.J. Stroud has been sacked nine times in eight games, and Dawson said the Buckeyes' big men move well, too.
But the Huskers have to find a way to win without help. Sending extra rushers leaves the secondary vulnerable. But so does a clean pocket.
"It can't be a deal where (Chinander) has to call in a perfect play to be able to get a rush," Dawson said. "We're gonna have to be able to come off of those big bodies. We're gonna have to keep (Stroud) in the pocket. We don't want to scramble out of there and then be able to get off in one-on-one matchups."
Vokolek a tackle?
Travis Vokolek is mostly focused on two things — preparing for Ohio State and being a leader in the tight end room.
So he hasn't given much thought to the countless comments from teammates and even offensive line coach Greg Austin that he could be an offensive tackle.
"They said I could be good at it if I really worked at it, but you know, I love tight end," Vokolek said. "I wanna stay as a tight end. So I'm just gonna focus on getting better at blocking and catching balls."
He said most of the comments have been taken jokingly. He has always been a tight end and was recruited as one. But he's added 45 pounds since high school to his 6-foot-6 frame to reach 260, and he looks as much the part of a right tackle as a wide receiver.
Vokolek, usually the Huskers' backup tight end, is commonly praised as Nebraska's best blocker at the position. Targets on passing plays are harder to come by for Vokolek and his deep position group.
The fifth-year junior missed the first three games of the season, then totaled 67 receiving yards in close losses at Oklahoma and Michigan State. In the four games since then, he's totaled only seven receiving yards. The guys right behind him, Chancellor Brewington and Chris Hickman, have done even less recently.
"Obviously we're still trying to find ways to get tight ends the ball," Vokolek said.
But for now, he's a still-developing leader in the tight end room, someone who hopes to continue to serve as a role model for talented newcomers like Thomas Fidone, Brewington and others.
A natural leader by example, Vokolek has made an effort to become more vocal. He takes some cues from quarterback Adrian Martinez, who he described as "one of the best leaders I've ever been around in my life," and also spends a lot of time reading. Most recently, he finished reading "The Mamba Mentality" about Kobe Bryant, from which he also took some leadership tips.
In the immediate future, Vokolek plans on focusing his energy toward the position he's playing. But in theory, he has the work ethic and desire to learn that would help him succeed elsewhere on the line of scrimmage at a thinner position for the Huskers. And his teammates seem to know it.