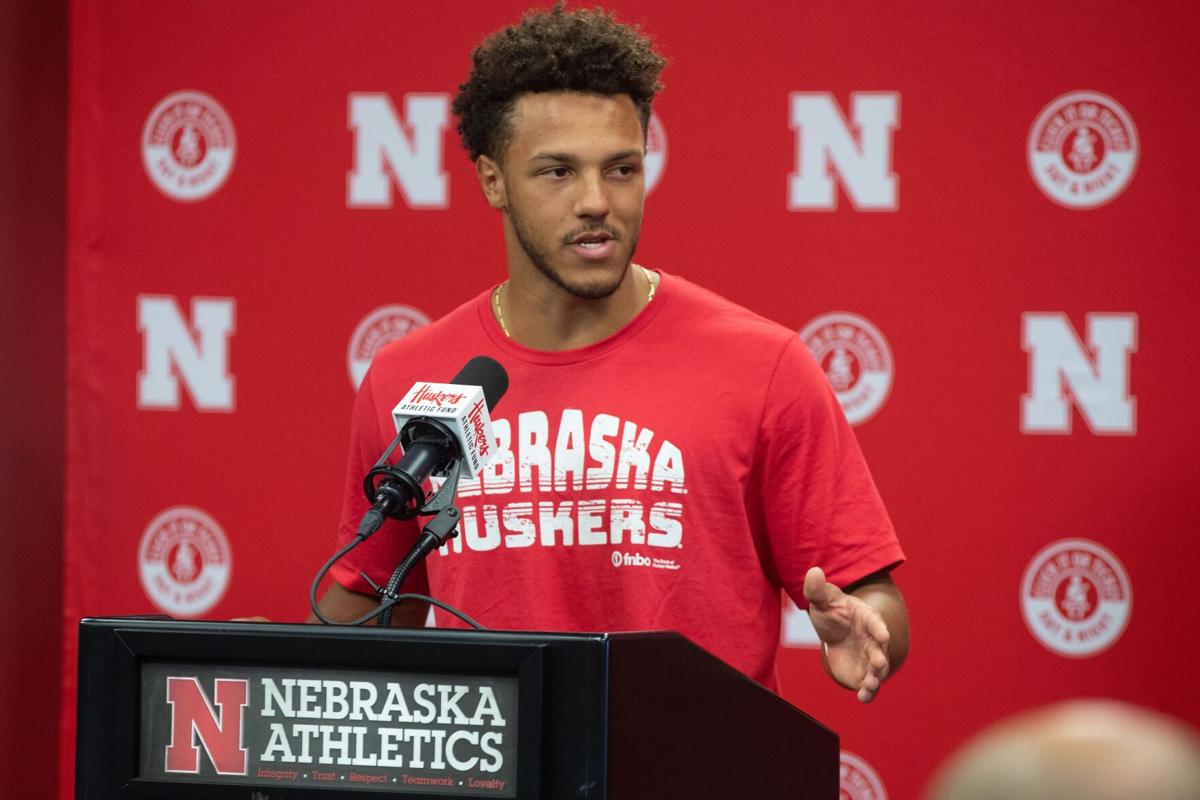 LINCOLN — It was a blast furnace, Fan Day for Husker football, that typical Nebraska August heat creeping into late July as temperature index on the field clocked in at 113.8 degrees. Sweat rolled as smiles grew from kids and NU players alike.
Of course the quarterback, Adrian Martinez, had the longest, most dedicated line, the man of the hour, another round in the spotlight that's been on him since he arrived back in 2018 when he was tabbed the presumptive starter — Scott Frost's next great signal-caller.
Aside from a brief benching, and a few injuries, Martinez has indeed been the starter for the duration of his time at NU. He's now the face, in essence of the Huskers' name, image and likeness movement, as well. Martinez didn't divulge how many deals he has, but he wore, to Thursday's camp-opening press conference, a First National Bank Nebraska shirt he'd plugged on social media.
"It's fun for now, but when the season comes around, you have to put your priorities in order," Martinez said. "And making sure myself and the rest of the guys have that situated is a critical piece."
Oh, yeah. Football. On a field, against an opponent, score kept and everything. NU can attract thousands of fans to wilt in the heat while the COVID pandemic still smolders. Can it thrill fans come Aug. 28, when Nebraska plays the first major college football game of the year against Illinois?
Martinez, who completed a school-record 71.5% of his passes in 2020, has a motto — two, actually — to describe what he and teammates have to do, and how they should play, in 2021.
"We've left a lot out on the table and this year we have the opportunity to kind of gain that back," Martinez said. "That's what 'prove it' means to me."
Equally as important: "Nothing left to lose."
"Everything I've been through on the football field, off of it, has led me to this point, right here, and I truly do believe I have nothing left to lose and to enjoy it, and play at the very highest level I can," Martinez said.
As he spoke, reporters noted, and asked questions about, his trimmer frame, a reformation he started back in spring, when Martinez looked noticeably smaller than 2020 or especially 2019, when, as a sophomore, Frost felt comfortable comparing his quarterback to Patrick Mahomes. Frost later said, in summer 2020, that Martinez hadn't been as dialed in, or challenged, heading into the 2019 training camp, and thus performed at a level below his capability.
Martinez had competition last season for sure, and, for a moment, Luke McCaffrey's promise and foot speed put Martinez on the bench for the Penn State and Illinois games. McCaffrey ran 39 times in those two games — including 26 in a 18-point loss to the Illini — pulling the offense further away from Frost's initial vision for it. Martinez won the job back. When McCaffrey decided to transfer, Martinez became the clear starter again.
Martinez didn't waver in his decision to return to NU — he had two seasons of eligibility in his pocket if he'd chosen to walk — but he had "a lot to mull over, too."
"That's what any person does in business — weigh the options — and I was very happy to have that opportunity to come back," Martinez said.
So he cut weight — 212 this season, down from 225 in 2019 — to get faster and freer as a passer. He graduated with a degree in management. He demanded more as a leader. He began a podcast and had his teammates on the show. He leaned into NIL. Teammates noticed the new No. 2.
"It's just the maturity, looking past all the negative stuff to figure out who he is as a person — not just as a football player," said center Cameron Jurgens, who became Martinez's golf partner this summer. Both, for different reasons, have been in the harsh Husker spotlight during their careers.
"We've both seen our fair share of that," Jurgens said. "Getting past that and controlling what you can. That's what he's doing really well."
Martinez can't control how the running back and receiver rooms develop, but he likes what he sees from them. At receiver, NU is flush with talent — be it through freshman signings or transfers — that has to be shaped and molded. There's another level for that group to reach, he said.
"I feel really good about our skill guys, our offensive line, where our culture's at right now as a unit," Martinez said. "Really confident."
He seeks another level of play for himself, too. The turnovers, the missed throws, the occasional bad sacks — Martinez wants to rid himself of the bad stuff. The peaks and valleys in his play are, after all, partly his creation.
"It wasn't good enough and I needed to make some changes, and that started as soon as I stepped back on campus," Martinez said.
---
Videos: Nebraska football press conference, July 29
Hear from Scott Frost and various Husker players as Nebraska prepares to open fall camp before the 2021 season.