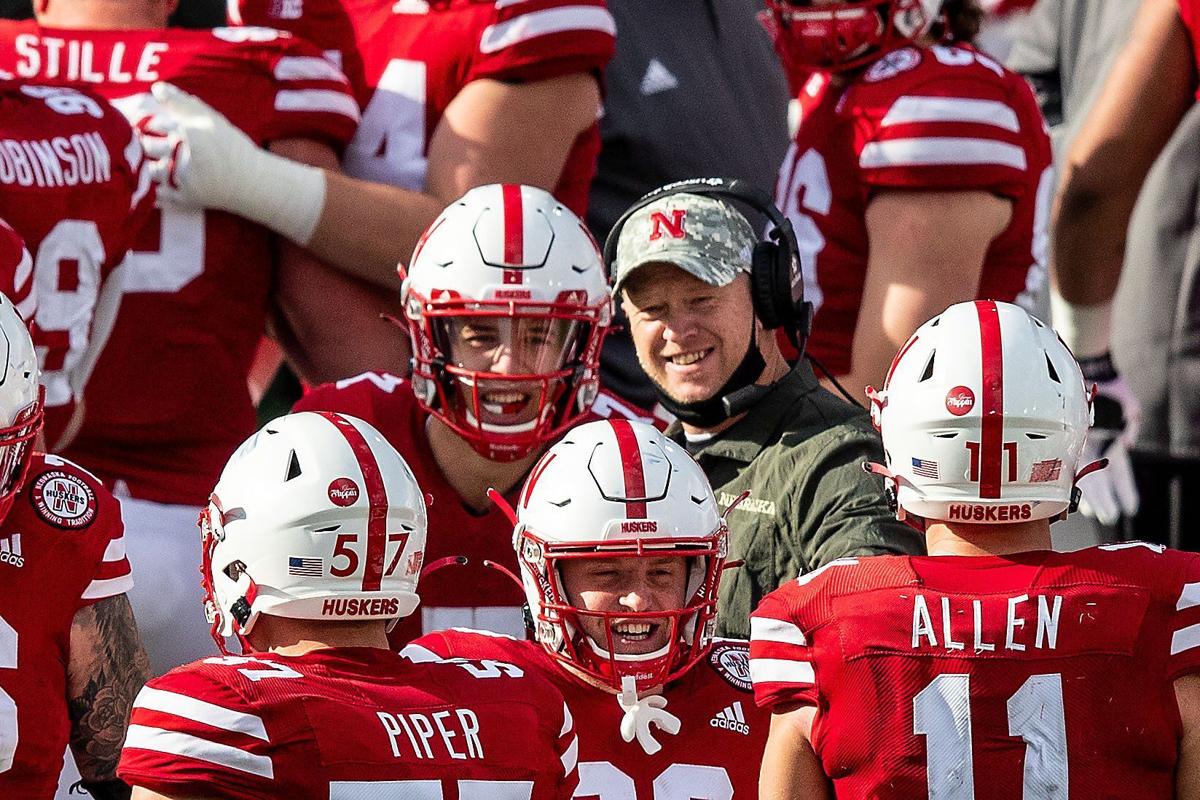 LINCOLN — Luke McCaffrey knew earlier in the week he'd be taking the starting quarterback reins. He practiced knowing it. He warmed up knowing it. And he tossed and turned in the hotel room knowing it.
"Heck, yeah, I was nervous," McCaffrey said with a smile after a 30-23 victory over Penn State. And in the first half — when Nebraska's offense hummed and seized control of the game — McCaffrey was running around like a colt, improvising, accelerating, darting and ducking.
He converted two third downs on NU's first drive en route to a touchdown he scored on a 1-yard sneak. With his left, nondominant hand, he tossed a pass to freshman running back Marvin Scott, who took the ball 14 yards to help set up a field goal. He threw for 132 yards in the first half as Nebraska racked up a 27-6 lead.
And maybe that lead got so big, Scott Frost said, that the coach got a little conservative.
The original Husker plan to go for more big plays with a downfield passing game turned far more modest. McCaffrey ran the ball eight times in the second half, usually with a lead blocker. He threw six passes, completing three to his team and one to Penn State. He worked with greener-than-green personnel groupings that included a freshman running back and multiple freshman receivers.
No. 7 got in an adventure, in other words, and squeezed out a win. His performance generally pleased his coach.
"Considering it was his first start, he did a lot of really good things," Frost said, adding that McCaffrey will create plays, because of his athleticism and reactive ability, when no plays seem to be available.
Frost was quick to add that the man McCaffrey replaced, Adrian Martinez, was capable of those things, too. Martinez didn't play a snap Saturday, and it wasn't because of injury. A captain, he walked among teammates, keeping them excited before putting on his helmet to stand in the predrive huddle with the rest of the offense. He'd then take off his helmet and watch McCaffrey play the role that used to be his.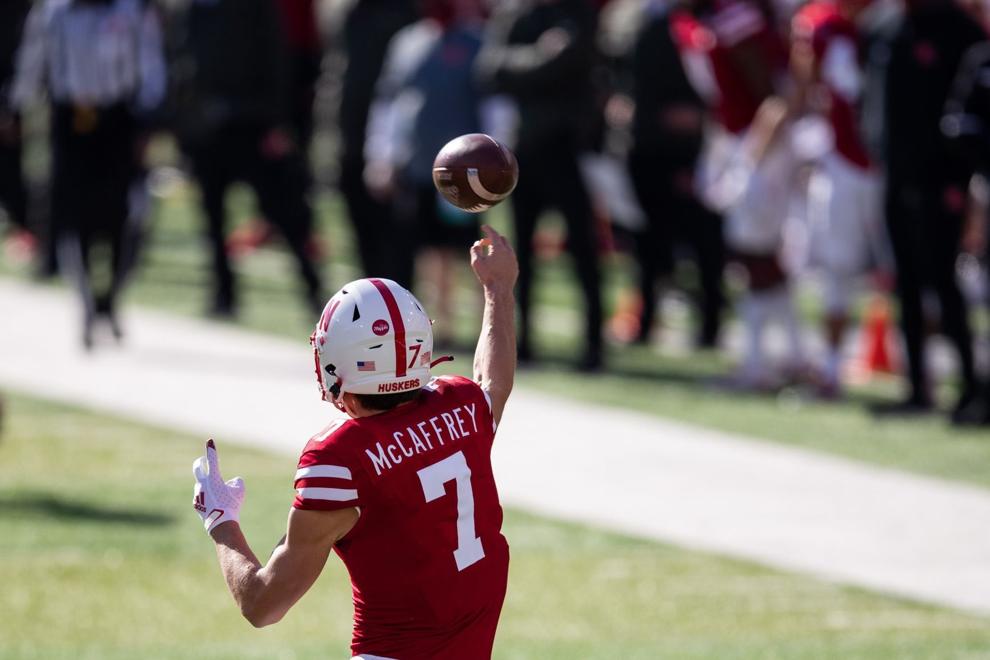 McCaffrey said Martinez's support and mentorship has been strong. Frost clearly didn't relish benching the quarterback who was one of his first Nebraska recruits.
"That decision is one of the hardest decisions I've ever made, because I think so much of who Adrian Martinez is as a football player and a person," Frost said. "He's been through a lot with us, and he certainly practiced well enough to play. So it was a tough decision."
McCaffrey proved his coach right on the opening drive, when he created a 25-yard pass to Austin Allen by scrambling to his right and throwing against his body. McCaffrey scrambled for 12 yards on a third-and-10 to prolong that drive, as well. NU's offense produced 20 first-half points.
In the second half, three.
McCaffrey ran the ball more — and ran it well — but drives poked along. He dealt with average-to-poor snaps from center Cameron Jurgens, and the youth of the personnel in the game led to some substitution issues and players running into one another.
And, of course, Nebraska's lead. It changed Frost's mindset. McCaffrey sensed the difference.
"(Penn State) was primarily a running team, so the clock was bleeding quite a bit," he said. "I'm so impressed by our defense in the last quarter. That was incredible."
McCaffrey didn't want to watch the game's two final drives, though. He'd turn his back and ask left tackle Brenden Jaimes to deliver the good or bad news. He was preparing for overtime, too, if necessary.
Nebraska didn't need it. The Husker defense got the two key stops.
McCaffrey finished 13 of 21 for 132 yards. He carried the ball 13 times for 67 yards. Most importantly, Nebraska got a win and he got a game of experience that will pay dividends next week.
"There's a comfort level that grew throughout the game, and that's huge going into next week, especially this week's preparation," McCaffrey said. "That's definitely the most valuable thing I'll be taking from this game."
Anything specific he liked about his game?
"We did a good job of taking what they gave us, not forcing anything," he said.
McCaffrey is already a seasoned veteran at giving the classic quarterback answers to promote a team perspective.
---
Photos: Nebraska hosts Penn State in first home game of the season