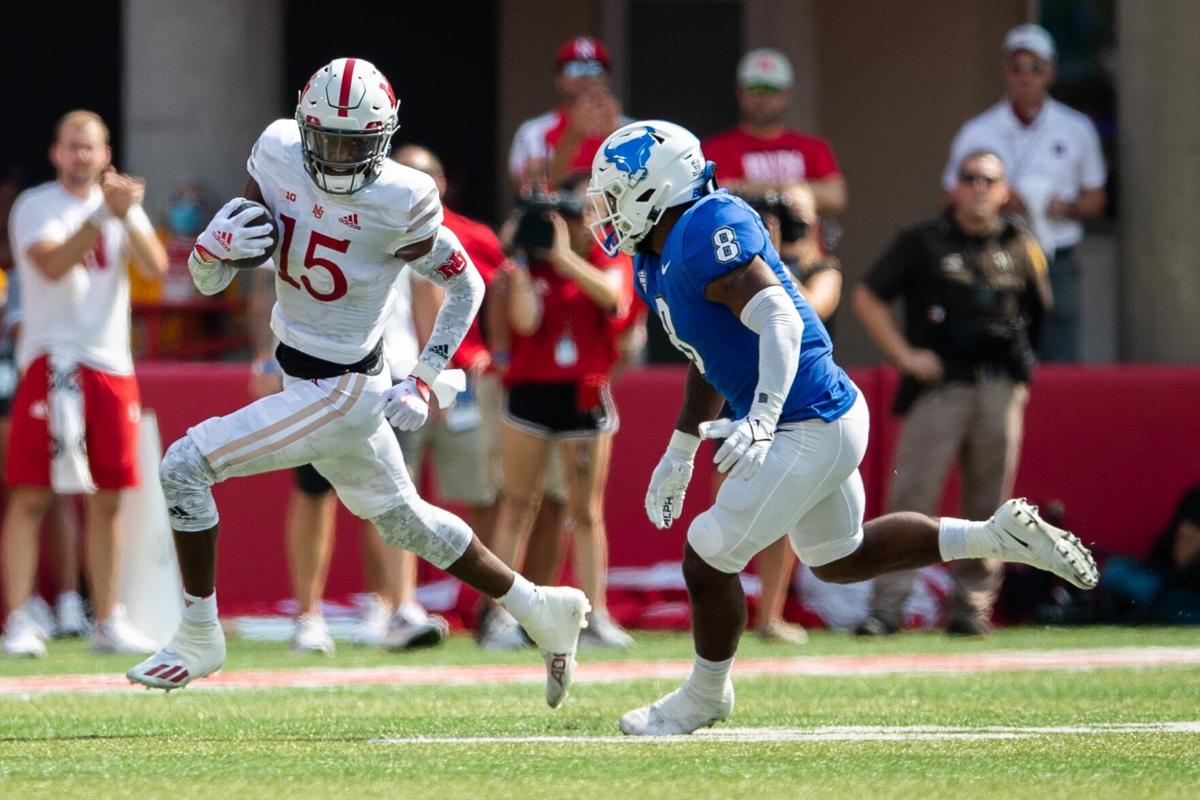 LINCOLN — After each game this season, The World-Herald's Sam McKewon will hand out his Husker Report Card, assessing Nebraska's performance in several areas. Here are the grades coming out of the Buffalo game.
We figured Nebraska's run game, at least for a half, would struggle against Buffalo's aggressive, quick defensive front. The Bulls felt so good about their ability to beat the Huskers' run attack they kept six players in the box — and two safeties high — much of the game. And it worked. NU got hulked pretty good for a half before popping some runs with pullers and power later. The Huskers struggle with a four-man front, opposing linebackers scrape off blockers to get to ball carriers and backs can be inconsistent and impatient. NU showed an inside handoff from the shotgun, a pitch pass (which is a run) with Zavier Betts and more of the shotgun triple option, which produced a nice run with Gabe Ervin. It won't be enough inventory against good defenses if the line doesn't improve. Adrian Martinez's long run came on a pass play. GRADE: C-
Martinez's 71-yard run, while it didn't score a touchdown, was a more magnificent feat of athleticism than his 75-yard score at Illinois. No. 2 didn't get much help from his offensive line — he had to evade free runners and zip in traffic, but a play is a play. The 68-yard touchdown pass to Samori Touré was a nice read, throw and downfield blocking effort, plus a bust on Buffalo's end. Another touchdown — a wheel route to Toure – was taken off the board by a questionable pass interference penalty. NU can't run the ball much at all — and it is trying — so it has to pass when it can, relying on Martinez to run when it must. The pass protection — particularly from the backs and the left side of the line — leaves much to be desired. GRADE: B+
The Bulls popped a single run — for 30 yards — against Nebraska, which had a healthy respect for what Buffalo could do on the ground. Take that away, and NU's front seven made sledding tough for backs Kevin Marks and Dylan McDuffie. Nebraska's front occasionally gives up some ground up the middle, but it rarely loses contain. Wide runs — such as jet sweeps — are thwarted before they even get rolling thanks to well-coached outside linebackers. GRADE: B+
When it was time for Nebraska to put Buffalo away, inside linebacker Luke Reimer did the deed, picking off a pass and taking it down to the Buffalo 1. That play punctuated a terrific day for NU's pass defense, which stayed stingy on deep routes, tackled fairly well on the short ones and put enough pressure on quarterback Kyle Vantrease to keep him honest. When the Bulls tried rollouts, Nebraska tracked well. Safeties Deontai Williams, Marquel Dismuke and Myles Farmer are playing like a top-tier trio at the moment. Oklahoma will be a much more severe test, and the pass rush needs to get home more. GRADE: A
Nebraska had a third straight game with a fumble on a punt return while Cam Taylor-Britt was on the field. Was it his fault? Perhaps not — the ball went off a teammate — but why up 18 is he out there? Kicker Connor Culp missed field goals from 42, 34 and 32 yards, Daniel Cerni bombed a punt into the end zone, and on fourth-and-5 from its own 19, Buffalo was able to execute an 81-yard punt because NU didn't put anyone back to return the quarterback's quick kick. Cerni did land a wedge shot at the Buffalo 2, but it's hard to see much improvement from last season — even if the kickoffs are much better. GRADE: F
PLAYCALLING/GAME MANAGEMENT
After a pretty shaky opening game, NU has stuck with the run, and its backs, in an attempt to establish an identity. It hasn't been working very well, but Buffalo was perhaps the final opponent against whom Nebraska could try this. Scott Frost has become comfortable with relying on his defense and, for two straight weeks, he's played to it. The myriad penalties are a bad look, but at least two were dubious by most standards. The oddest moments were allowing Buffalo that 81-yard punt and calling, on third-and-3 deep in the fourth quarter, a designed keep for Martinez. Why risk it up 18? GRADE: C+
Given Oklahoma looms next week, nothing short of a 49-point win was going to make Husker fans feel good about their chances in Norman. NU had a few timely big plays, got fourth-down stops and won the field position battle by double digits. MAC teams Miami (Ohio) and Toledo took Minnesota and Notre Dame to the limit Saturday. Nebraska avoided that. GRADE: B
How would you grade the Huskers' overall performance?
---