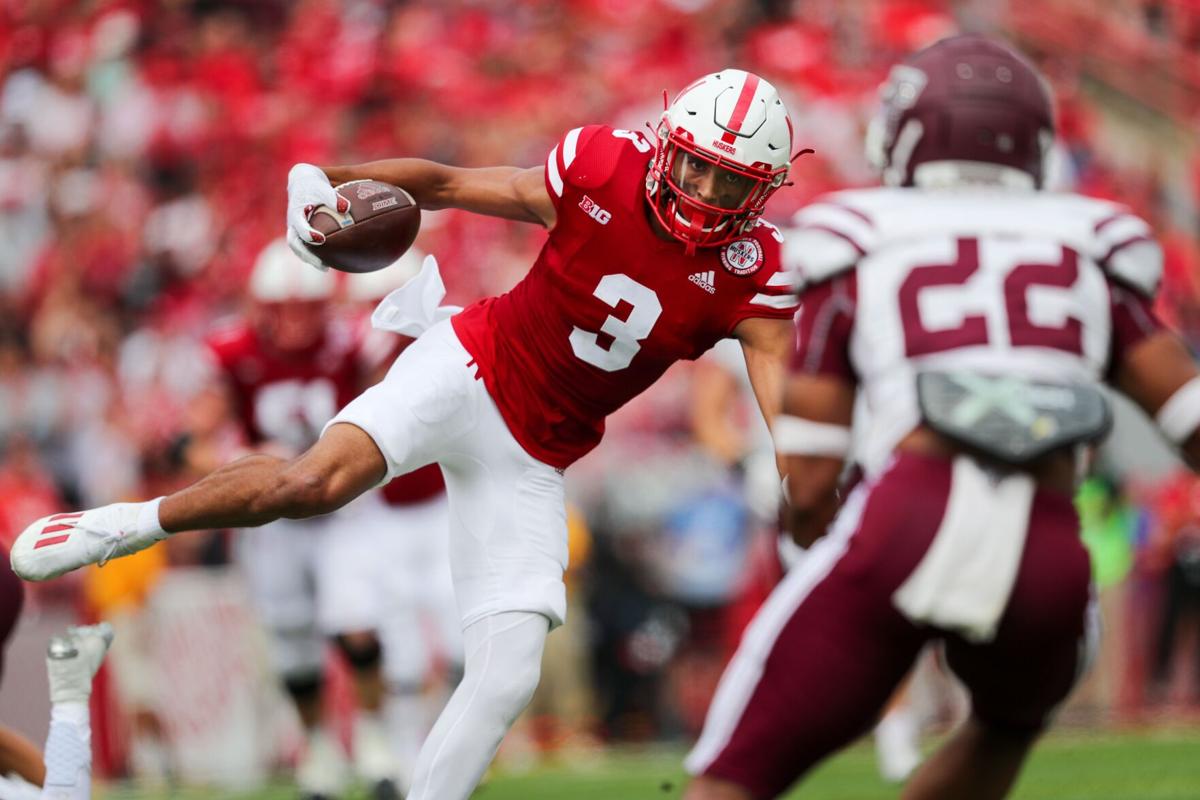 LINCOLN — After each game this season, The World-Herald's Sam McKewon will hand out his Husker Report Card, assessing Nebraska's performance in several areas. Here are the grades coming out of the Fordham game.
RUN OFFENSE
Better. It took awhile — perhaps too long — for Nebraska's downhill run game to get untracked Saturday, as NU's first four drives were "meh" at best. But the fifth, which included the hard running of Markese Stepp, looked the part. Stepp continued that hard running on the opening drive of the second half, clearing 100 rushing yards for the game with a series of totes against a weakening Fordham D. Stepp appears to be the Huskers No. 1 back going forward over Gabe Ervin, who got the start, and Sevion Morrison. Rahmir Johnson looked better than Morrison and Ervin, too. NU's offensive line had a so-so push, which is why, at least early, Nebraska attacked the edges of the field with triple options and quick throws. Quarterback Adrian Martinez didn't have to do much Saturday in the run game, but his 4-yard touchdown on fourth down was pretty excellent, given he had to evade an unblocked defender. Fordham is the weakest run D Nebraska will face from here on out, but one never sneezes when the rush total is around 300 yards. GRADE: B
PASS OFFENSE
Martinez worked the pocket beautifully. Yes, the opponent didn't put much of a pass rush, but his patience in working the reads — and keeping alive late routes downfield — was notable. His second-quarter touchdown scramble didn't come too early or too late. He clearly has confidence throwing the ball over the middle if Samori Touré is the guy working the slot. Martinez and Touré hooked up eight times for 133 yards, including twice on a drive right before half that extended Nebraska's lead to 17. With Oliver Martin sidelined, Austin Allen and Omar Manning moved up the priority list, and both caught the ball when they got chances. NU's quick throwing game — screens to Allen and Touré — featured efficiency and good downfield blocking. Nebraska still doesn't throw the ball deep very well and it is still a little skittish to throw in the red zone. The triple-option pitch to Touré won't work against Big Ten defenses so easily. GRADE: B+
RUN DEFENSE
Not Nebraska's best performance early. Fordham popped a few first-half runs, including one where cornerback Cam Taylor-Britt got trapped inside against a tight formation, that helped some of its play-action passes work later. As the game wore on and Fordham fell further behind, the Rams stopped trying to run, and NU's D got suitably stingy in the third quarter. Kudos to JoJo Domann on sniffing out a well-designed reverse. The Huskers will be tested next week by Buffalo, which has a good offensive line and an attitude to run the ball. GRADE: B
PASS DEFENSE
It took NU nearly a half to tighten up its coverage on those short slants and crossing routes over the middle, and quarterback Tim DeMorat got into a nice rhythm in the first quarter. As the game wore on, Nebraska adjusted, DeMorat had smaller windows into which to throw and the Huskers netted three interceptions, including two by Deontai Williams. The pass rush struggled with just four — five and six were needed to heat up DeMorat. Nebraska's defense played a clean second half but, again, it's Fordham. GRADE: B
SPECIAL TEAMS
Any time there's a turnover in the third phase, it's tempting to immediately consider an F. Taylor-Britt approached a violently bouncing ball which, like a hot grounder in baseball, jumped up, hit his helmet and fell into the hands of a Fordham player. A huge mistake that helped Fordham stay in the game longer. The Huskers otherwise handled their business on specials, with Brendan Franke and Kelen Meyer bombing touchbacks, Daniel Cerni getting back on track punting, and Marquel Dismuke blocking a field goal. The turnover, though. Oof. GRADE: C-
PLAYCALLING/GAME MANAGEMENT
Nebraska fans want run after run after run, power football. Coaches aren't adverse to that, but they've always liked feasting on the edges of the field, especially against lesser opponents. Saturday, you saw how the Huskers operate with triple options and quick screens. It worked. The edge stuff opened up the middle for throws to Touré and, later, Zavier Betts. The red zone playcalling was generally pretty good and penalties remained at a minimum, and Nebraska blew just one timeout — on offense, right before a fourth down — trying to figure out what to do. Only a slight downgrade for the decision to put Taylor-Britt back, again, as a punt returner. GRADE: A-
OVERALL
Nebraska scheduled this game with the expectation it would blow out Fordham and be able to empty its bench. Mission accomplished. Whether you'd call that a true "get right" game — NU's offense looked a little rough in the first quarter — Nebraska dominated from the middle of the second quarter until game's end and kept a loyal crowd pleased. NU fans did their part Saturday. They'll be back to see if Nebraska's up to the challenge against Buffalo, too. GRADE: B
How would you grade the Huskers' overall performance?