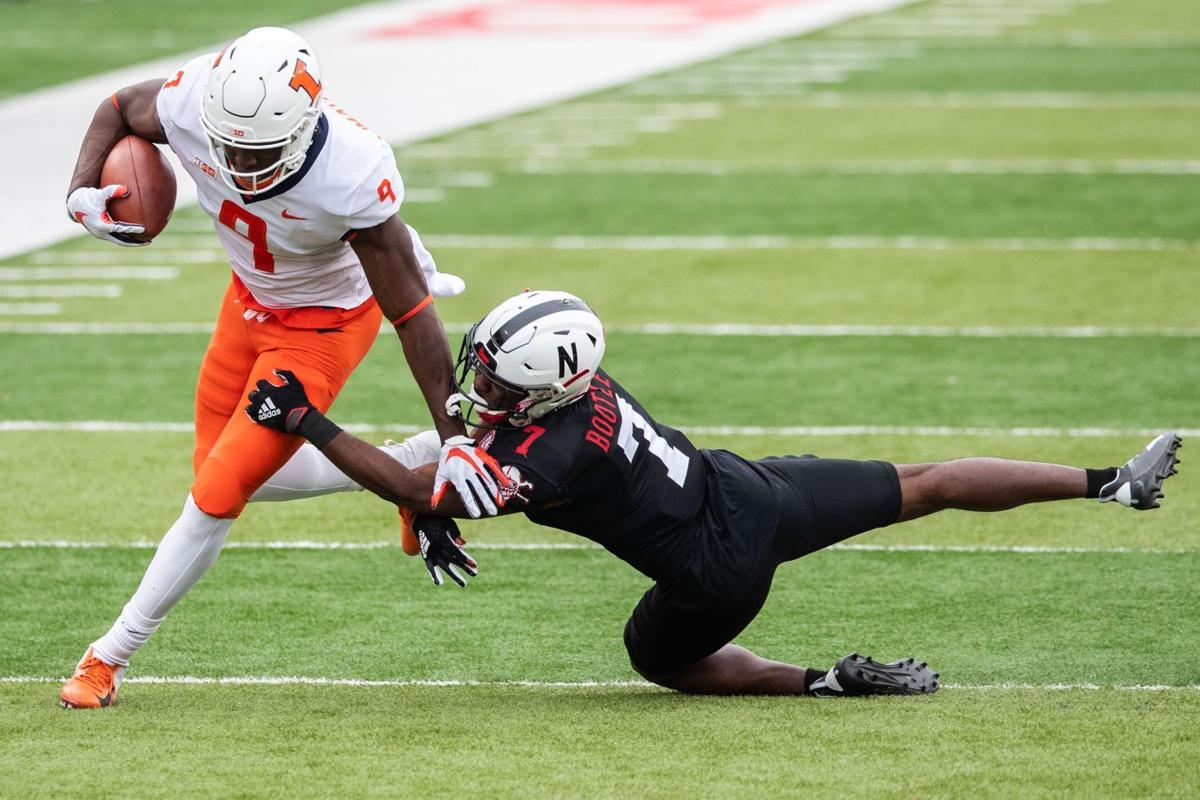 LINCOLN — After each game this season, The World-Herald's Sam McKewon will hand out his Husker Report Card, assessing Nebraska's performance in several areas. Here are the grades coming out of the Illinois game.
RUN OFFENSE
Nebraska has hitched its wagon to a fearless, inexperienced Luke McCaffrey running behind whatever blockers the Husker braintrust can put in front of him. Sometimes it worked — like when NU was able to spread out Illinois' defense and get one of its guards to lead up the middle of the field on a dart play — and other times it didn't. Running McCaffrey on power plays to the edge of the field requires running backs to block, and when you're dealing with freshmen, it's an iffy proposition. Because starter Dedrick Mills and backup Ronald Thompkins were out, NU rolled with true freshman Marvin Scott and a little bit of Wan'Dale Robinson. The Huskers clearly don't trust that the run game with those backs will be nearly as effective as McCaffrey's totes. How long can a team run like that before No. 7, who will do anything asked, gets hurt? GRADE: C
PASS OFFENSE
It's hard to watch. Coach Scott Frost and offensive coordinator Matt Lubick dialed up some good schemes for McCaffrey. They often got him on the move, too, where he could get some clear windows. McCaffrey either didn't see some open guys, or he's not quite ready to pull the trigger on those throws, or the clock in his head is ticking a little quick. It could be a lot of things, but it adds up to a struggle. What's NU's identity on those pass plays? Do Frost and Lubick want McCaffrey to think big and throw deep? If so, he's either got to shoot the gun or Nebraska has to leave him in the pocket more so he can settle himself. Do they want him to take those nickels and dimes underneath? If so, when Austin Allen flashes open underneath after a play-action fake, throw it to him immediately, and keep doing it until a defense commits to that and leaves something else open. NU's drops don't help — Robinson had one, as did Rahmir Johnson, as did Alante Brown — but nothing seems in rhythm. And rarely can Nebraska just get a receiver isolated for a go route or a fade route. Everything is layered levels for a guy who throws a flat ball to begin with. The Huskers' best pass plays are McCaffrey's scrambles. He's good at that. What Nebraska can't seem to do: Get the ball to Robinson downfield. The screen plays don't work, either. Adrian Martinez came in late and hit a few throws, but the die was cast by then. Three picks and whatever you want to call that weird McCaffrey play to start the game. Yuck. GRADE: F
RUN DEFENSE
Another "crap through a goose" first half for Nebraska's front seven. Illinois clearly understood that NU's inside linebackers vacillate between being slow to follow pullers and acting like missiles to a zone run, so they hit those power plays hard and knew when to cut back on the zone running plays. The Huskers made some good second-half adjustments, but by then the damage had already been done. Nebraska is too easily chunked for runs. Northwestern had one for a touchdown, Penn State had two long ones, and Illinois hit its runs too. It's more reminiscent of the old Mark Banker defenses than anything. Stout for 80% of the run play, awful for the other 20%. Will Honas played his tail off and has been NU's best inside linebacker for two straight weeks. Luke Reimer is young and learning, and this will be good tape from which to learn. Illinois came in as one of the league's better rushing teams, so the yardage total isn't a shocker. Still disappointing. GRADE D
PASS DEFENSE
Nebraska got schooled. Illinois quarterback Brandon Peters, coming off of a 21-day COVID protocol, had a terrific day, completing 18 of 25 passes for 205 yards and a touchdown. He made all the throws, and NU's coverage, whether man or zone, wasn't up to snuff. Again, it looked like Peters knew where to throw against a Husker defense even when he was under duress. It was telling. Yes, the Illini had the best collection of receivers the Huskers had faced since the Ohio State game and, yes, Peters is an athletic, gifted passer. But it was just too easy. The pass rush, aside from a Will Honas sack late in the first half, was non-existent. The coverage was off by yards instead of feet. And a typically hard-hitting secondary didn't make its presence felt. It's not so much the yards — other teams racked up yards — it was the ease with which Peters went through his progressions and got what he wanted. GRADE: F
SPECIAL TEAMS
Nebraska has had some unforgettable mishaps with its own punt game in recent years, but Illinois punter Blake Hayes seemed so shocked at the open field in front of him in the third quarter that he couldn't help running 15 yards for a first down. That play set up an Illinois field goal. A Cam Taylor-Britt punt return was called back because of a holding penalty on Nadab Joseph, who played his first game and had that become his first official play. Illinois otherwise played Nebraska to a draw here, but the fake punt led directly to points. GRADE: C-minus
PLAYCALLING/GAME MANAGEMENT
Nebraska has lost games under Frost because it had less talent or less want-to. Those are big-picture issues that take years to fix, and NU may very well be on the way to fixing those. But Saturday, in a vacuum, was about as outcoached as a Nebraska football staff has been since the Riley era. Illinois had gorgeous play calls all day. Nebraska had a few, but mostly relied on McCaffrey to scramble around like a hero who only has one sword at his disposal. Illinois converted 11 of 17 third downs and executed its overall game plan on defense of getting turnovers and not allowing the big plays. Lovie Smith is, of course, a terrific defensive coach, and upset Wisconsin last year with an excellent performance. But his offensive coordinator, Rod Smith, simply outdueled NU defensive coordinator Erik Chinander. Smith sniffed out Nebraska's tendencies and schemed to them. Yes, Illini players had their way, too. Illinois' Jimmies beat Nebraska's Joes. But Lovie and Co. won the X's and O's battle, too, in a big way. Frost can't do anything right now about his staff, but this loss should give him pause. The penalties, the turnovers, the dead running plays that went sideways instead of forwards, the sheer weight of the offense put onto one guy … not good. GRADE F
OVERALL
It's a pandemic, and strange games will happen, and we should be happy there's any kind of Husker football season at all given the circumstances. That disclaimer out of the way — this could be the most disconcerting loss of the Frost era. Illinois is better than its record — especially with its starting quarterback in the lineup — but to lose this significantly, to this big of an underdog, in a manner where Nebraska barely threatened? It's not good. Yes, the Huskers' offense is in major rebuilding mode, and not having Dedrick Mills hurts the continuity and versatility of the run game. Yes, McCaffrey is still young and needs to work through his mistakes. But Nebraska looks like a fire drill on offense and, on defense, where great players really do matter, the Huskers simply don't have enough. They need top-shelf scheming; on Saturday, they didn't get it. Frost has the longest possible runway, but his team needs to play with far more fundamentals than that. GRADE: F
How would you grade the Huskers' performance?
---
Photos: Nebraska hosts Illinois
Omaha World-Herald: Big Red
Don't miss a moment of Nebraska athletics.