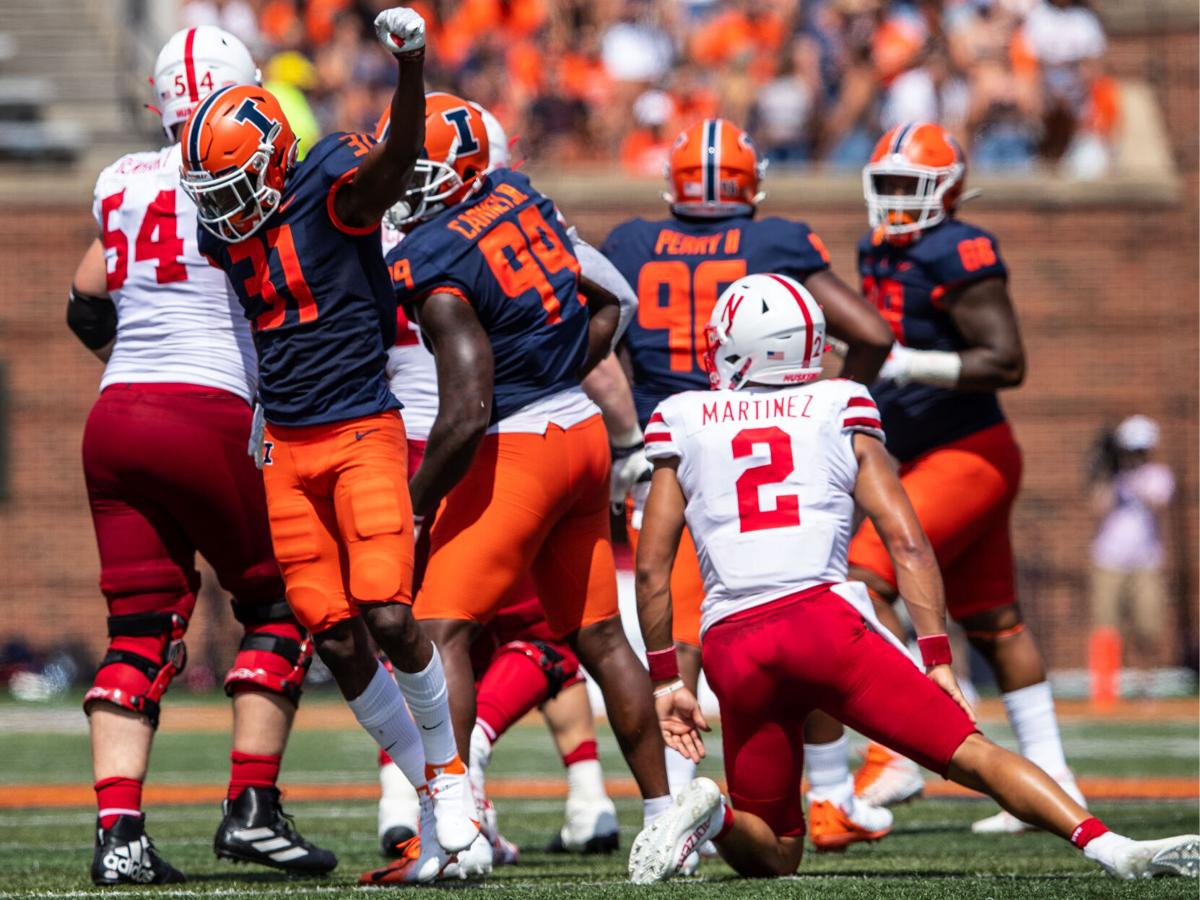 CHAMPAIGN, Ill. — After each game this season, The World-Herald's Sam McKewon will hand out his Husker Report Card, assessing Nebraska's performance in several areas. Here are the grades coming out of the Illinois game.
RUN OFFENSE
Nebraska really tried to keep carries off Adrian Martinez's legs in the first half. But NU's offensive line only won some of the time. Gabe Ervin and Markese Stepp had tough sledding against Illinois' front, and even a few nifty play calls involving Samori Touré were reserved for red-zone situations. Everything you needed to know about Nebraska's confidence in the run game came on the opening drive of the second half, when NU threw the ball three times. Didn't even try to run. Didn't believe in it. The offensive line got pushed around, and Husker backs didn't do anything fancy. Staring into a loaded box of hungry Illini defenders, Nebraska wilted in the heat. The long Martinez run goes on the pass offense because it was a pass play. GRADE: F
PASS OFFENSE
All that talk about Martinez appears to have been just that — talk. He simply didn't play well Saturday, overthrowing two open receivers — Wyatt Liewer in the end zone and Chris Hickman on a crossing route — and fumbling the ball on a sack when he absolutely couldn't afford to. He did scramble for a career-long 75-yard touchdown on a third-quarter pass play that was more of an Illinois bust than a spectacular Martinez play. NU clearly expected its offensive line to hold up and provide a clean pocket, given some of the play designs, but the line gave up five sacks. Martinez threw a pretty deep ball to Oliver Martin and a nice throwback to Markese Stepp, but a Martinez mistake once again led directly to an Illinois score. NU's receiver rotation was interesting and didn't include much Zavier Betts or Omar Manning. The Huskers' pass game regressed from the end of last season, but it did produce several big plays. GRADE: D
RUN DEFENSE
Illinois has a creative scheme, a ton of ball carriers and an above-average run-blocking line, so Nebraska's performance here — while occasionally leaky — was pretty heroic given the amount of time and plays the defense spent on the field. Nick Henrich and Luke Reimer are keepers at inside linebacker; give them a half-season and the picture will look pretty good. The defensive line held its own, but when Nebraska plays four down linemen, you wonder whether outside linebackers Garrett Nelson, Caleb Tannor and Damian Jackson are big enough to take that consistent pounding from tackles. Unless NU's effort wanes, it'll have a good run D. GRADE: B
PASS DEFENSE
Pass rush is part of pass defense, and it was pretty darn terrific for a half. Using power rushes, a little bit of extra pressure and fierce motors, Nebraska sacked Illinois quarterbacks Brandon Peters and Art Sitkowski three times and got to them a few more times to boot. Tannor's roughing the passer penalty — which turned the game on a dime — was decidedly questionable, and it shifted the power balance to Illini's pass offense. Sitkowski started throwing dimes. He threw a perfect, tough-to-defend deep ball to Deuce Spann inside the Nebraska 1-yard line, and the Huskers in general covered poorly when they couldn't get to the QB. GRADE: C
SPECIAL TEAMS
With so many big errors, it's hard not to card an F. A lousy first-quarter punt from Daniel Cerni — who tried to pooch the ball from his side of the field, resulting in a 26-yard boot — put Nebraska behind in the field position game. That small error compounded like a snowball, with Cam Taylor-Britt's astonishing mistake in fielding a punt at his own 1, taking a step back, touching his knee on the goal line, and recording a safety. Connor Culp missed two extra points. Zavier Betts ran into a car crash on a kickoff return. So did Rahmir Johnson, and both returns started short of the 25. Cerni hit a few more clunker punts too. Brendan Franke popped a few good kickoffs for touchbacks, but Nebraska's 2021 special teams resembled the 2020 version. Awful. GRADE: F
PLAYCALLING/GAME MANAGEMENT
A mixed bag. The play call at the end of the half — when Martinez took a snap at his own 23 with one second left and danced around until he got sacked — had little upside. The third-and-2 call that resulted in Martinez's fumble — deploying three wideouts and a tight end to the left — seemed unfit to the moment. Run the ball! Illinois' offense had a clear identity — downhill zone-scheme runs — that by the second half allowed the Illini to get their second- and third-order plays. Nebraska's offense looks like a "pick a play" event. Defensively, NU clearly schemed Illinois' bread-and-butter stuff, then struggled with the curveballs. The Huskers often seemed in the right spot defensively, but perhaps a step slow as the game wore on. Still, some of NU's mistakes are out of the coaches' control. Taylor-Britt and Martinez are billed as the two best players in the program. They're men, they made the mistakes, it's on them. So too is the taunting penalty on Tannor, which he earned after the questionable roughing the passer penalty. Nebraska seems snake-bitten. It invents new ways to err. GRADE: D
OVERALL
For several years now, the phrase "Mike Riley team" has practically been a curse word around Nebraska football. It's been used as a bogeyman, an ominous reminder of how far the Huskers sunk by 2017. On Saturday, Scott Frost's team looked like a Mike Riley team, trying to hold on for dear life on defense while Martinez runs around and risks his body. Nebraska couldn't run the ball, and at some point stopped trying while sticking to a head-scratching rotation. Who's that sound like? You can't beat good teams like this. You can't beat Illinois like this. NU's offensive line better improve in a hurry. The receivers are decent. Martinez can probably rebound. But Nebraska was not the tougher, smarter, cleaner team Saturday. It looked like a Mike Riley team. It looked like a Scott Frost team too. After all that talk, so little action. GRADE: D-minus
How would you grade the Huskers' overall performance?
---