NORMAN, Okla. — After each game this season, The World-Herald's Sam McKewon will hand out his Husker Report Card, assessing Nebraska's performance in several areas. Here are the grades coming out of the Oklahoma game.
RUN OFFENSE
Aside from popping a few delayed draws on a late second-quarter drive, Nebraska had zero success against OU's terrific front seven. The Huskers couldn't run outside the tackles at all — the Sooners were too fast and logged six tackles for loss in the first half alone. NU's offensive line, slow and overwhelmed, repeatedly allowed runthroughs. Rahmir Johnson got the start and ran with authority — when he had room. Nebraska brought no new run wrinkles, wisely kept the triple option in the drawer and merely tried to survive. The Sooners have an elite defense, so the sledding should be tough. Should it be 2.5 yards per carry tough? GRADE: C
PASS OFFENSE
Adrian Martinez played his tail off, throwing some of his best passes of the season, especially on third down when he consistently showed poise against a fired-up pass rush that sacked him five times. He threw a perfect bomb to Zavier Betts — who beat his man for a 55-yard gain — and made good throws in traffic to Austin Allen and Levi Falck. The second-half pass playcalling — play-action throwbacks and pop passes — was as good as we've seen this season from Scott Frost and Matt Lubick, even if the most creative of those plays, a fake reverse play-action pass to Austin Allen up the seam, fell incomplete. Martinez's interception was a no-choice play on fourth down. NU's offensive line got bulldozed a half-dozen times, but it held up at times, too. Omar Manning's touchdown grab was terrific. GRADE: A
RUN DEFENSE
The Husker front seven had its moments — JoJo Domann was a stud, as was cornerback Quinton Newsome, who clearly likes run support — but you noticed Oklahoma's offensive guards and tackles moving the line of scrimmage. OU backs Eric Gray and Kennedy Brooks had bigger holes than Nebraska has allowed any other team this season. And when the Sooners had to run the ball late in the game, they did. Michigan State — one of the best rushing teams in the nation — will be just as tough, if not tougher. GRADE: C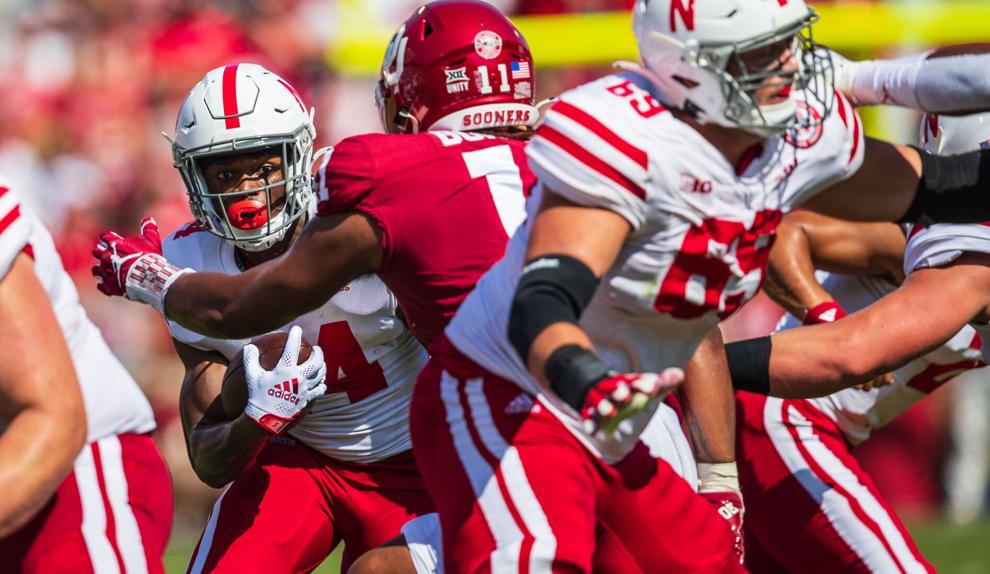 PASS DEFENSE
Nebraska's pass rush left some to be desired, but the secondary, which in this scenario includes Domann, did an excellent job of matching and carrying deep routes downfield early in the game. Those routes are like oxygen to OU, and NU snuffed them out. Rarely did quarterback Spencer Rattler throw to his first read, and he almost always felt a little pressure from pass rushers and blitzers. But Rattler made a few key throws on the game-deciding third-quarter touchdown drive. He found Drake Stoops twice — including once on a brilliant third-down throw. Valiant game from the Husker D. Not enough. GRADE: B-plus
SPECIAL TEAMS
After Connor Culp popped through a 51-yard field goal — the longest of his career — he missed from 50 and 35 yards. That prompted Nebraska to try freshman Kelen Meyer on an extra point . Meyer's PAT was blocked after guard Ethan Piper was blown up by a Sooner, and OU returned it for two points. Nebraska has found new and creative ways to fail on special teams. William Przystup, replacing Daniel Cerni as Nebraska's starting punter, uncorked strong, field-flipping punts all day. Still — this is a unit that hands the opponent points and yards. GRADE: D
PLAYCALLING/GAME MANAGEMENT
The Huskers played to their strength — the Blackshirts — and dragged a superior foe into the second half. But Nebraska's offense seems a faint echo from the dangerous attack Frost once had in 2018, much less what he promised when he arrived. It takes some darn good play calls — throwbacks, long-developing play-actions — just to move the ball with efficiency. It's a hard way to live. The penalties — especially false starts and personal fouls — are disciplinary issues. GRADE: C
OVERALL
If this were a 12-round boxing match, the fight turned in the seventh round when OU's speed and strength took over, and they left the Huskers on the ropes early in the fourth quarter. Too many mistakes from the offensive line. Too many timeouts burned. Too many special teams gaffes. Too many great plays from Rattler. Nebraska hung in there, and even had a few punches in the late rounds. Not enough. Nebraska is good enough to beat any team it plays — and mistake-prone enough to lose to most of them, too. GRADE: B
How would you grade the Huskers' overall performance?
---