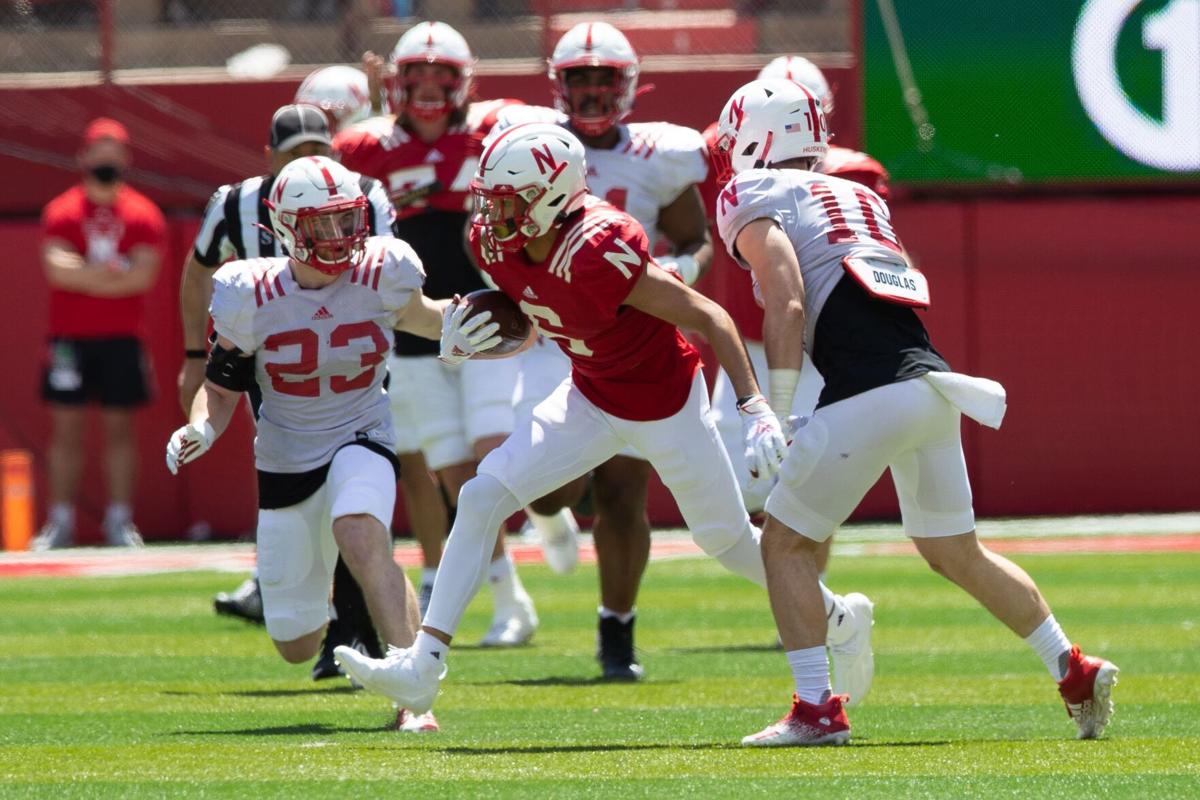 LINCOLN — Samori Touré took a look around at the Memorial Stadium crowd and smiled. Saturday was the biggest reminder yet to the receiver that he made the right decision coming to Nebraska.
The graduate transfer from Montana gave Big Red fans reason to be excited too. The 6-foot-3, 190-pounder caught three balls for 47 yards, highlighted by a 27-yard grab over the middle from Adrian Martinez on the game's first drive. He added a 19-yard snag on the next possession to help set up a field goal.
More than his own performance, though, Touré said he was impressed at the major improvement the receivers collectively showed in the spring. Reps and reps and reps are the only way to get better, he said, and everyone got them as they built chemistry with Martinez and his backups. Now they have the summer ahead to continue their work.
"We're all getting closer," Touré said. "I think it's starting to show on the field and I'm excited for the fall."
Another recent newcomer, Omar Manning, has impressed Touré behind the scenes. Manning — who made three receptions for 24 yards Saturday — flanked Touré at times Saturday in a matchup that Touré figures will give defenses trouble in the future.
"You can just tell he wants to be great," Touré said. "I've heard things about last year. I don't know what happened, but from what I've seen, Omar wants to be great. And I think he can be."
Oliver Martin and Will Nixon both caught five balls, as did Brody Belt.
No hiding this message
Turner Corcoran: "Run the damn ball."
Corcoran, a young offensive tackle, wore this hat and its statement proudly as he spoke to the media after his first spring game. Corcoran and Bryce Benhart, also a young tackle, ordered the hats and received them a few days ago.
A member of the media asked Corcoran if his hat was a sign that he wanted to run the ball more.
"I'm not gonna say that," Corcoran said. "I might get a little backlash. But we love to run the damn ball here."
As Brendan Jaimes' backup last season, Corcoran prepped as if Jaimes would get injured. On Saturday during the spring game, Jaimes was selected by the Los Angeles Chargers in the fifth round as the No. 159 pick. Corcoran texted him right after the game to congratulate him.
Corcoran, at 6-foot-6 and 300-pounds, started his first game at Nebraska last season against Rutgers and said he has continued to improve since that experience and has grown into the pressure of starting as a freshman.
"The start of the spring, I was making freshman mistakes," Corcoran said. "But as things have come along, I've found the game I want to play, the style I want to play and it's just coming along well for me."
After working behind Jaimes, who started 40 consecutive games at Nebraska, Corcoran had to find his own style of play and felt that he made a lot of headway this spring.
"It's just one practice where it just all clicked," Corcoran said. "It felt better, where I was using independent hands-on my pass blocking and my run blocking."
Frost gives Martinez high marks
Martinez, who led the Red team to 13 first-half points before sitting in the second half, received high marks from  Frost for his play on Saturday and throughout spring camp. Martinez completed 12-of-20 passes for 127 yards and an end-of-half interception. He ran for 49 yards on nine carries, as well.
"He's had a really good spring and has enough talent to make every kind of play you'd want a quarterback to make," Frost said. "He's done a good job of limiting the mistakes this spring. If he can get through games and just be who he is — and not have the three or four bad plays that hurt you — he has a chance to accomplish whatever he wants to."
Martinez said he had three goals headed into spring camp: Elevating his leadership by "finding a way to encourage our guys and drive our unit," working on his accuracy and decision-making and improving ball security.
"Turnovers have been a problem," Martinez said. "It's definitely been a point of emphasis this spring for us."
Martinez did throw one interception into a fierce wind at the end of the first half. Frost said he would have done the same thing, and added he often didn't play well in strong winds.
"I'm glad I wasn't playing quarterback today because you have to throw a tight spiral in that wind to get it to go and mine would have been fluttering over to York County somewhere," Frost said.
Martinez said he wouldn't make any excuses related to the wind.
"It's windy in Nebraska," Martinez said. "Gotta find a way to throw the ball."
Quick hits
» Martinez said Touré is "an easy guy to get along with" and "very reliable" as a receiver, while Manning has "barely scratched the surface" of his talent.
» Right guard Matt Sichterman said working on a five-man sled this spring was the toughest conditioning work the linemen do.
» NU's No. 1 line had three different combinations in the first half with Sichterman playing guard and Benhart playing tackle, Brant Banks playing guard and Benhart playing tackle, and Sichterman playing guard while Banks played tackle.
» Tight end Austin Allen said he noticed some jitters from players from the 2020 and 2021 classes who were playing in front of a significant crowd for the first time. Heck, the four-year veteran felt his heart pumping extra hard after a year without fans. "It was good for them to experience that heartbeat, the raising of the blood pressure," Allen said.
» Center Cam Jurgens said the passion of Nebraska fans was evident from the moment he arrived at the stadium when, at 9 a.m., a random supporter recognized him at the stadium entrance. "He was like, 'Hey, good morning, Cam. Good luck today!'" Jurgens said. "I'm like, 'All right, appreciate it.' They're excited to be out here and we want to put on a show for them."
---