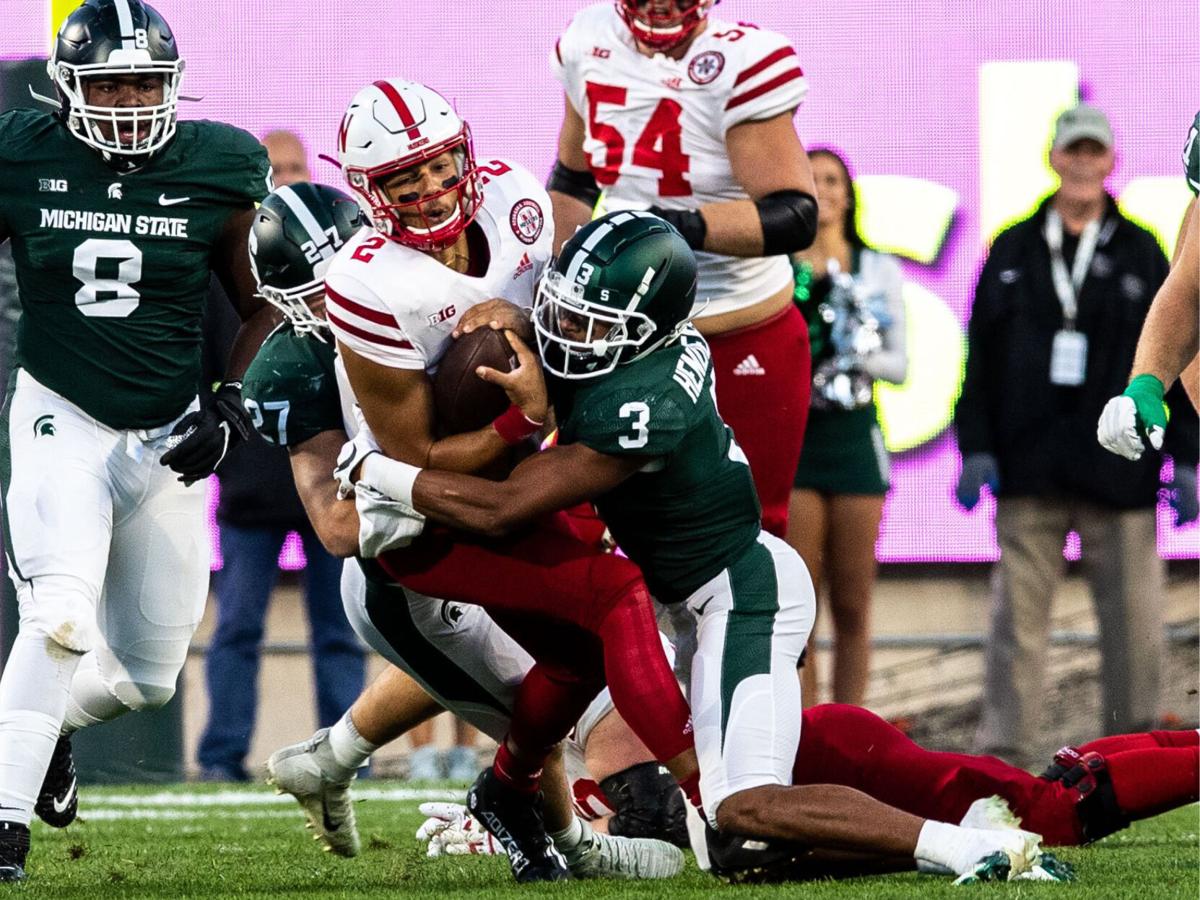 EAST LANSING, Mich. — Chester Kimbrough jumped the slant to Samori Touré, Chris Coghlin kicked the game-winning field goal, and Nebraska lost a 23-20 head-scratcher to Michigan State in East Lansing.
On the third play of overtime, quarterback Adrian Martinez threw his first interception of the night. Then Kenneth Walker ran 23 yards on Michigan State's first play from scrimmage to set up Coghlin.
Another fateful mistake sent the game to overtime too.
The Huskers (2-3, 0-2) out-gained the Spartans 234-14 in the second half, but with 3:47 to play, Daniel Cerni punted the ball toward the left hash. The Huskers coverage team ran toward the right hash. Jayden Reed fielded the ball and ran 62 yards to tie the game at 20 and spoil a sensational effort from Nebraska's Blackshirts.
Neither team scored for nearly 18 minutes after Connor Culp tied the game at 13 with a 28-yard field goal on Nebraska's first third-quarter drive. But Michigan State failed to convert a first down the entire second half. The Blackshirts forced four three-and-outs to start the half — including one after Michigan State recovered a Martinez fumble at the Nebraska 45 with 14:17 to play — and forced a fifth to keep the game tied at 20 with 47 seconds to play.
It wasn't enough. Martinez made one of his few mistakes in overtime and Nebraska will return home disappointed.
Martinez gave Nebraska its first lead on a 3-yard touchdown run with 7:29 to play. Tight end Chancellor Brewington sealed the edge with a big-league block, Martinez waltzed in and the Huskers rewarded their defense for holding serve all night long.
Walker, who entered Saturday's game as the nation's leading rusher, finished with 61 yards on 19 carries. That's 3.2 yards per tote. Walker averaged nearly seven after contact per game in his first three games.
Nebraska trailed Michigan State 13-10 after a first half filled with penalties and special teams miscues.
The Spartans started their final first-half drive at Nebraska's 46-yard line after William Przystup kicked a 7-yard punt in the final minute. But the Huskers kept Michigan State from adding to its lead by blocking Coghlin's third field goal attempt of the game.
The Spartans retook the lead after Coghlin converted a 27-yard field goal with 1:03 to play. Michigan State advanced into the red zone on a 34-yard catch and run from Connor Heyward, who broke several Husker tackles on the play.
Nebraska tied the game at 10 when Martinez scored a 12-yard rushing touchdown with 4:20 to play in the half. Martinez's run capped a nine-play, 75-yard drive for the Huskers, with 58 of those yards coming on the ground, and Martinez accounting for 40 of them.
Martinez missed a drive after injuring himself on a third-down scramble during Nebraska's first drive. Martinez walked to the sideline on his own power but later jogged into the locker room for further examination. Backup quarterback Logan Smothers completed one pass for four yards and ran three times for 11 while Martinez was evaluated for an upper body injury.
Martinez only missed one possession, though, and returned to lead the Huskers on a 65-yard drive that ended with a 28-yard field goal from Culp, who had missed five of his previous six kicks entering Saturday's game.
Martinez set up the score with a 45-yard scramble on the drive's third play. Martinez dodged two pass-rushers before zooming into the Spartans' secondary and getting knocked out of bounds at the 18-yard line (a late hit moved Nebraska up to the 9).
After a scoreless first quarter, Spartans quarterback Payton Thorne tossed a 35-yard touchdown to Reed on a flea flicker. Thorne handed off to Walker who pitched it back to Thorne, who found Reed streaking into the end zone after beating safety Myles Farmer deep.
The Huskers hung around early despite seven first-half penalties for 50 yards. The offensive line, with accounted for six of eight penalties at Oklahoma, accounted for four in the first half. William Przystup, making his first start at punter, averaged 25.3 yards per kick. Przystup was later replaced by Cerni but returned after the Spartans' punt-return touchdown.