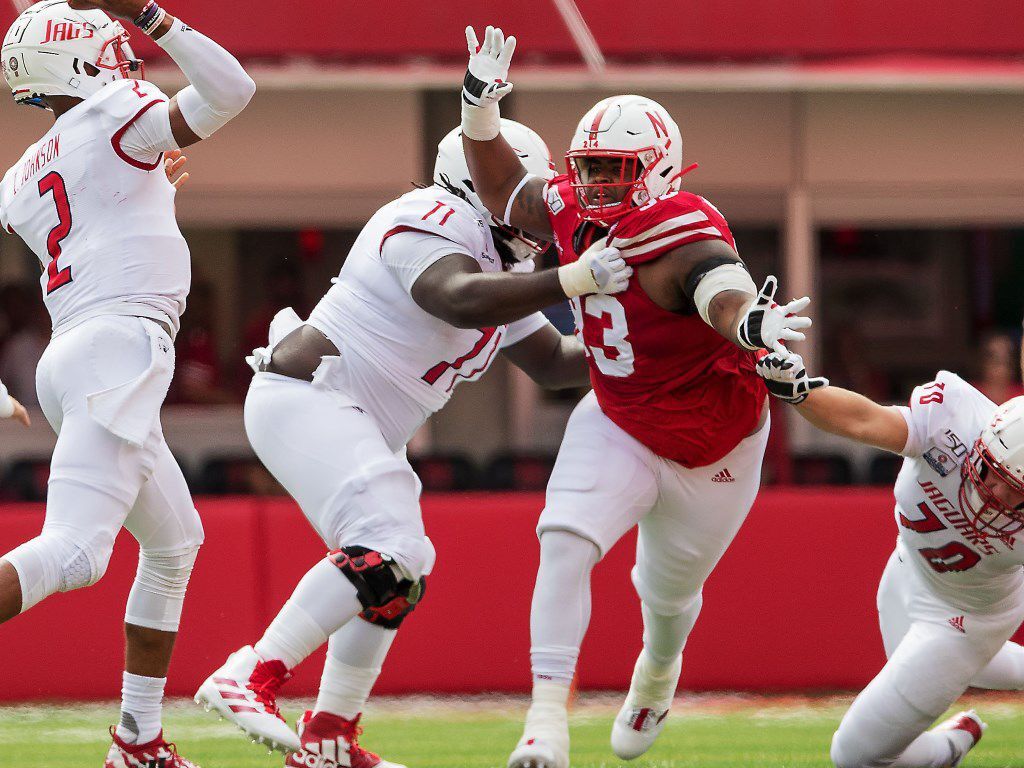 LINCOLN — Damion Daniels can see how, in the past, he'd get tired too quickly after just a few snaps. The 6-foot-3, 340-pound junior defensive lineman knew he'd have to work on his conditioning and "push myself past the point of exhaustion."
According to his position coach, Tony Tuioti, Daniels is doing just that after practice. He's been having strong workouts and showing leadership, Tuioti said.
"He's done everything he can in conditioning after practice," Tuioti said of Daniels.
For Daniels, there's a hunger for a bigger season on the field.
"They've got me focused on my conditioning," Daniels said.​
Tuioti rattled off seven players he trusts right now to play on the line — Daniels, Ben Stille, Deontre Thomas, Ty Robinson, Keem Green, Jordon Riley and Casey Rogers. Pheldarius Payne is working at outside linebacker as a pass rusher.
Tuioti said Robinson has made big strides in the last 10 months. Robinson said he's learned a lot about reading offenses in the last year, and he credited his improved strength and stamina to workout partners Chris Walker and Damian Jackson. Robinson said Rogers — another player Tuioti identified as improving — "has made a big jump" in the weight room.
More notes from Tuesday's interviews with defensive coaches and players:
» Nebraska's lack of depth, experience and projected production at outside linebacker may prompt players from other positions to switch and get more work at outside 'backer.
Tuioti said Pheldarius Payne — the 6-foot-3, 275-pound junior college transfer — has been working at outside linebacker as NU looks for ways to improve its pass rush. Payne, generally undersized for a 3-4 defensive line, was recruited in part for his third-down pass-rushing skills.
Payne's move doesn't mean he's suddenly playing the same role as JoJo Domann. Often on third down, former Husker outside linebacker Alex Davis was rushing the passer from what amounted to a stand-up defensive end. At times, Davis even put his hand on the ground.
Inside linebackers coach Barrett Ruud said Omaha Burke grad and redshirt freshman Nick Henrich could move to outside linebacker a little bit, as well. Henrich is likely in the two-deep at inside linebacker, too.
» Junior Eteva Mauga-Clements, who arrived from junior college, is still trying to catch up having lost almost all of spring camp.
"There's nothing like doing it with pads on and full speed," Ruud said of Mauga-Clements, who did well in online learning lessons.
Ruud said the inside linebacker play in general was "up and down" last season, and the tackling has to get better. Ruud said he thinks it will because they understand where their help and leverage is coming from on the defense. Ruud suggested the success of the Husker defense will depend on the inside linebackers.
» One reporter asked Daniels, Thomas and Robinson about fans purchasing cutouts to be placed in Memorial Stadium. None of the three players were particularly enthused about it. Thomas said he wanted to see a picture of former Huskers Carlos and Khalil Davis and Darrion Daniels again. Robinson said he preferred to see actual fans in the stadium, but the Big Ten is not allowing that.
"It's a neat idea," Robinson said of the cutouts, "but it's not the same."
Omaha World-Herald: Big Red
Don't miss a moment of Nebraska athletics.