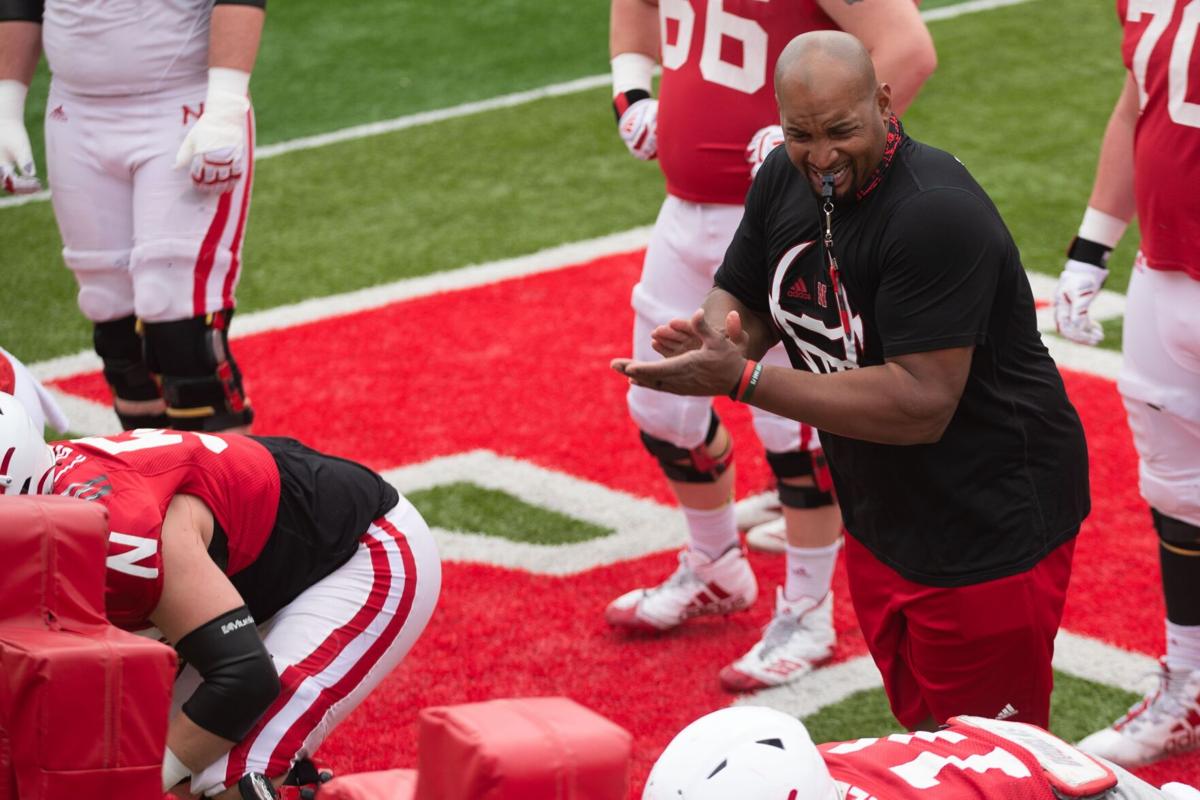 Greg Austin name-dropped all 13 Nebraska scholarship offensive linemen. Mixed in a few walk-ons too.
The NU offensive line coach didn't want to leave anyone out on "Sports Nightly" on Monday. Not when his group is more talented — and certainly deeper — than any he's had in three previous seasons in Lincoln.
"The only thing I'm trying to do is coach them hard and get the hell out of the way," he said. "Get out of the way and let the boys be boys."
Quarterback Adrian Martinez is the most established offensive player for the Huskers, but many of his blockers appear to have strong holds on their roles, too. Cam Jurgens is in his third season at center. Right guard options Matt Sichterman and Broc Bando have been in the program for years as they prepare to slide into more prominent roles. Young tackles Bryce Benhart (right) and Turner Corcoran (left) are former heralded recruits who could bookend the line for the foreseeable future.
Austin said the position group took a discernible step forward in the spring while staying healthy and developing depth. The first name he mentioned at tackle beyond the potential starters was Nouredin Nouili, the "Swiss Army knife" native of Germany and Colorado State transfer.
Iowa transfer Ezra Miller and redshirt freshman Jimmy Fritzsche are others, along with "glue" guy Brant Banks, who swings between tackle and guard and who Austin said will get "a lot" of snaps on the edge. Freshman Teddy Prochazka "wowed" coaches with what he did in the spring as well.
At guard, returning left-side starter Ethan Piper is set for another heavy workload, Austin said. The Norfolk native joins Sichterman and Bando on the interior alongside Banks, who is of "high value" in the middle of the line, too.
Walk-on and York grad Noah Stafursky has been reliable, Austin said, and redshirt freshman Michael Lynn is improving daily. 2020 signee Alex Conn is "on schedule" and fully healthy coming off a shoulder injury. True freshman Henry Lutovsky has "turned some heads" early on at guard and will at least be a factor in four games while retaining his redshirt.
"Heck, depending on what the depth chart shakes out and looks like, (Lutovsky) could very well be in the mix for us as well," Austin said.
Backing up Jurgens at center is former starter Trent Hixson, while Nouili and Piper are also taking snaps there. But Austin said Jurgens has a firm hold on the starting gig and has been working to shed snap problems that plagued him the last two seasons.
"When you think that he's tapped all of his potential, he just takes it up a notch," Austin said. "Just on a daily basis, I see what the kid can do. He's kind of a freak of nature."
Speaking on the same radio show, Jurgens said he has spent the summer "fine-tuning" his craft. As a group, everyone is "edging forward."
Jurgens also said his growing friendship with Martinez off the field will translate to better on-field chemistry. The two have often paired up at various golf outings this summer.
"If I can be a good scramble partner for him, I'm going to be a good center for him this year," Jurgens said. "I'm excited for it."​
---