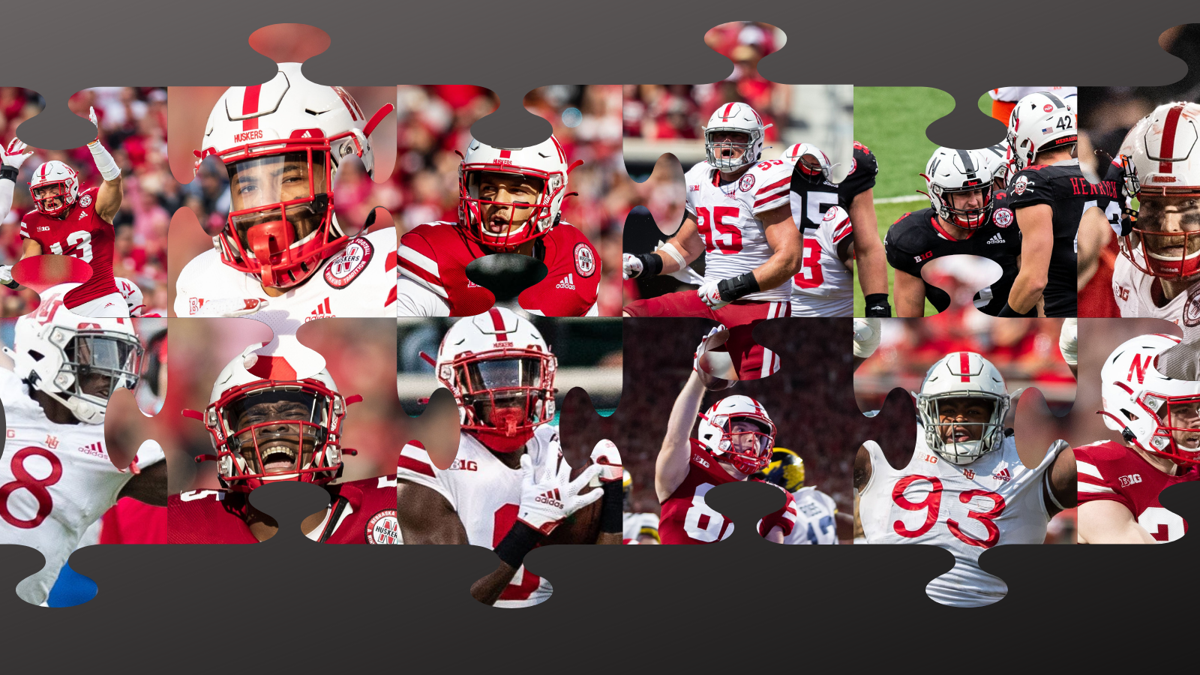 LINCOLN — Play every game like it's your last. No nugget of wisdom has Austin Allen shared more with his teammates through the years.
The advice felt almost prescient at times for the veteran Nebraska tight end. When injuries cropped up. When the pandemic hit. And now again — Iowa week, Black Friday, Senior Day — in what will definitely be his last college kickoff before he turns to the NFL.
Allen's situation has been so fluid that he only made his decision in the 30 hours between when he spoke with reporters Monday and his social media announcement the next day. He's the first of 21 junior-eligible Huskers to declare whether they will take advantage of the free 2020 COVID year and return to Lincoln or move on from the program. Seven other seniors are guaranteed to suit up in red and white for the last time with a chance to end their college careers victorious.
"We haven't succeeded as players in getting the details right and, really, the coaches had to pay for it," Allen said. "It's an emotional time for me to get it right for those guys, for people in this university. Really owe it to them to get it done."
Nebraska will honor a mishmash of players spanning multiple classes who took myriad paths to what should be a cool and sunny Friday afternoon at Memorial Stadium. Some have been in the program as long as six years, surviving multiple head coaches and position coaches. Others arrived more recently through the transfer portal.
A few Huskers may go through pregame ceremonies hugging parents and coaches and still elect to run it back in 2022. Others could end their Big Red time inconspicuously and without fanfare. Four-year starting quarterback Adrian Martinez — out for the finale with a shoulder injury — is the most high-profile question mark. Linebacker Caleb Tannor, defensive lineman Damion Daniels and starting right guard Matt Sichterman are among other key starters with options in front of them.
Do they stay? The chance to further build their pro stock and capitalize on the new ability to profit from their name, image and likeness is an attractive option along with helping Nebraska to its first winning campaign since 2016. Do they go? The transfer portal, professional dreams or life after football can be compelling, too.
"A lot of guys we'd love to see come back again," NU coach Scott Frost said. "I think it's smart for those guys to celebrate Senior Day and then put their toe in the water and check and see what their (NFL draft) status would be and make a good decision."
Seventeen fifth-year juniors control their own destiny. Defenders are reserve linebackers Chris Kolarevic, Damian Jackson and Eteva Mauga-Clements; linemen Deontre Thomas, Jordon Riley, Chris Walker and Daniels; and reserve defensive backs Lane McCallum and Kyan Brumfield. Offensive players are backup linemen Broc Bando and Trent Hixson along with Sichterman; tight ends Travis Vokolek, Chancellor Brewington and Allen; and receivers Omar Manning and Oliver Martin.
Fourth-year juniors other than Martinez and Tannor are linebacker Pheldarius Payne and starting cornerback Cam Taylor-Britt, who has already accepted an invitation to the Senior Bowl.
Among the outgoing seniors are the last three members of Nebraska's 2016 class in outside linebacker JoJo Domann, safety Marquel Dismuke and defensive lineman Ben Stille. The others — receiver Samori Touré (Montana transfer), safety Deontai Williams (Jones County J.C.), receiver Levi Falck (South Dakota) and kicker Connor Culp (LSU) — all arrived in subsequent years. Williams, 25, was originally a 2015 prep prospect from Jacksonville, Florida, and part of Frost's first Husker class in 2018.
Another senior, inside linebacker Will Honas, is planning on his seventh college football season next year after a spring knee injury kept him out all fall. He also joined NU in 2018.
Outside linebacker Garrett Nelson will remember the group as a bunch of "fighters." Nobody should weather the kind of turbulence that's come with painful coaching changes and five straight losing seasons.
"It's tough for those guys because everybody's going to look back and think that these guys are losers because we haven't won as many games as we thought or the record isn't what we thought," Nelson said. "But in my mind just practicing with those guys, they practice like champions every day. They've been through a lot, they've fought through adversity and they've come to work and put smiles on everybody's faces and been some of the mainstays in our defenses and made plays when we need them to."
Said second-year freshman left tackle Turner Corcoran: "These dudes have really inspired me in ways they don't know."
Nebraska's ill-fated 2017 class — the last under former coach Mike Riley — still has eight members including one-time walk-ons Hixson and Jackson, who joined NU on a whim after touring as a Navy SEAL. Nine other former 2017 prospects have joined them since then as the NCAA overhauled player transfer rights during their careers from requiring a one-year sit-out period to granting immediate eligibility through the creation of the portal. Martin is on his third school after signing with Michigan with a stop at Iowa. Kolarevic and Brewington made the jump from FCS schools to the Big Ten. And so on.
Stille, a super senior, paused to consider how few of his teammates from 2016 were still around. Domann overcame multiple injuries to play his way into a likely NFL draft pick. Dismuke — from Calabasas High School in California and now a parent — is the only holdover of the short-lived "Calibraska" movement. Stille, from nearby Ashland, made the difficult choice to stay time and again.
"Those dudes that were here from day one — however many of us there are and that are still here — are some of the most resilient people that I know," Stille said. "... There's not a lot of things later in life that are going to be harder than what we've gone through here in our time and how much this has prepared us for the rest of our lives."
A few 2018 signees who may depart had the distinction of being Frost's first Nebraska recruits. Only nine of the 22 enrollees remain from that cycle that came together shotgun marriage-style over 16 days during what was the first-ever early signing period while Frost and his staff also coached Central Florida in the Peach Bowl.
But like a pile of autumn leaves blown together before dispersing, all of these Huskers will gather one more time Friday. What happens after that is anyone's guess.
"Some of them I hope aren't done," Frost said. "But the ones that are deserve to be sent off the right way by our home crowd and our fans."​
---