Austin Allen's living room has filled up every Monday and Thursday evening this fall. An NFL game is on, and his roommate brings out a whiteboard for the guests.
Kade Warner, entering his fourth season at Nebraska, invites other wideouts over to talk about what they're seeing. What is this defense doing? How is that offense working? The son of NFL hall of fame quarterback Kurt Warner loves breaking it down.
"Kade Warner's leadership has been unmatched in the receiving corps," said Allen, a junior tight end. "That's helped these new receivers that are new to the program get a lot better."
As a position on the roster with little Division I experience, receiver has been a recurring topic throughout Nebraska's condensed fall camp. Two players have logged significant minutes in Warner — a former walk-on placed on scholarship this year — and sophomore Wan'Dale Robinson, who split his time between receiver and running back last season.
Teammates have identified both veterans as impressive behind the scenes this fall, though some of the other names popping up are perhaps more unexpected. Junior cornerback Cam Taylor-Britt mentioned senior walk-on and South Dakota transfer Levi Falck as a top performer. Coach Scott Frost and quarterback Adrian Martinez have said sophomore walk-on and O'Neill product Wyatt Liewer is among the most steady of the group.
Inconsistent practice time has hurt a variety of other Nebraska receivers, including much of a five-man recruiting haul in 2020 that Rivals considered third-best nationally. Touted junior college addition Omar Manning has been in and out for personal reasons — Frost said "I hope so" when asked Tuesday if he expected the 6-foot-4, 225-pound Manning to be available for the opener at Ohio State next week — while freshman Will Nixon tore his ACL. Alante Brown has stood out when playing but Frost said the former quarterback has been a bit "nicked up," as has Robinson.
Freshman Marcus Fleming, a former Florida champion sprinter, has started strong, Taylor-Britt said, but is still learning the offense.
Another newcomer, Zavier Betts out of Bellevue West, hasn't come up in conversations with coaches or players in recent weeks. Ditto for NU's three scholarship redshirt freshmen — converted tight end Chris Hickman, Jamie Nance and Demariyon Houston.
"I'm pleased overall with the depth and the play at that position," Frost said. "But that needs to work itself out pretty quickly, who's healthy and who's available. We need to get dialed in for the first game."
The group is critical to what Nebraska hopes to do in 2020, and not just for catching passes. Taylor-Britt said wideouts are blocking "a lot better" along the boundaries in an offense that likes to work the edges with bubble screens and other calls designed to give dynamic players the ball in space. Far too few players lived up to the team's "no block, no rock" rule last year, limiting the versatility and effectiveness of Nebraska's attack.
Receivers may also be the key to unlocking tight ends as a more viable option, Allen said. With more speed out wide, that should open the middle of the field for veterans like Allen and Jack Stoll as well as Rutgers transfer Travis Vokolek. New offensive coordinator and receivers coach Matt Lubick has said he plans to get the big men more involved than the 33 total catches (17% of the offense) and 326 receiving yards (12.7%) the position accounted for last year.
"I think it puts a lot on the shoulders of our corps," Allen said. "They really gotta step up their game and we've got great athletes out there. When you've got great athletes on the outside, that really opens up the whole offense."
But Frost on Tuesday called the receivers "a work in progress right now," with minor injuries stacking up to keep practice lineups shuffling. Warner has stood out in that regard as a constant during workouts. He started five games last year and has played in 16 overall. Nebraska assistants last year often said he was among the team's most reliable playmakers, an on-field coach.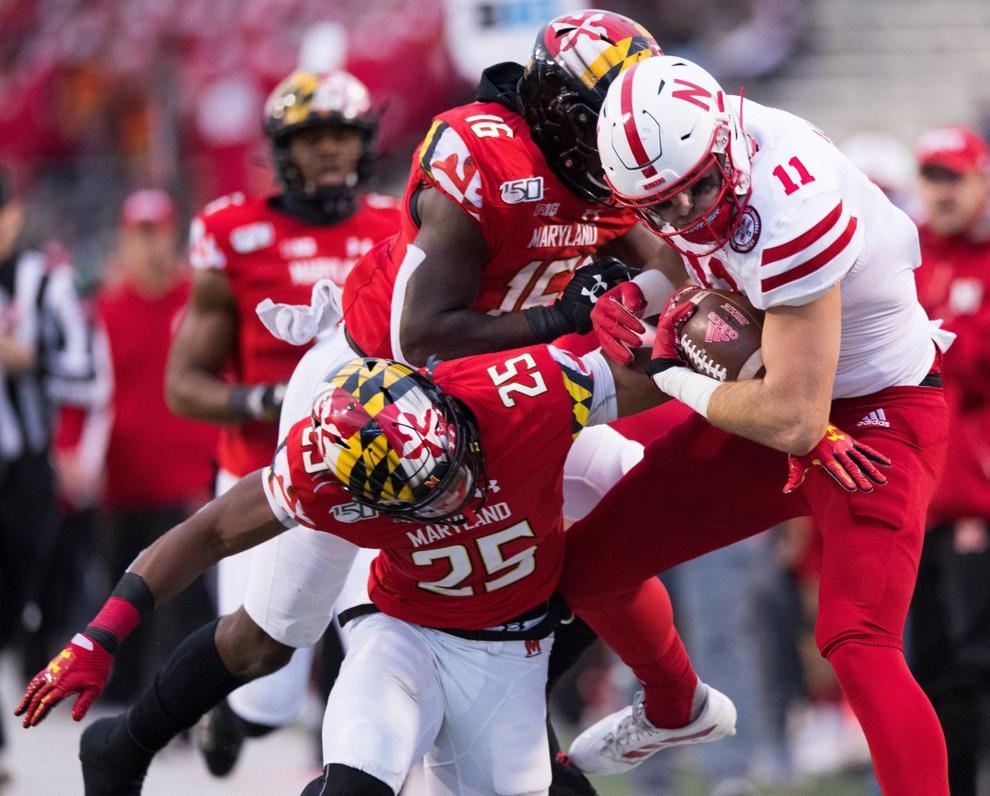 "Kade's been a leader for us and the best thing he's done is he's been out there the entire time — I don't think he's missed any time," Frost said. "If you're going to play, you gotta be on the field and he's been out there the entire time and done a good job leading at that position."
Martinez said last week the influx of additions have sparked the offense in practices. From his perspective, receivers are moving faster than last year. They are more detailed, too — as route runners and in their technique — which the quarterback credits Lubick for emphasizing.
"I've seen a lot out of those guys and we're excited about them," Martinez said. "I think we're continuing to get better and we'll continue to do that moving forward."
---
The 2020 Nebraska football schedule