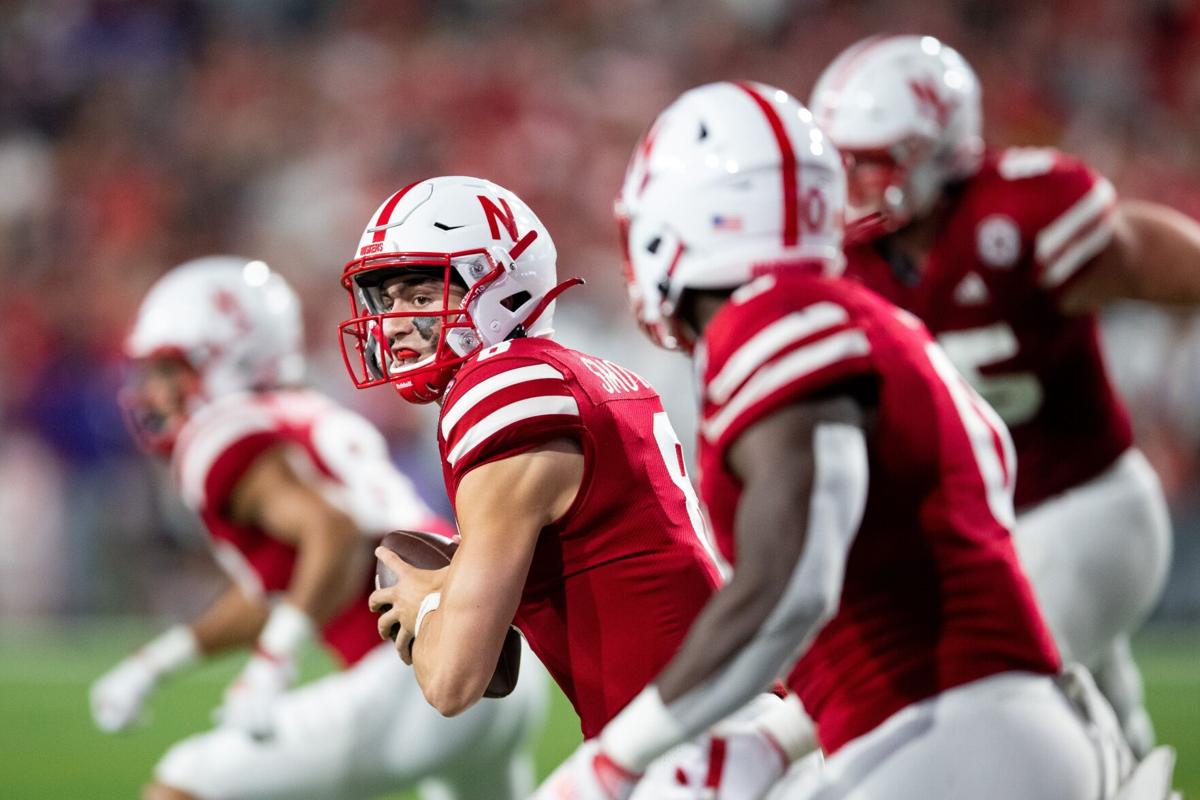 For the first time in four years, Iowa is preparing to face a Nebraska quarterback other than Adrian Martinez.
Hawkeyes coach Kirk Ferentz wished Martinez well during his Tuesday press conference, calling the shoulder injury "unfortunate." The QB's absence adds another wrinkle to scouting the Huskers' offense, which Ferentz said is always diverse and gives Iowa "a million" things to work on.
"Element of the unknown now a little bit," Ferentz said. "But they move the ball, they score points."
The mystery comes in the form of Nebraska's new presumptive starter, second-year freshman Logan Smothers. Ferentz said Iowa has little film on the Alabama product other than what his support staff dug up from junior high and high school along with spring game footage.
The guess, Ferentz said, is the 6-foot-2, 195-pound freshman and former track standout fits into the system similarly to how Martinez does.
"It's not the same," Ferentz said of the game planning. "But we have an idea of who (Smothers) is and what he is. He's fast, I know that."
No. 17 Iowa (9-2) has its own fluid quarterback situation, listing Alex Padilla as the starter over incumbent Spencer Petras. Padilla is in line to start for a third straight week after taking over for a hurt and ineffective Petras earlier this month.
Hawkeyes wary of three-win Big Red
Throw out the record, Ferentz said. Nebraska is much better than 3-8.
The coach said it's evident to him watching film and perusing statistics that the Huskers are more dangerous than a typical three-win club. Offensive players are hard to defend. The defense at large is "much improved" from Scott Frost's first season at NU in 2018.
Eight close losses — all by nine points or fewer — suggest a team that consistently plays hard and competes.
"When you look at Nebraska, we're looking at a real big challenge right now," Ferentz said. "You put the film on, we're not surprised. We play them every year, but they're a very talented football team. Their talent matches their stats."
Quick hits
» Iowa will be "thin" at cornerback, Ferentz said. Starter Matt Hankins will miss a second straight week with an injury while fellow corner Terry Roberts is "still iffy" to return. Safety Jack Koerner will also be a game day decision.
Meanwhile, starting left tackle Mason Richman "has a chance" to play Friday or at least be in a rotation on the offensive line in his return from injury.
» Freshman receiver Keagan Johnson has been unaffected by circumstances this season, Ferentz said, and he hopes that continues as the Bellevue West grad returns to his home state and perhaps receives extra ticket requests for Friday's game.
"You hope two or three years later they feel really good about that decision," Ferentz said of Iowa recruits. "So far, at least, I think he's pretty happy."
Ferentz said he views moments of players returning home with optimism, recalling linebacker Cole Fisher (Millard North grad) logging a game-high 11 tackles with an interception in Memorial Stadium in 2015. Noah Fant (Omaha South) and his three-catch, 116-yard, two-touchdown game in Lincoln in 2017, too.
Johnson has the second-most receiving yards (328) on the team with 16 catches and two scores.​
---