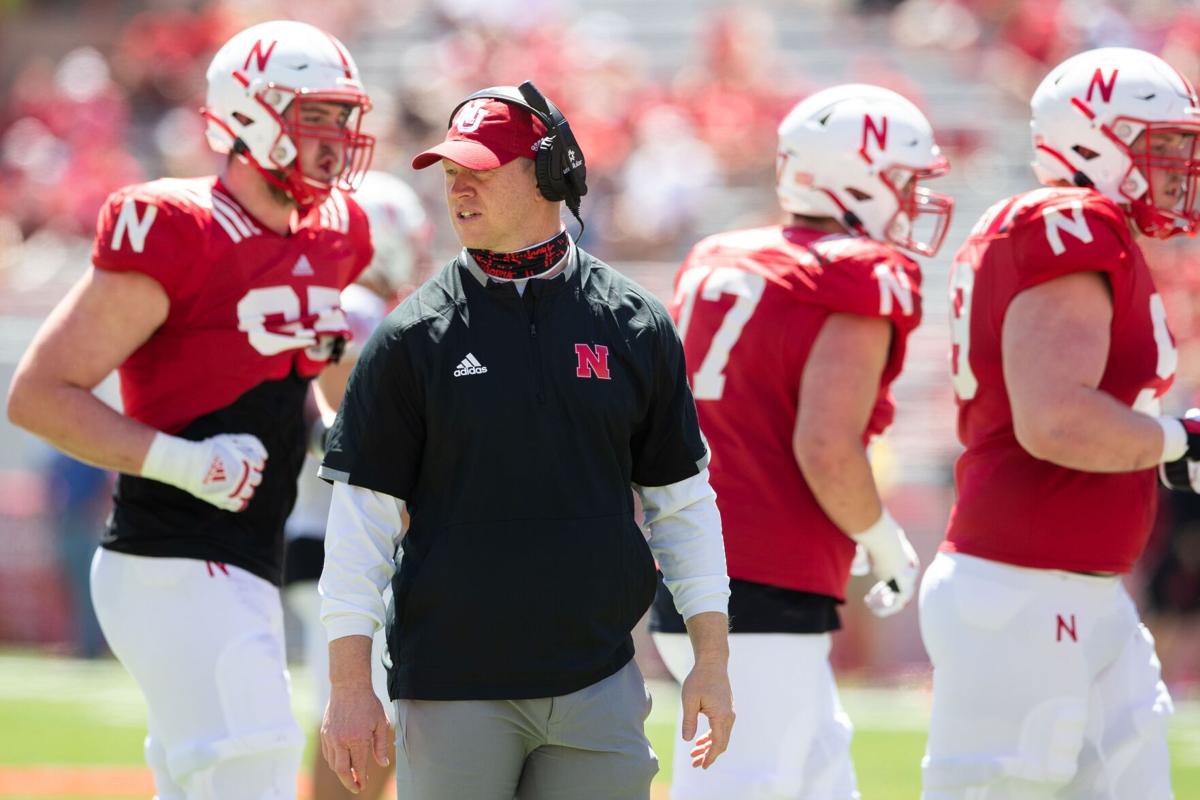 DRIVING NEAR FARIBAULT, MINN., IN MID-OCTOBER — The leaves are turning, the air is crisp and a bright sun casts a spotlight glare on the ponds and farms in mid-harvest.
The reaping is near, and it doesn't look good for a 3-5 Husker team that won't rid itself of habitual mistakes that few good teams survive.
It looks exactly like the seeds Nebraska has sown the past decade to get here, playing fifth fiddle in the Big Ten West.
Years of mismanagement and politics at the athletic administration level. An entitlement complex left over from glory days gone by. A recruiting approach that stockpiles four-star receivers and defensive backs who struggle to produce while rolling out try-hard guys who can't sack the quarterback. Middling development of talented quarterbacks who, by the end of their time in the Husker spotlight, look worn out. And, of course, an offense that skewered the American Athletic Conference but falls flat in the burly, blustery Big Ten.
'It's tough, it's tough, you know?" Adrian Martinez said after Nebraska's 30-23 loss to Minnesota. "We just need to continue to get better. It's hard to point at one thing besides executing down there. There are 11 guys on the offensive side. One guy can't make a mistake. Everybody's got to be on the same page."
Martinez was dishing about the second-half errors that kept NU (again) from completing a comeback. How Nebraska arrived at that point — after the worst half it has played all season — may have had Trev Alberts drifting to the list of head coaching replacements he keeps in his mind.
Scott Frost could be doing the same thing as it relates to his offensive staff.
If Frost stays — and dumping him after four years of constant drama might create a psychological hole that's hard to patch, no matter how good it feels to say out loud — he can't bring back this offensive staff intact. These are good family men and, in an expression of confidence and continuity, Frost stood by all five going into Year 4.
But this is the lifeblood of a state we're talking about, and this is the one game where NU's offense had to control the game because Minnesota's slow-roast offense is a bad fit for NU's bend-don't-break system. Yes, the Blackshirts should have been ready. But it's a bad matchup for them. We knew that. Nebraska's offense had to seize the moment.
Nebraska left the first three slides of the big presentation in the locker room. Opening drive: Option right for a loss of 1 and two incomplete passes in which Martinez threw high to open receivers. Forty-five seconds off the clock. Minnesota, in effect, got kickoffs to start both halves.
Next, imagine the logic Frost must employ to justify not going for a fourth-and-4 at the Minnesota 9 while simultaneously believing that his offense, after Connor Culp's field goal (that he missed), would march down there again. Why did he make that decision?
Because NU has thrown 16 passes — all year  — in the red zone, and completed 43.8% of them. And that's after Austin Allen's incredible touchdown grab on a fade route. Either Martinez can't throw the passes required to score down there or Frost and Matt Lubick can't design the plays, but NU is 105th nationally in red-zone efficiency. Nebraska averages 4.75 trips in the red zone per game — 18 teams average more — but scores 76% of the time.
Next, imagine being a quarterback who never really knows from where he'll get pressure while he tries to hit long-developing routes out of the Mike Martz handbook.
Nebraska's pass game mixes aggressive schemes with a barely mediocre offensive line. I'll take that over last season's dink-and-dunk approach, but it comes with inherent risk — especially near your own goal line. How does Martinez drop back 11 yards 55 minutes into the game, when he and coaches know the Gophers will play coverage? Why a pass play on first down anyway? NU had five minutes and three timeouts. Run the normal offense.
Imagine a running back rotation that suddenly depends on Rahmir Johnson to be healthy while he's backed up by three freshmen — Gabe Ervin earlier in the season, now Jaquez Yant and Sevion Morrison — while local kid Jay Ducker just went for 210 yards for Northern Illinois.
Is Nebraska's offense interesting and diverse? Yes. Minnesota coach P.J. Fleck gushed last week about all the nuances you have to sniff out.
With motions and cross-action movement, NU does what it can to confuse defenses, get more hats to one side of the field and hit big plays. But the game plan at this point resembles an appetizer sampler full of yards and few points. I'm not sure which team Nebraska intends to beat scoring 20 per game on the road.
You can atomize the discussion down to Martinez's lowering arm slot late in games or zoom out and frame Husker football like a Faulkner novel of familial decline, but this is clear: The offense is full of sound and fury when it comes to neat play designs and oooh-lookit! individual efforts, but it doesn't cohere into a robust, repeatable identity that when the game is on the line consistently runs the ball with backs, throws touchdown passes in the red zone and stays on schedule when defenses are playing the kinds of coverages that allow for it.
Frost and his players — mostly on defense — waded Saturday into an unnecessary discussion about juice and energy and intangibles that by the time Nebraska's superior talent took over in the third quarter, shouldn't have mattered anymore. The game was there to be taken. NU didn't. NU doesn't.
The offense can't score when it counts. Barring a late, miraculous run of wins, it's a bad crop. Four of the five offensive assistants have been with Frost for six years, and Lubick has been here two. Frost can decide how to reshuffle the deck, or Alberts can give a healthy nudge.
The option to switch out the whole deck is there, too, because the fundamental goal of college football is recruiting and developing young men who can score points, then putting them in the best position to do it. Oklahoma switched quarterbacks in the middle of the Red River Rivalry and didn't blink. The offense wasn't working. Now it is.
"We're all upset," Frost said. "I want this for the kids first, I want it for Nebraska second. I'm at the end of the list."
I see you
Cornerback Cam Taylor-Britt: Good to have one of the best corners in the Big Ten back in the fold. Taylor-Britt tried too hard to make plays that weren't there. With an interception, sack and another tackle for loss, Taylor-Britt set himself up for the stretch run.
Fleck: His "culture over skill" comments will rankle Nebraska brass even more than some of the coach's other actions or comments, but the guy has NU's number. And the way he talked, at length, with Martinez after the game, maybe he'd like to coach the Husker quarterback, too.
Minnesota receiver Chris Autman-Bell: The Gophers always seem to have at least one guy. Autman-Bell caught 11 passes for 103 yards and a touchdown. Mike Brown-Stephens, a slippery slot, caught three for 58 yards.
Tight end Austin Allen: He's emerging as a potential NFL draft pick after a strong season of catching passes and perimeter blocking. On most of NU's chunk runs this season, Allen's out there on the edge, doing work.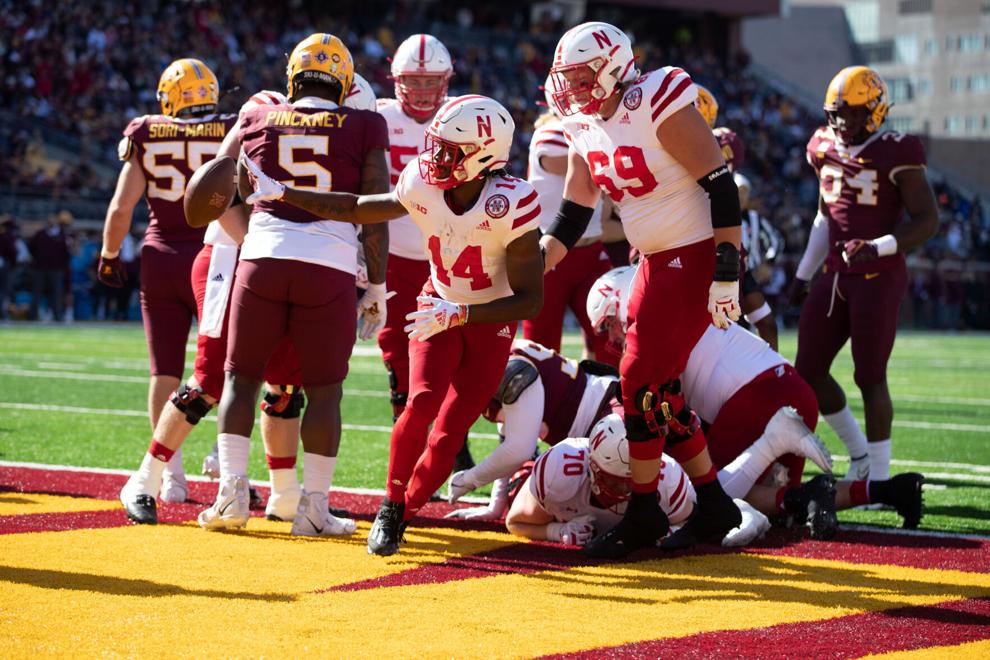 Johnson: If you told Nebraska it would lose a game because No. 14 got hurt, I wouldn't have believed you. But that more or less happened. Johnson's backups are well behind him. Good news: Johnson has three more seasons after this one. He could be pretty good.
Defensive coordinator Erik Chinander: Our condolences to Chinander and his family after his dad, Gene, died Thursday.
Safety Myles Farmer: Played well after Deontai Williams' post-interception knee injury, with three tackles. Farmer has had a few busts this year — the flea flicker against Michigan State, filling the wrong hole vs. Michigan on Blake Corum's touchdown run — but he's lined up to be a multiyear starter beginning in 2022. He needs another guy to run with him.
Punter William Przystup: A third straight good game from him. Specialists feed off confidence and momentum. Przystup has to keep it rolling.
Offensive tackle Bryce Benhart: Decent rebound game on a trip back home. Benhart matched up against two above-average Minnesota pass rushers and held his own. While NU's line is flawed, the expectations that Benhart or Turner Corcoran become Anthony Munoz is a little much. The Husker defensive line couldn't crack an egg on its pass rush. What about that?
Receiver Omar Manning: Three catches. Needs to play more. So does Zavier Betts, who had two 27-yard plays Saturday, but he's been battling an undisclosed injury. NU has the right receivers in the room for 2022.
Minnesota defensive tackle Nyles Pinckney: The Clemson transfer handled Husker guard Matt Sichterman all day.
Seven stats
4-15: That's Nebraska's road record under Frost. All five losses in 2018, three in 2019, three in 2020 and all four this season. That's terrible, but it should be noted that only three of those losses — Michigan in 2018, Wisconsin in 2018 and Ohio State in 2020 — were by more than eight points. Competitiveness is not NU's problem. Winning is.
9-12: Fleck's record through his first year and a half at Minnesota. This included a 53-28 loss to Nebraska. His team was awful on the road (1-8). So was his defense. So Fleck did a tough thing and fired defensive coordinator Robb Smith in the middle of the season. Minnesota is 21-9 since that decision. His team is 9-3 on the road since then, too, with the defense allowing 20.1 points in those games.
19.7: Yards per point for Nebraska in four road games this season. That means NU has to travel 140 yards to score a touchdown. In all eight games, Nebraska ranks 96th among FBS teams, needing 16.5 yards to score a point. You want that number as close to 10 or below as possible to be efficient. Alabama and Iowa are at 11.1. Minnesota ranks 48th at 13.6.
You want to know how telling this stat can be? On Saturday, the Huskers averaged 16.3 yards per point. The Gophers averaged 13.2. In other words, the teams played to form.
50%: On field goals shorter than 40 yards this season. Culp is 4 for 8 in the zone where kickers are generally expected to be automatic. He's 2 for 3 at 50 yards or longer.
When Culp has to drive the ball hard, he's more accurate. When it's short, he has a habit of squirting the ball right — a shank.
343: Receiving yards this season for Allen. He's on track to beat Tyler Hoppes' 377 yards for the most receiving yards by a Husker tight end in the Big Ten era.
Going back further, the last NU tight end to top 400 yards receiving was Mike McNeill (442) in 2008. Matt Herian had 484 in 2003, Johnny Mitchell 534 in 1991 and the gold standard, Junior Miller, had 609 in 1978.
15: False start penalties this season. Twelve of those have come in four road games, with two more Saturday. One, on the third-to-last drive, proved very costly.
3: That I can recall full-on stage yanks of Nebraska running backs in the past four games. Two of those have been Yant, who messed up a play vs. Michigan — and was pulled — and slipped against Minnesota and was subsequently benched for Sevion Morrison. Against Michigan State, Markese Stepp was pulled.
Johnson has quickly become NU's No. 1 back with no reliable backup.
Facebook feedback
After each game, I ask fans on my Facebook page to post their takes on the game. Selected and edited responses follow.
Erich Eisenach: In a way 2017 was better than this. I knew the team was awful then. I could plan around the usual loss. Now, it's so much worse. They should be good but they aren't.
Merlyn Klaus: "This game convinced me the 'turnaround' will not happen. Frost has hitched his wagon to a QB who is gifted but flawed. And an offensive philosophy that is not suited for long term Big Ten success. Continued outcomes like this are inevitable."
Matthew James: "If Frost is the coach next year, it needs to be with a number of new assistant coaches."
Dwain Larson: "The O line really needs to be addressed next year. I don't know if that means a new line coach. Or they really need to look into the portal to get some players."
Larry Casper: "Still wonder why Betts and Manning aren't on the field more. Red Zone offense is a disaster."
Opponent watch
Purdue is to Iowa what Minnesota is to Nebraska. The Boilermakers have won four of the last five over the Hawkeyes, including a 24-7 victory Saturday in Iowa City. David Bell has 37 catches for 558 yards and five touchdowns in three games against Iowa. It's sort of incredible.
Wisconsin survived three hours with Army 20-14. The Black Knights rushed for 179 yards, but it took them 50 carries to get there.
Forecast
A winter chill in October. A season that started as a nightmare turned the corner into promise and is back in worst-case scenario. Does Nebraska have one last turn in it?
---