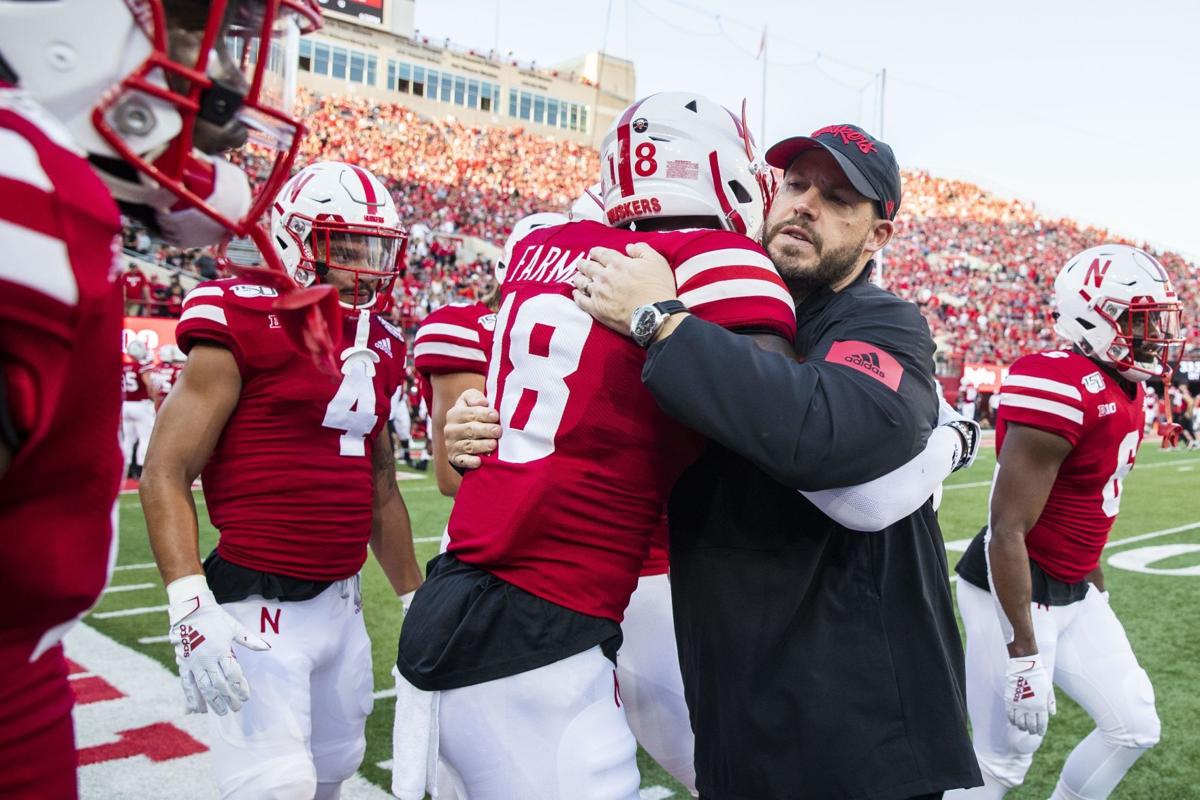 LINCOLN — The man who helped save Nebraska's football season Saturday made a surprise appearance in the press box.
Defensive coordinator Erik Chinander, without the school announcing it to anyone in particular, moved to the box from the sideline this year. He, like reporters, looked out over an empty stadium at the chess pieces below as Penn State drove again and again into Nebraska territory. Chinander dialed up the right combination of pressure and coverage when it mattered most.
"He's our backbone," said outside linebacker JoJo Domann, for my money the best player on Nebraska's team. "He not only calls our plays, but he's the heart and soul of this defense. When he's on and we're able to truly buy into what he's saying, and what he's trying to get across, good things are going to happen."
Husker fans have not always been keen on Chinander's work, and the Rewind — after the 34-31 loss at Northwestern in 2018 — was critical of Chinander's aggressive third- and fourth-down calls against fifth-year senior quarterback Clayton Thorson. Final-drive mistakes at Colorado and Purdue didn't help, and he and the defense had something to prove headed into 2020.
Truth be told, they still do. All of them. There are four scheduled regular-season games left — all winnable — and Nebraska's second-half defense, minus those two spectacular stands against Penn State, has left a lot to be desired through three games.
But Chinander and his players got it done Saturday with athletic, passionate pass coverage, fairly good tackling and a high-effort pass rush that featured a couple of nice loop stunts from outside linebackers. A defensive identity is emerging.
Nebraska shuts down the inside zone run well. Sweeps aren't working because Domann sets good edges and NU's safeties flow hard to the ball. The middle linebackers hustle. Interior linemen get blockers off of them. The corners tend to — not always — play off coverage that tightens as the ball is thrown. The rush lanes need more discipline, as Ohio State's Justin Fields, Northwestern's Peyton Ramsey and Penn State's two quarterbacks all got out on middle scrambles. But in the red zone, some of the stuff that burns the Huskers is much harder to pull off.
That's part of why, in opponents' 15 trips to the red zone, they've only scored eight touchdowns. That touchdown conversion rate is tied for fourth in the Big Ten and 30th nationally.
"As a defense, we're built for situations like that," safety Deontai Williams said.
Said Domann: "We can bend, but we just can't break. And that's what we did. We bowed up. There's only so many things they can run in the red zone. We got pressure on the quarterback. We locked it down in the secondary."
On eight crucial Penn State passes — four on the penultimate drive, and four on the final drive — Chinander brought at least five defenders at quarterback Will Levis all eight times. Four times, he brought six defenders. Once, he brought seven. No fear there.
These were the right calls, too, considering that Levis was playing in a high-leverage situation for the first time in his career. He was 0 for 7 on those throws, with a sack. He didn't have time to scramble or worm his way out of the pocket. NU's defensive backs did their job, too.
"Yeah that was impressive wasn't it?" coach Scott Frost said. "I mean, I've been here three years and seeing us give up some fades and get pass-interference penalties."
Not Saturday. Nebraska's defenders won those plays and, by proxy, won the game.
For the last 2 ½ quarters, they didn't get much help, either.
NU's offense is closer to square one at this moment than it was when Frost started in 2018.
In 2020, you have two freshmen linemen, a freshman quarterback, four freshmen receivers playing regularly and two freshmen running backs doing the same. The best healthy offensive weapon is a sophomore receiver who may have to play out of position again this season at running back.
This is what happens when of the 19 wide receivers, running backs and tight ends Nebraska signed to scholarships in 2016, 2017 and 2018, Austin Allen, Jack Stoll and Kurt Rafdal are the only ones left. There's no one else. It's walk-ons or rookies or Wan'Dale Robinson trying to do three things in one game.
At quarterback, Luke McCaffrey is athletic and smart enough to improvise some big plays as the season goes on, and he's clearly willing to be a single wing crashing into the teeth of a defense when asked.
Nebraska's ability to throw a deep pass is directly correlated to the time he gets to throw them. How well will a line with a sophomore and two redshirt freshmen hold up?
Nebraska has to find out and build for the future. A 45-yard jet sweep pitch pass to Zavier Betts scored a touchdown. It was one of NU's few wrinkles, aside from installing Robinson at running back. Perhaps there's more. There'll need to be.
Nebraska's defense is different. It's older, smarter and tougher, filled with guys from the 2016 class who stuck around, like Domann, Marquel Dismuke, Collin Miller, Dicaprio Bootle and Ben Stille, and 2018 guys like Williams, Will Honas, Cam Taylor-Britt, Casey Rogers and Caleb Tannor. There may not be a big star in that bunch — Domann, like Luke Gifford before him, is underappreciated – but that's 10 guys right there in the third year of the defense. They were bound to grasp it better as time went on.
And there's Chinander, who has taken the criticism in stride from the outset, never big-timing the media like his predecessor or being overly stubborn with his scheme like a former head coach who's struggling at LSU right now. Chinander got Mike Dawson back as outside linebackers coach this year, and that's a bigger addition than advertised. The tests from here vary from Illinois' insistence to run the quarterback 30 times to Purdue's desire to throw it 45 times per game. Never a dull day in the Big Ten. And no time to relent, even on the 91st play.
"We prepare for times like these," Domann said. "That's why we practice hard when we don't feel good. And it showed today."
I see you
Domann: One of his best games. He had 12 tackles — two for loss — and was all over the field in pass rush and coverage. Domann chases down ball carriers from the backside, attacks the mesh point on zone reads and sets a good edge on wide runs. And NU doesn't have to take him off the field in any circumstance. Valuable.
Linebacker Will Honas: Not so fast on handing Honas' job to Luke Reimer. Honas played well Saturday, notching 13 tackles. Good drops in pass coverage, too.
Defensive end Pheldarius Payne: One of the few Frost junior college recruits who has been productive right away, Payne had six tackles Saturday and a pass deflection on the second-to-last drive. He's doing what he was recruited to do: Play hard and be disruptive.
Robinson: Nebraska's offensive brain trust wisely got more touches for Robinson, who's willing to endure just about any kind of physical punishment. NU's pass offense is so ungainly at the moment that carries may be the better option than receptions.
Taylor-Britt: Two canny plays on returns — of a punt and a missed field goal – plus excellent coverage against Penn State's best receiver, Jahan Dotson. You could — and I would — make the argument that Taylor-Britt is NU's best recruit from the 2018 class on sheer bang for his recruiting rating.
Safety Marquel Dismuke: He had 15 tackles this week and, given that NU will face a glorified single-wing offense next week, he may have 15 more.
Safety Deontai Williams: His sack, strip, scoop and score accounted for Nebraska's final touchdown of the game. It turned out to be a big one. If Williams has one flash play like that per game, and he tackles well, he's the guy for however long his eligibility lasts.
Kicker Connor Culp: Excellent game. Made three field goals — first time a Husker kicker has done that since Michigan State 2018 — and popped up a couple of kickoffs against the wind that helped pin Penn State inside its 25 on the first three possessions.
Punter William Przystup: Put two punts inside the PSU 20 and uncorked a 53-yarder, late in the game, that forced Penn State to drive 69 yards for a game-tying touchdown. The Nittany Lions only made it 58 yards.
Stoll: Played a handful of snaps Saturday in his return from a knee injury, but one of them was receiver Betts' jet-sweep touchdown. Stoll's blocking was needed on that play and missed against Northwestern.
Running back Marvin Scott: He may swiftly emerge as NU's regular No. 2 back when the passing game is back up to speed. He had 11 yards on five carries, but he was running into a car crash of bodies nearly every time. He won't be fun to tackle at the second level — as seen on his 14-yard reception, in which he shook out of a tackle.
Levis: We tell truth here, and the No. 7 in road white outplayed the No. 7 in home red. Levis didn't unusually benefit from a great offensive line, either. PSU has four games left, and it won't surprise me if Levis leads that team to at least three wins. Sean Clifford hit his ceiling. It happens fast in college football. Unless Levis gets hurt, Clifford's seen his last starting snap in Happy Valley.
Penn State's front seven: Before you bury the Nittany Lions, look no further than the defenders who, frankly, whipped Nebraska pretty good after Betts' touchdown. Jayson Oweh, Jesse Luketa, P.J. Mustipher and others didn't seem to have quit.
Five stats
75: Defensive plays per game for Nebraska, through three games. That's six ahead of the 2019 pace, and it's a number that tends to go up the less your defense allows big plays. The 5.82 yards per play allowed isn't pretty — it's 11th in the Big Ten — and the yards gained per point (13.64) is an efficiency rating that only ranks ahead of the hideous 2017 defense over the last eight seasons. The internal polling numbers, in other words, aren't great overall.
23.1%: Nebraska's completion rate in the red zone. That's the worst rate in the Big Ten and fourth worst among all FBS teams. When Frost said he actively avoided calling red zone passes to evade interceptions, it gives you a picture of the problems. Nevertheless, NU has schemed two red zone touchdown passes this year if one receiver can catch a ball thrown to him.
37.28%: The share of carries from Nebraska's running backs through three games. Dedrick Mills has 31, Scott has eight, Ronald Thompkins has five. Quarterbacks account for 47.5% of the carries. Last season, running backs accounted for 43.57% of the carries — we're not counting Robinson's carries either in 2019 or 2020 in that count.
In 2018, it was 58.84%. Somehow Nebraska has to return to redistributing the carries more toward the guys recruited to do it. In 2011, NU running backs accounted for 63.33% of the carries. In 2014, it was 71.72%.
5.49%: That's the rate at which Nebraska quarterbacks are getting sacked this season, per drop back. That's well ahead of last year's mark — 7.98% — and closer to where it needs to be. McCaffrey's mobility helps here, as does his quick decision-making. He got out of a few sacks Saturday. Adrian Martinez got out of some jams, as well, in the first two games.
14.43: Yards per kickoff return for Nebraska's opponents. This is terrific. It's second in the Big Ten and eighth nationally.
Culp deserves much of the credit for his kicks, fielded between the 5 and 15, that seem returnable but pin returners against a wall of oncoming defenders.
Facebook feedback
I ask fans to leave comments on my Facebook page after each game. Here are some edited responses:
Thayne Moore: "It's a win that for the past several years was a loss. Absolutely love, love, love winning more than beauty contests. As frustrating as it felt last week to lose it would be hypocritical not to be that elated to love the win."
Luke Bossard: "Happy for the win but for the sake of the run game, we have got to figure out how to stretch the field. Where were Fleming and Omar Manning? Can Luke throw a deep ball and keep defenses honest?"
Craig Christiansen: "I'm not really a fan of this offense as yet. I don't see anything that we can say we are committed to or at least nothing we do with proficiency and can do with consistency. I'll check the stats, maybe I'm wrong."
Larry Casper: "Offense is going to struggle until we can stretch the field vertically and be able to pass over the middle."
Chris Nelson: "The offense still sucks, defense is fantastic. Chinandar is our best coach by far and has been from the beginning."
Opponent watch
» Before anyone brushes off Illinois' 23-20 win over Rutgers, take note that RU held a 20-10 lead midway through the third quarter before the Illini controlled the rest of the game. Quarterback Isaiah Williams — off a two-week COVID-19 quarantine for contact tracing — ran the ball 31 times for 192 yards against what had been the No. 2 run defense in the Big Ten.
Nebraska will face a lot of quarterback runs next week — after being so-so against them Saturday — and Illinois' defense, while not particularly good, is facing a not-particularly-good offense in Nebraska. Beware on this one.
» Iowa has found its stride after a 35-7 rout of Minnesota.
The Hawkeyes have the league's No. 1 run defense and have produced at least two takeaways in each game. Hawkeye running back Tyler Goodson churned out a career-high 142 yards. Iowa rubbed salt in the Gopher wound after UM coach P.J. Fleck, trailing 35-0, called timeout with 20 seconds left at the Iowa 4. The Hawkeyes burned their three timeouts to prove a point.
"I figured we'd take Floyd with us and leave the timeouts here," coach Kirk Ferentz said of winning the Floyd of Rosedale for the sixth straight time while making a point to Fleck. Zing!
Forecast
A breeze rolls through. Illinois comes to town as a 14-point underdog. That line seems high.