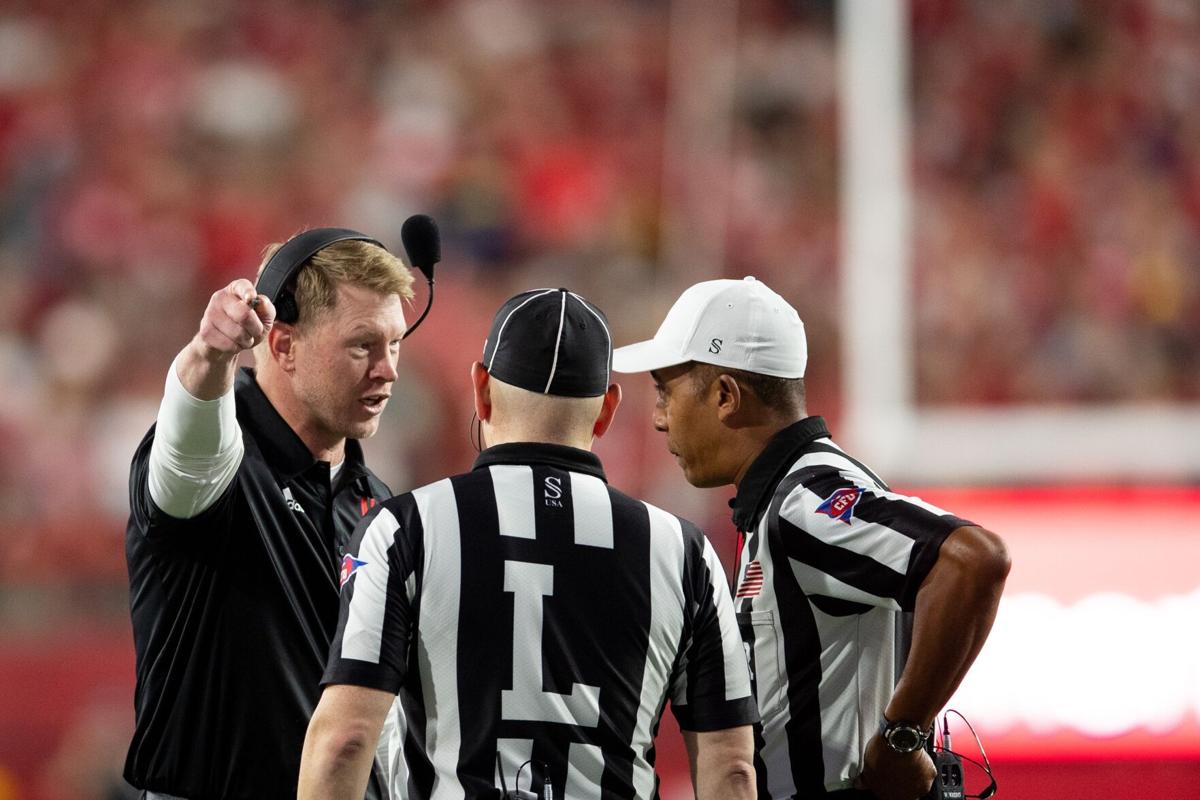 LINCOLN — Scott Frost didn't want to talk about it. Austin Allen did. A little bit.
"Yeah, we don't get calls," the tight end said of officiating after Nebraska's 32-29 loss to Michigan on Saturday. "That's nothing new, though, and we can't let refs dictate how we play. It's a left hook, and you've got to respond with a right hook."​
Like many college football programs, Nebraska — coaches, players, fans — has a unique relationship with referees, expressing frustration at bad calls that hurt the team and figuring the bad calls that help are the pigskin gods throwing an occasional bone. NU folks will never forget 1982 Penn State, or 2010 Texas A&M. Or perhaps 2021 Michigan, a thriller (almost) on par with that Fury/Wilder slugfest Saturday night. They probably look at 1997 Missouri, or 2012 Penn State, or 2015 Michigan State, a little bit differently.
But there's not much excuse for the Big Ten's officiating work Saturday night. Perhaps it hurt Nebraska a little bit more than Michigan, sure. In general, it was below-average work. Especially in the second quarter, when, in effect, the replay booth overturned three straight calls on the field. All three, initially, went in favor of Michigan. All three — two signals for a touchdown and an Adrian Martinez fumble that wasn't — were nullified.
» Nebraska's first touchdown of the game, an Adrian Martinez pass to Austin Allen, should have been a penalty for five men in the backfield unless an official told two NU receivers, to the left side of the formation they were on the line — which is possible. Neither were close.
» Michigan rightly gained a whole 3 yards after the replay officials found the on-field crew misspotted a ball in the second quarter because they were seemingly focused on whether UM had its own illegal formation. Michigan coach Jim Harbaugh had to call a timeout just for the spot to be reviewed.
"I've never seen one spotted nine feet short of the spot," Harbaugh said afterward. "That was the first time I've seen that." 
» A pass-interference penalty on JoJo Domann was highly questionable but, more than that, the officials couldn't possibly have spotted the ball in the right place since Domann committed the alleged foul around the 6, while the rule about defensive pass interference being committed in the end zone is supposed to spot the ball at the 2. Officials spotted the ball at the 3. Why?
» I'm not sure I've ever seen a dual possession situation on a muffed punt — almost always, officials get to the bottom of the pile and find out who has control of the ball — but it's reasonable to ask why it took the officials so long to determine who was on the ball.
» And, of course, the Martinez fumble at the end. Maybe his forward progress was stopped — Martinez thought so — or maybe that fumble came out a little quicker than most fans, who fixated on the hard-to-understand side view — would like to admit. Watching it 10 times in the Memorial Stadium press box, dang, it's close. Martinez turned sideways, and that's when the ball came out. But the official closest to the play neither appeared ready to blow the play dead – it seemed pretty close to being dead if it wasn't already – and didn't mark a fumble when it occurred. The play just ... goes.
Now, officials have an impossible standard to keep. They are not outfitted with slo-mo cameras in their eyes, and they cannot bend their sight around corners. Some things are simply out of their vision.
Referees take a mountain of abuse from fans, from trolls on social media, from coaches and, occasionally, from players. Officials have been through a heck of a lot with COVID-19 protocols, too. The crew Saturday night did an admirable job, too, keeping the UM/NU game from spilling over into a brawl, as well. Because it was close, especially from Michigan's perspective.
But the league office is bound to hear from both teams come Monday.