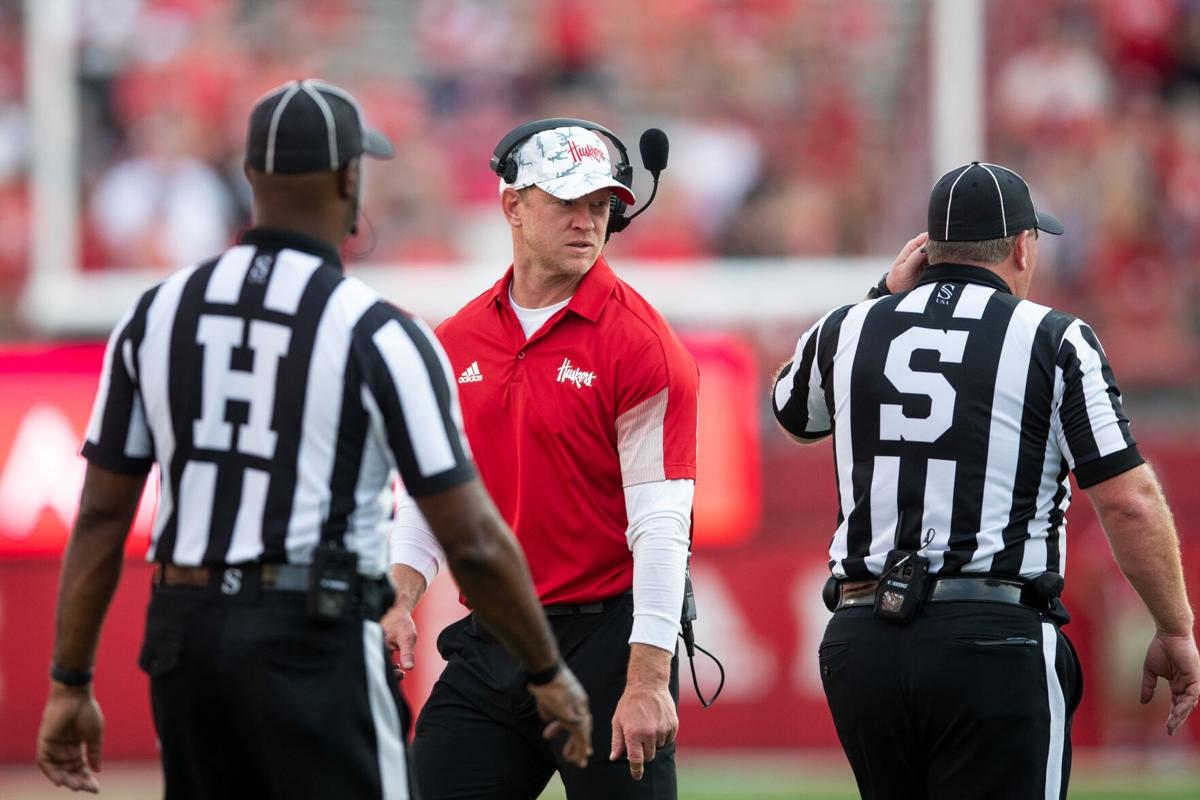 LINCOLN — Scott Frost must be a glutton for punishment. Not because of those practices in 1995, when he took every scout team shot the Blackshirts could deliver, or even the decision to return to coach his alma mater when the Huskers were far behind in key metrics of talent, size and strength.
Under his red polo, Nebraska's coach wore compression sleeves in 100-degree heat.
"I've never seen anything like it," Frost said Saturday after NU's 28-3 win over Buffalo. Agreed. Takes elite body temperature control. Even P.J. Fleck would think so.
Frost wasn't talking about his sleeves, of course, but the fact that officials wiped three Husker touchdowns off the board with penalties. One was a legitimate offensive holding call while the other two are good candidates to be sent in to the Big Ten for evaluation.
These lost points — not to mention three missed field goals from Connor Culp and NU's habit of squandering repeatedly excellent field position — didn't cost Nebraska much because its seasoned, rarely-out-of-position defense again cleaned up the mess. Our reporter who covers opponent locker rooms, Steve Beideck, asks each team if they're surprised by Nebraska's defensive scheme.
None have been. In a sense, that's a good thing.
It means the Blackshirts don't have to get exotic or cute to be good. They can line up, execute according to their rules, and not panic if they allow one big play. When the Big Ten begins in earnest, at Michigan State on Sept. 25, that quality will be a real asset and perhaps, if Erik Chinander's crew is ready to play the game of their careers at Oklahoma.
Recent history says NU's defense can and will do only so much to hold back the Sooners.
OU has scored fewer than 28 points six times since Lincoln Riley arrived as offensive coordinator in 2015. Shave that down to Riley's time as coach, since 2017, and OU has been below 28 points twice at 27 in back-to-back wins over Baylor and Iowa State last season. To put that in perspective, Nebraska has scored fewer than 28 points 15 times since Frost came back to Lincoln.
Oklahoma has averaged at least 42 points per game each season since Riley has been there. Riley has produced two Heisman winners and four Heisman finalists. Quarterback Spencer Rattler projects to be the fifth finalist, and perhaps the third winner.
The Rewind won't belabor the point. You see the challenge ahead.
"It's gonna be a lot harder next week," Frost said. So knowing that, what counter does Nebraska's offense have in store for an OU defense that has a history of giving up big plays and lots of points?
What's up Frost's sleeves? Something must be.
Nebraska surely doesn't roll into Owen Field, on the 50th anniversary of the Game of the Century, with Bill Callahan's run-clock-and-pray-for-a-pick-six game plan for 2006 Southern California, right?
"We have to establish our base (run) a little better so we can keep drives going and give ourselves more chances," Frost said Saturday. The second cut on the coach's next album may be called "Base Runs." He's sticking to the script, though, seemingly determined to see Nebraska sink or swim on pull-and-pin run plays where defenders aren't pinned and pullers sometimes miss the whole fort. Gabe Ervin, as it turns out, has a little shimmy to his second-level running — when he's allowed by his line to get there.
NU's inside zone runs against Buffalo left a lot to be desired, too. Two guards, and one starting tackle, struggle to get their helmets across the face of defensive linemen or their hands onto the linebackers darting in. Nebraska's best blocking tight end (Travis Vokolek) hasn't played this season. The second-best blocking tight end (Austin Allen) rolled his ankle. The plays look like car crashes.
Quarterback Adrian Martinez leads the team in rushing, thanks to scrambles of 75 and 71 yards, but he hasn't pulled the ball much on reads or had designed carries. As NU's top three backs — Markese Stepp, Ervin and Sevion Morrison — have absorbed the punishment of free-running defenders for 3.85 yards per carry, Martinez occasionally throws his head back in frustration. Does he try to do more against OU?
Where have the tunnel screens been? Or regular screens that Nebraska hasn't run well since Callahan drove out of town? You haven't seen a true gadget play yet, Logan Smothers on the field in an odd moment or the double-wing wrinkle.
Something's coming, right?
Nebraska needs it — early in the game, too. NU has been pokier than a Starbucks drive-thru in the first quarter this season, in part because it has run the ball 23.3 times per game on first down and 12.3 times per game in the first quarter. In 2018, Frost's first-down run/pass split was 18.75/15.1. In 2021, it's 23/10. The Huskers are running the ball three more times per first quarter in 2021 than they did in 2018.
That's evidence of a temporary change. An identity that doesn't work, or perhaps, something being held back for a game that needs every point the Huskers can produce. Game of the Century luminaries will attend. The national media — knowing Frost talked to someone about potentially moving this game — will have its fingers poised for Twitter.
All of Nebraska's big plays count, and OU has been prone over the years to allowing baffling breakdowns in its secondary. Receiver Samori Touré beats a bad man defense again or runs unnoticed on another wheel route. Oklahoma's front is fairly nasty and healthy — allowing 2.63 yards per carry — but its secondary is, as it has long been, vulnerable.
Perhaps Martinez and whatever group of pass-catchers who can walk have enough to pull this off. Maybe the defense, familiar with spread offenses, can cover OU's receivers in all quadrants of the field.
But this is the game where Frost's acumen as a play caller and game plan developer pays off, right? Where, even if Nebraska can't knock out OU, it lands its haymakers, stops fighting wrong-handed and resembles for an afternoon the Big 12-team-in-the-Big-Ten-league it once imagined it could be?
I see you
Martinez: He's always been an elite open field runner — he's deceptively fast and unpleasant to tackle head on — but he has become a little more elusive in the pocket and also more willing, despite his terrific scrambles, to wait for open routes.
The linebackers, all of 'em: Luke Reimer, JoJo Domann, Caleb Tannor, Pheldarius Payne, Nick Henrich, Garrett Nelson and Chris Kolarevic. If that isn't the best game NU linebackers have played since 2016, I'd like to know which was.
Given the number of plays Nebraska faced, the heat and the absence of a howling, bitter wind like we saw for Michigan State, it's hard to have 40 tackles, a turnover, 3½ tackles for loss and several pass breakups. Henrich made one-armed tackles with blockers hanging on him, Reimer and Domann flew all over, and Tannor has become an asset against the run.
Touré: His game has economy. He gets open, doesn't waste many steps in getting open and has a knack for knowing where to run after the catch. A 23.5-yard average will not be sustained across the season, but 1,000 yards isn't out of the question.
Chris Hickman and Chancellor Brewington: From backups to starring roles at tight ends, that duo deserves props for stepping into the moment. Hickman has grown as a blocker — he's a good receiver — while Brewington's role is only starting to be defined. For a 6-foot-3, 185-pound tight end, Brewington is fearless, and delivers a pop on motion kick-out blocks.
Damion Daniels: His nine tackles — two for loss — this season don't tell the entire story. Daniels is explosive up to 35 or 40 reps in a game, and he disrupts run paths. Oklahoma will struggle with his size and quickness.
Cam Jurgens: Surrounded by linemen who have a long ways to go before they're as good as he is, Jurgens has had a solid start to 2021. Following Jurgens, Bryce Benhart's work appears to this amateur eye to be second best. The other three positions may well be up for grabs in practice this week.
Buffalo linebackers James Patterson and Kadofi Wright: Eighteen tackles between them, and both are almost certainly first- or second-team MAC selections by season's end. The Bulls have a solid defense.
The men who coached and played in the 1971 Game of the Century: This is your week. You created the stakes for that game and made it what it was — on Thanksgiving no less. It's the best game in Husker history, a legend time doesn't fade.
Seven stats
5.52: Opponent yards per pass attempt. Through three games, that's excellent, and in the territory Bo Pelini's best pass defenses in 2009 and 2010 used to inhabit. Oklahoma is likely to change that figure by at least 1 yard, perhaps more, on Saturday. Still — this is where you want to be. That number is a function of tight coverage that leads to deep incompletions and good tackling after the catch.
12: Straight losses to teams ranked in the Top 25 since NU's 35-32 win over then-No. 22 Oregon in 2016. The defensive numbers in those 12 losses aren't pretty: Opponents scored an average of 44.3 points per game. Five of them — including Ohio State three times — scored at least 50 points.
Minus-5: Cumulative turnover margin in those 12 games. Not as lopsided as I thought it would be, but only once — against Ohio State in 2018 — was NU plus-2 in any of these games. Of the 12 losses, that 36-31 defeat might have been the Huskers' top performance.
7.02: The difference in yards per catch for Nebraska (16.31) and opponents (9.29). That's a huge gap.
In 2019, Nebraska held a 1.95-yard edge. OU will tighten this figure, but it's worth watching as the season progresses. The Huskers' yards per attempt — 10.15 — is elite, too, but a 6-yard gap between completions and attempts tends to be rare for non-service academy programs. (Or Jammal Lord in 2002, when he averaged 14.34 yards per completion and 6.7 yards per attempt.)
First: Nationally in pass plays of 30 yards or more. Nebraska is tied with Fresno State — another team that has played three games — but NU's three-per-game average also ranks high.
Kentucky is averaging 3.5 passes of 30 yards or more per game. Wan'Dale Robinson has 10 catches for 226 yards.
34-0: NU's scoring differential in the fourth quarter. That reflects to some degree NU's lesser opponents, but the Huskers are doing something right in the fourth quarter on defense. The defense hasn't allowed a point in the first quarter, either.
The two points scored by Illinois are credited to a safety on special teams.
7: Forced fumbles by Oklahoma this season. Nebraska has a penchant for losing unforced fumbles. 
Facebook Feedback
After each game, I ask fans on my Facebook page to post their takes on the game. Selected and edited responses follow.
David Westfall: "Beat a good MAC team. ND had to score with less than a minute left to beat a lesser MAC team. Overall improvement in a lot of areas. OL and RBs still need to make and find holes, and obviously special teams are something."
Dillon Jackson Carroll: "The defense played great, especially against the run. The offensive line continues to struggle with run blocking. But when the offensive line gives Martinez time to pass, he looks good."
Jonathan Rich: "Oklahoma will win by 35+. I see why Frost wanted to cancel the game. OU won 76-0 yesterday. This is an average team at best. I don't see many Ws, if any, the rest of the season."
Allan Cass: "The mistakes need to get cleaned up or they will lose a lot of games, but the eye test says this is by far Scott's best team."
Opponent watch
Ohio State was able to simply activate its front seven when it counted and stone the opponent the past two seasons.
The Buckeyes, breaking in a new group of faster-but-less experienced linebackers, weren't able to do that Saturday in a 35-28 loss to Oregon. That defeat is a huge blow to the Big Ten's playoff hopes but should be a glimmer of hope for OSU's foes, including NU. The Ducks had 269 rushing yards — which included a diet of pull-and-power stuff plus zone runs — and mixed in big-chunk play-action passes.
Michigan looks really good through two games. The defense is fast and nasty — undersized a bit  — and the run game look the part in wins over Western Michigan and Washington. The Wolverines are averaging 339 rush yards per game and 6.85 yards per carry. Dangerous stuff.
Nebraska did not match up well at all with UM in 2018.
Forecast
A main dish of nostalgia with a healthy side of low expectations. If it gets interesting Saturday — and it might if the Huskers can pop some plays — fans will consider it a pleasant surprise.
---