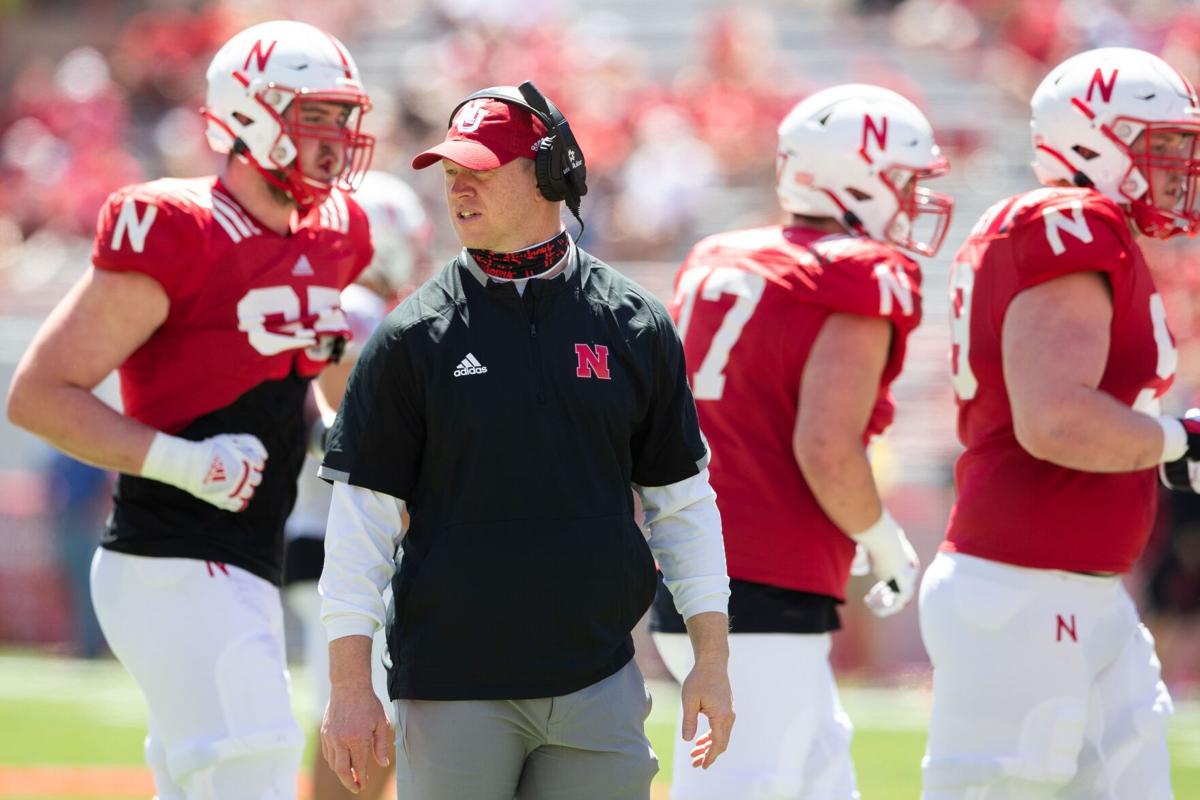 LINCOLN — No matter what Scott Frost does at Nebraska, college football lovers and historians should — and likely will — have him in one of the sport's more memorable footnotes.
His 2017 Central Florida team — which went undefeated and beat Auburn in the Peach Bowl — was the first of the CFP-era Group of Five squads to stand shoulder to shoulder with the Power Five teams. That UCF squad remains the best G5 team of the CFP era, though the Knights' undefeated regular season in 2018 — and subsequent snubbing by the CFP committee — underlined that no G5 team ever was getting into the event without expansion.
Frost was vocal about wanting to expand the playoff in 2017 and later at the 2018 Big Ten media days, though he had a different format in mind.
"It's hard to look at last year's college football season and not feel like an eight-team playoff isn't where we should go," Frost said that year in Chicago. "I think that's my opinion. I think it should be five conference champions and three at-large teams. That would give a surprise conference champion that plays well at the end of the season a shot. It might give a team like we had at UCF last year a shot."
He was right about expansion then, and now, though it'll be interesting to hear his thoughts at the Big Red Blitz this week on a 12-team approach. Too many teams? Unfair to the potential four-loss conference champion ranked behind two G5 programs?
In the long term, 12 teams helps a program like Nebraska know that if it's playing for a league title — if it wins the West — it is playing for a CFP berth. Heck, in 2015, 2016, 2017 and 2019, the West champ would have been in the CFP — hosting a game each time, according to analysis by The Athletic — anyway.
Win a division, make a CFP 57.1% of the time. That's pretty good.
In the short term, it prompts the question: When does Nebraska get to be in that conversation, and why isn't it now? A 12-team CFP creates a new rung of success, suddenly reachable, and in a tradition-rich program like Nebraska, expected.
For 21 straight seasons, 1969-1989, NU was ranked in the Associated Press' top 12. After finishing 24th, 15th and 14th in 1990, 1991 and 1992, Nebraska finished in the top 12 in 1993-1997 and 1999-2001.
The Huskers haven't finished higher than 14th (in 2009) since then. One can imagine the kind of tempest a 12-team playoff would have been in the Bo Pelini era, with Nebraska consistently falling one win short year after year.
Frost has to get his team in that conversation.
Further, the Big Ten — starting now — has to learn to position itself and fight for itself in the playoff system. So long as the CFP uses an expert panel to determine the playoff field, the process is subject to the kinds of caprice known to be found in human beings. League Commissioner Kevin Warren can secure a lot of loyalty from his athletic directors if the Big Ten is securing three bids per year.
The league has to be more aggressive in its branding on social media and frequency of interviews with major coaches and the commissioner, too.
Ryan Day is a good ambassador for the league, and James Franklin, when he talks, tends to be a spokesman for the entire sport. Jim Harbaugh is aloof and frequently putting his foot in his mouth, while Paul Chryst at Wisconsin has to become the face of Badger football now that Barry Alvarez left the building.
More extra points to ponder:
Commit deluge?
Is this the week the commit floodgates open?
Halfway through June, and two visit weekends, NU has added one commit — tight end Chase Androff — to its 2022 class. Where's the beef?
It's coming. Several of NU's first weekend visitors have checked out other schools, and a few of the second weekend visitors checked out schools the first week in June.
Don't be surprised if there are three or four commits this week among prospects who have already rolled through town and received offers.
7-on-7
Nebraska's 7-on-7 event drew some solid out-of-state teams, including the alma mater of the Huskers' best defender, JoJo Domann, who enjoyed watching Colorado Springs Pine Creek compete Sunday in the 93-degree heat. Domann, listed at 237 pounds in the spring, looks like a NFL inside linebacker.
Remember: He's the coverage guy in the slot. A lot of size, and a lot of speed.
Coming to campus
The Huskers will host a major 2023 unofficial visitor on campus Monday, and he has family ties to Nebraska: Kahuku (Hawaii) linebacker Tausili Akana. His older sister, Keonilei, is a freshman libero for the Husker volleyball team.
The 6-foot-4, 225-pounder is one of the nation's top prospects for 2023, and NU's recent signing of linebacker Wynden Ho'ohuli won't hurt. Neither will the presence of defensive line coach Tony Tuioti. Neither will having a sister on the volleyball team.
Akana went to a camp at Ohio State last week and earned a scholarship.
On Sunday, he met with Frost. On Monday, he'll take an unofficial visit.
Akana played in Utah last season — Hawaii didn't have a season because of COVID-19 — but could play back home or in Utah in 2021, according to Hawaii Prep World.
Hoops interest
We'll have more this week on Millard North basketball forward Jasen Green, who officially visited Nebraska this weekend and rated the experience a "10." But the 6-7, 210-pounder helped his cause considerably at the recent Pangos All-American Camp in Las Vegas.
After a strong showing, two more schools (Utah and California) started calling. That's in addition to NU, Colorado, Minnesota and Stanford among Green's primary interests.
Green played on one of the most talented teams in state history, featuring Hunter Sallis, Saint Thomas and Jadin Johnson. The Mustangs won the state title over Bellevue West, so this collection of talent in one spot was absolutely worth it for Green.
But in 2021-22, it'll very much be his team.
"Playing with them was the best thing I've could have done," Green said. "They've been pushing me for three years while I've been in practice and getting to play with them was super good for me. But my mindset for this year is definitely going to be changing.