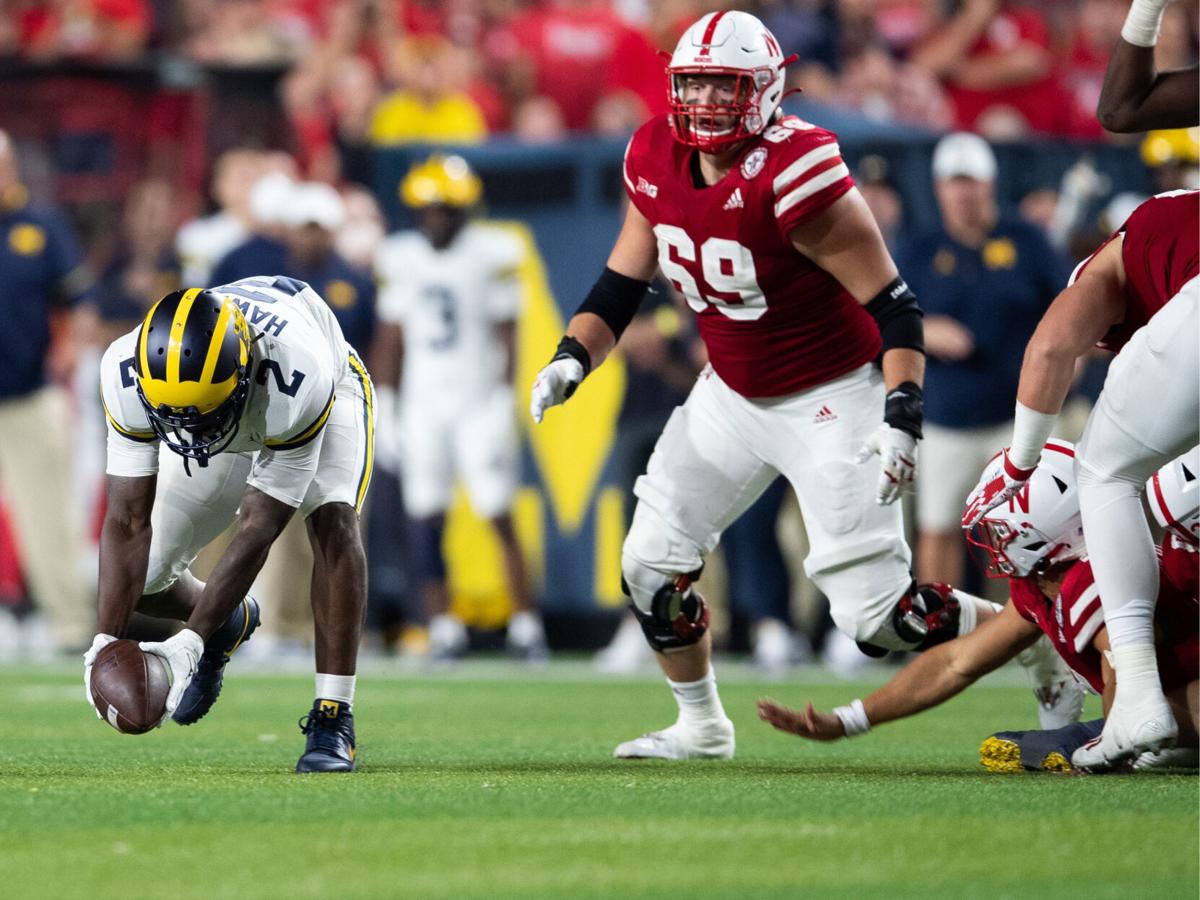 LINCOLN — Nebraska lit the stage for a big upset and pulled its own plug. Just like two weeks ago.
Except this time, instead of The Punt at Michigan State, it was The Fumble against No. 9 Michigan.
After more than three hours of thrilling football between the teams, NU had the ball with two minutes left and the game tied 29-29. Quarterback Adrian Martinez coughed up the ball in a pile. Undefeated Michigan recovered at NU's 37-yard line and returned the ball to the 18. Memorial Stadium, alive in ways it hadn't been for years, went silent save a few bitter curses by folks surrounding the field.
Michigan hit a field goal. Michigan won 32-29. The Fumble joined The Punt in pain.
"I'm not going to stand up here and make excuses for myself," said Martinez, who had a hand in all four NU touchdowns. "I can't get careless with the football. I thought the play was over — I was standing as I'm standing right now — and thought it was done. Regardless of that fact, I feel a lot of responsibility and can't make plays like that."
In his postgame press conference, a gutted, almost incredulous Scott Frost said "gosh" multiple times.
"It's hard to imagine the things that have happened to us all happening to us," Frost said.
He thought Saturday night, on ABC, was the night, given the way his team overcame a 13-0 halftime deficit and punched holes in the Wolverine defense the way no team this season has. When NU took a third-quarter lead, 22-19, he thought his team would hold it. When, at game's end, the Huskers needed a final drive to tie or win the game, he thought Martinez and Co. would deliver. He trusts his team, he said, more than any he's coached.
"In games past, I got the sense that everybody was thinking about what was going to go wrong, and I didn't get that feeling at all tonight," Frost said. "Defense did a great job, then offense answered."
Yet, in front of 87,380 fans, the game slipped through Nebraska's fingers.
Jim Harbaugh, quirky as always, called it "a Clint Eastwood win."
It was a dramatic play in four acts, featuring 890 yards, 46 first downs, 12 penalties, too many replay booth reviews and one light show, between the third and fourth quarters, in which both teams danced and Michigan players openly talked
Nebraska-Michigan had everything. Joy. Rage. Intellect. Passion. Violence.
"A super-competitive game," said inside linebacker Nick Henrich, who had 15 tackles.
A first quarter standoff between two programs feeling each other out after not playing for three years.
A second quarter full of toil and trouble: from the officials' questionable calls — that Frost didn't want to talk about — from Michigan's defense, from NU's own self-inflicted errors.
A third quarter plot twist, with Nebraska (3-4, 1-3 Big Ten) designing and executing pass plays worthy of an art museum and surging to a lead after a Deontai Williams interception set up NU's third touchdown of that quarter.
"Momentum shifted," defensive tackle Damion Daniels said.
And then, the fourth-quarter finale, punch and counterpunch and finally gut punch a game on a razor's edge with fans leaning in, waiting for the breakthrough moment of the Frost era.
A Michigan running back leapt over a tackler in midsprint and landed in stride. A ball transferred, almost like magic, from a Michigan defender to a Husker receiver on Nebraska's final touchdown drive. NU led 29-26 when Martinez kept the ball on a zone read and bolted into the end zone.
Nebraska's defense, stout almost all of the season, couldn't keep Michigan from tying it. The Wolverines (6-0, 3-0) ran 21 more plays than NU in warm temperatures and, by game's end, it showed. UM marched to the NU 8, incurred a false-start penalty, then hit a 31-yard field goal with three minutes left.
The Huskers, almost unstoppable in the second half, needed only a field goal to win. It had three timeouts and plenty of time in which to make its move for walk-off win and a potential field storming.
Martinez got the first down. He thought the play was over. It wasn't. Michigan forced a fumble, recovered, kicked the resulting field goal.
NU got to midfield on the next drive and didn't gain a yard on four plays.
Frost and teammates flocked to Martinez's defense.
"I love Adrian," cornerback Cam Taylor-Britt said.
Frost called Martinez a warrior. And he was left to lament yet another loss where words almost fail to convey the frustration. But, up to that moment — when Nebraska let a era-changing win slip through its fingers, Frost would have picked another word for it. His players likely would have agreed.
"That's as much fun as I've had coaching a football game," Frost said.
---